The best cars for teenage drivers
So your 17-year-old wants to start driving? Time to find a safe, economical car to help keep your kid (and your car insurance hit) as protected as possible.
This post comes from partner site CarInsurance.com
.

With your teen agitating to start driving, you want to make sure you have the safest car possible. Because your car insurance will be going up anyway.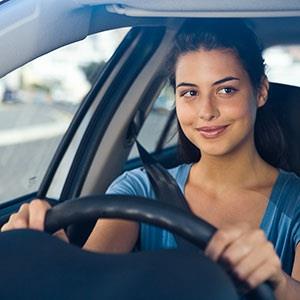 The "Best Cars for Teens" rankings starts with the "Top Safety Picks" designation from the Insurance Institute for Highway Safety (IIHS), which identifies not only the 2009-model cars that withstood crash tests with flying colors but also those that have available electronic stability control to keep young drivers out of trouble in the first place.
In fact, the wider availability of stability control added many of the cheaper models such as the Ford Focus and Toyota Corolla to our list this year. (
The government now requires it on all new cars
.)
The 14 vehicles below meet our requirements:
    •    They are an Insurance Institute for Highway Safety (IIHS) Top Safety Pick.
    •    They cost less than $15,000 for a 2009 model, according to Edmunds.com
    •    They get 20 mpg or better in combined driving, according to the EPA.
    •    They score average or better in annual repair visits, according to TrueDelta.com.
From there we shopped for insurance on each one as if an 18-year-old were buying his or her own policy.  (Full details on the coverage are below.)
| | | | | |
| --- | --- | --- | --- | --- |
| Make and model | Cost of car | Reliability** | MPG | Insurance |
| Mitsubishi Lancer GTS* | $10,890 | 19 | 23 | $4,392 |
| Honda Fit* | $12,694 | 18 | 31 | $3,976 |
| Volkswagen Rabbit 4-door | $11,409 | 34 | 24 | $3,874 |
| Ford Focus 2-door* | $9,239 | 28 | 27 | $3,800 |
| Honda Civic 4-door* | $14,583 | 23 | 29 | $3,738 |
| Subaru Impreza | $11,671 | 24 | 22 | $3,732 |
| Toyota Corolla* | $10,294 | 18 | 30 | $3,656 |
| Audi A3 2.0T | $14,474 | 47 | 24 | $3,622 |
| Volkswagen Jetta | $10,333 | 34 | 24 | $3,524 |
| Subaru Legacy | $13,005 | 27 | 22 | $3,518 |
| Scion xB | $10,387 | 7 | 24 | $3,506 |
| Ford Fusion* | $11,216 | 14 | 23 | $3,494 |
| Honda Accord | $14,399 | 21 | 24 | $3,334 |
| Ford Taurus | $11,286 | 12 | 21 | $3,322 |
| | | | | |
*Electronic stability control optional or available only on some models. 
**Fewer visits is better.


Safety first, then price
From the IIHS list of nearly 100 top-scoring models, we eliminated pickups and SUVs.
"While some pickups and SUVs score well, they're really not great choices for novice drivers," says CarInsurance.com consumer analyst Penny Gusner. They're taller and have higher centers of gravity, making them more prone to "tripping" on a curb or other obstruction and rolling over -- a kind of accident that stability control can't easily prevent.
Of the "Best Cars for Teens" picks, automotive expert John Pearley Huffman likes the Accord. "You could keep it a long time without outgrowing it," he says. "And it's big enough that parents won't worry."
Huffman, who writes about cars for
The New York Times
and
Car and Driver,
says he would seek out the larger models on the list. "I love small cars like the Fit, but relatively speaking, your kid stands a better chance in something with bigger crumple zones."
Who pays the bills?
From there we looked for models that cost less than $15,000 from a private party, using Edmunds.com's True Market Values. In cases where stability control was an option, we priced trim levels that offered that option.
We also tried to keep an eye on running costs, assuming that a teen driver might be responsible for upkeep, gas and insurance.
We eliminated any vehicle that didn't get at least 20 mpg combined on EPA tests.  But we also eliminated any vehicle with a higher-than-average number of yearly repair visits as reported by car owners at TrueDelta.com.
Lastly, we priced an insurance policy for each.
A caveat: This list is useful for showing the relative differences in rates between cars, but it does not necessarily reflect what you or your child might pay. We looked at rates for an 18-year-old male in Florida with no tickets or accidents, buying his own full-coverage policy.
You could pay less, or you could pay much, much more. It depends largely on your ZIP code and the teen's driving history.
Smart Spending on the go: Get our app for Android or iPhone
Teen drivers: 4 scenarios
Insurance companies calculate rates based on risk. Adding a licensed teenager greatly increases that risk -- and means parents need to look at many options.
Consider Don and Darla, who live in Pensacola, Fla., middle-aged parents with spotless records who drive a 2012 Honda Accord and 2008 Chevrolet Suburban.  The cheapest quote we found for full coverage on both their cars was $1,959 a year.
Now let's add their 18-year-old to the mix.
Assign the teen driver to the cheapest-to-insure car. We added Don and Darla's 18-year-old son, Aiden, and assigned him to the family SUV. Cheapest quote: $3,477 a year.
Buy the teen driver a late-model used car. A financed 2009 Toyota Corolla joins the fleet.
Cheapest quote: $4,771.
Buy the teen driver a beater car. A 2002 Ford Taurus is added to the family policy with liability-only coverage. Cheapest quote: $3,723.
Insure the beater separately and exclude the teen from the family policy. We found liability-only coverage for Aiden at $2,321 a year. Add that to his parents' $1,959 bill and the family comes out about $500 in the hole compared with simply adding the Taurus to the family policy. (Note: Even if the named driver exclusion somehow winds up being much cheaper, not all states will allow a driver under 18 to be excluded from a family policy.)
Methodology
Insurance rates are for an 18-year-old male in ZIP code 32534 (Pensacola, Fla.), commuting 12 miles each way to school, with no accidents or violations. Coverage includes $100,000 bodily injury liability (up to $300,000 per accident) and $50,000 in property damage liability, $10,000 in personal injury protection and comprehensive and collision coverage with $500 deductibles.

More from CarInsurance.com
:

The only car an 18 year old living at home should be driving is a used car he or she can afford. price tag less that $4,500 . You cant tell me that there are not great cars out there with a $4,500 dollar price tag or less that are just as reliable as a car in the 12,000 dollar range.  You can save a ton of money by not having collision insurance. You can call it what it is, a throw away car. You can bet they will drive it better knowing that it wont get replaced if their driving like an idiot and wreck the car. Beats the mind set of its ok to drive like an idiot because if I wreck the car insurance will fix it.
  Well, of course Lets go to a new car lot and pay a new car price for a six year old car, And pay for another floor on a Insurance building Mega office building, when My children are sane, responsible young adults, that don't add into the calculation of statistics that all kids are bad drivers ; so I must pay for all the other problems of the world, with my insurance premiums. It's what we in the south call
****
.

All of the cars on the list would be great for the teenage driver. Why?
Well, they would spend most of their time in the shop, so more kids would either have to walk or use public transportation.
Crash test statistics show that none of them do too well. So, it kind of "thins the herd"
None of the cars listed appear to get anything near decent gas mileage, or low maintenance costs.
And, teenagers driving like idiots would soon have any of them rolled up into a little recycle able ball of tin foil.

The best car of all time for teenage drivers will never not be the classic volvo :) 
No matter what, I would go with an older car not requiring comprehensive & collision insurance. Having your teen drive a newer car of higher value costs more for auto insurance , & even more when they have their first fender bender. As for insurance, I would get it from
4autoinsurancequote.​..
they have rates under $75/month for teenagers. Really can't be beat.

Why do they assume the kid is 17 and is just starting to drive?  I have a fourteen year old driving because we live in on a farm.  The only car they will drive is our regular family vehicle with us in the car/SUV with her!  By the time my youngest is 17 she will have been driving for 3 years.  Then it will be a car she can afford that we know is road worthy!

Are you sure you want to delete this comment?
DATA PROVIDERS
Copyright © 2014 Microsoft. All rights reserved.
Fundamental company data and historical chart data provided by Morningstar Inc. Real-time index quotes and delayed quotes supplied by Morningstar Inc. Quotes delayed by up to 15 minutes, except where indicated otherwise. Fund summary, fund performance and dividend data provided by Morningstar Inc. Analyst recommendations provided by Zacks Investment Research. StockScouter data provided by Verus Analytics. IPO data provided by Hoover's Inc. Index membership data provided by Morningstar Inc.