How you might be killing your car
A survey of auto mechanics reveals the most common mistakes we make with our wheels. Ignore them at your peril.
A former co-worker noticed a funny noise in one of the family's two cars. His wife said she'd heard the sound, too, but "just turned up the radio." Problem solved.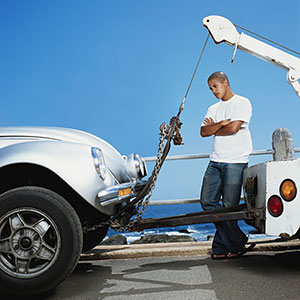 Here's hoping you aren't quite so dismissive when your own car tries to tell you something. There's a reason the "check engine" light was invented, and there's a darned good reason not to ignore it: Because when minor problems aren't addressed they can turn into huge, expensive problems.

Your best defense is a simple one: following the maintenance schedule found in your car's service manual. "Putting off recommended/schedule​d maintenance" was the No. 1 mistake cited in a CarMD.com survey of 20 ASE-certified master technicians.
The second-biggest mistake was "ignoring the 'check engine' light." Mistake No. 3 was "not changing the oil, or not having it changed on time" -- however, that doesn't necessarily mean on an every-three-months schedule. In fact, some new cars can go up to a year.

CarMD.com spokeswoman Kristin Brocoff bought a 2012 Honda Pilot last year. Its manual stipulates waiting for the oil light to come on before arranging a change, for up to 12 months. (At that point the oil should be swapped out regardless.)

"The industry is really changing with regard to oil," Brocoff says.

Remember that the next time a quick-lube place tries to sell you on the absolute necessity of quarterly changes. Follow the manufacturer recommendations instead -- and don't try to eke out extra miles. The mechanics surveyed say that not changing the oil on time is the single most damaging thing you can do to your vehicle.

An ounce of prevention
The other seven mistakes cited were:

Not checking tire pressure.
Neglecting coolant, brake, transmission and other fluid services.
Continuing to drive when the vehicle is overheating.
Not changing fuel and air filters.
Having unqualified shops service your vehicle.
Using inferior or uncertified parts.
Trying to service your own high-tech vehicle.
I've heard people complain that scheduled maintenance is just another way for auto dealers to soak consumers. In an increasingly fast-paced world it can be easy to do something as simple as check tire pressure. It's tempting to put off scheduled maintenance until "next week" because planning for a car-less period is more than you can handle right now.
Don't do it, even if your car seems to be driving just fine. Sure, maybe your best buddy never paid much attention to his car and it didn't give him many problems. Could be he was just super-lucky, or that he traded in his autos before they had the chance to develop any serious twitches.
For maximum return on your auto investment, follow the manufacturer recommendations. My roommate's been driving the same car for 17 years, thanks to scrupulous attention to scheduled maintenance. It looks as though rust will kill it before mechanical failure does. What could a dozen or more years without a car payment do for
your
bottom line?


Readers:
What's the longest you ever drove a car?

More on MSN Money:
DATA PROVIDERS
Copyright © 2014 Microsoft. All rights reserved.
Fundamental company data and historical chart data provided by Morningstar Inc. Real-time index quotes and delayed quotes supplied by Morningstar Inc. Quotes delayed by up to 15 minutes, except where indicated otherwise. Fund summary, fund performance and dividend data provided by Morningstar Inc. Analyst recommendations provided by Zacks Investment Research. StockScouter data provided by Verus Analytics. IPO data provided by Hoover's Inc. Index membership data provided by Morningstar Inc.