Many Americans are confused about car insurance
A new quiz tests Americans' understanding of what their auto insurance covers.
This post comes from Krystal Steinmetz at partner site Money Talks News.

If your friend borrows your car and gets in an accident, whose insurance will pay for the damage?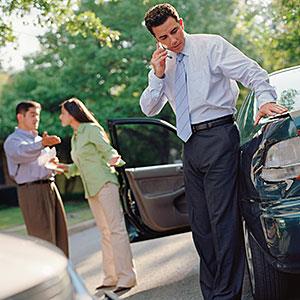 That wreck will count as a claim on your insurance record. If you thought your friend's insurance would pony up, you're wrong. But you're not alone. It turns out nearly 30 percent of people answer that question incorrectly.
A new "Dentmaster" quiz by Insurance.com reveals just how much (or little) Americans know about their auto insurance. According to Insurance.com:
Survey results show the most confusion centers on liability insurance -- which is the coverage required by most states. When asked, "You hit someone else. Which coverage pays the other driver?" only 46 percent of drivers could correctly identify liability from three answer choices.
Overall, American drivers answered about 39 percent of the questions wrong, Insurance.com said.
Knowledge of liability, collision and comprehensive coverage is essential to buying the right policy. Finding out after an accident that you didn't have the right coverage could cost you thousands of dollars.
You can test your knowledge of your car insurance by clicking here.
How does your insurance knowledge rate?

More from Money Talks News
If "so many" people are confused about a relatively simple concept such as car insurance then how can these people begin to comprehend health insurance? 
"Hey, wow, man! How come this policy don't cover pre-existing conditions?!"
For anyone who cares: look up the definition of "adverse selection".

Are you sure you want to delete this comment?
DATA PROVIDERS
Copyright © 2014 Microsoft. All rights reserved.
Fundamental company data and historical chart data provided by Morningstar Inc. Real-time index quotes and delayed quotes supplied by Morningstar Inc. Quotes delayed by up to 15 minutes, except where indicated otherwise. Fund summary, fund performance and dividend data provided by Morningstar Inc. Analyst recommendations provided by Zacks Investment Research. StockScouter data provided by Verus Analytics. IPO data provided by Hoover's Inc. Index membership data provided by Morningstar Inc.