Drivers OK with in-car Breathalyzer
A new survey shows that a large majority of drivers would let their insurance company install the device in their cars in exchange for a price discount.
This post comes from Des Toups at partner site CarInsurance.com.

What would you do for a car insurance discount?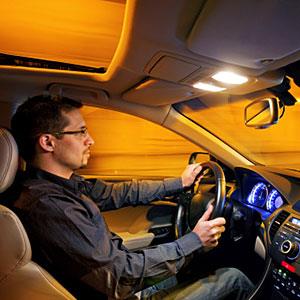 Nearly two-thirds of drivers said they would allow an insurance company to install a Breathalyzer in their cars -- nearly twice the percentage who would allow a cellphone disabling device, a new survey finds.
CarInsurance.com commissioned a survey of 500 licensed drivers about steps they would take to save money on their car insurance bills. Even the least popular suggestion -- an onboard observation camera -- would be embraced by 20% of discount-seekers.
Here are the results:
64% would let an insurance company install a Breathalyzer in their cars.
39% would let an insurance company install a data-monitoring device.
37% would install a cellphone disabling device.
28% would let an insurance company limit how fast their car can go.
27% would severely restrict their driving miles.
24% would severely restrict when they drive.
20% would let an insurance company install an observation camera.
There are no outright discounts for Breathalyzers or cellphone disabling devices -- although, of course, a driving record free of DUIs and cellphone tickets is helpful if your aim is cheaper rates. No one will give you a break for a speed governor or an in-car camera, either. One company does offer a dash-cam to worried parents of teen drivers.
But there are indeed discounts for installing devices that monitor your driving habits, the number of miles you drive and the hours of the day that you are on the road -- and the discounts can be substantial. Most major insurers have a "pay-as-you-drive" program, such as Progressive's Snapshot or Allstate's Drive Wise. All look at mileage, but others also monitor driving behavior such as braking and acceleration.
Drivers in the survey were also asked about discounts for safety systems.
70% said anti-lock brakes would result in a discount.
80% said collision-avoidance systems would result in a discount.
31% said voice-operated controls for navigation, phone and email would result in a discount.
Of those three items, only anti-lock brakes typically result in a discount. (Newer technologies take quite a while to gain traction with insurance companies.)
See a complete Guide to Discounts for information on the discounts available for your profession, education, marriage status, military service and even good grades.
More on CarInsurance.com and MSN Money:
DATA PROVIDERS
Copyright © 2014 Microsoft. All rights reserved.
Fundamental company data and historical chart data provided by Morningstar Inc. Real-time index quotes and delayed quotes supplied by Morningstar Inc. Quotes delayed by up to 15 minutes, except where indicated otherwise. Fund summary, fund performance and dividend data provided by Morningstar Inc. Analyst recommendations provided by Zacks Investment Research. StockScouter data provided by Verus Analytics. IPO data provided by Hoover's Inc. Index membership data provided by Morningstar Inc.
SMART SPENDING
Can you trust Carfax?
If you're thinking about buying a car and the Carfax report comes back clean, you're good to go, right? Um, maybe not. Here are four other ways you can avoid buying a clunker.