Giant airbag protects cars from hail
A Texas inventor has come up with a new kind of protection for your vehicle.
This post comes from Karen Schwartz at partner site CarInsurance.com.

According to the National Weather Service, 7,031 hailstorms were reported in the U.S. in 2012. So what do you do if you have a shiny new car and live in Texas, which reported more events than any other state?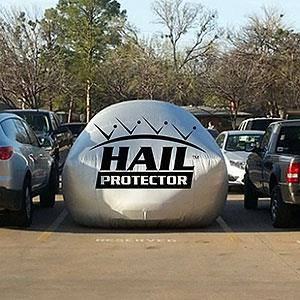 You make sure you have the right insurance. You watch the skies and run for cover. You park in a garage, or under a carport. You buy a padded cover or hail blanket.
Or you buy an airbag.
Gunter, Texas, resident Michael Siciliano is the inventor of the Hail Protector, an external airbag, pictured at left, that inflates to cover and protect cars from hail damage.
"Living in North Texas, I looked around and all I was seeing were padded covers, which were bulky and weren't protecting entire vehicles," Siciliano says. "The Hail Protector is portable, packs up small, and is fully inflated in five minutes."
Is hail a problem for you?
Hailstorms peak in March, April and May.
"Some of the most significant natural disasters have occurred in the last decade," says Michael Barry, vice president of media relations for the Insurance Information Institute, "and some of these have involved hail."
In Texas, hailstorms can occur at almost any time, says Pablo Moreno, an insurance agent with the Texas Insurance Agency in Houston.
"Houston's a subtropical climate, so we have various types of weather that causes hailstorms to happen different times of the year," he says.
2012 hailstorms by state
| | | | |
| --- | --- | --- | --- |
| State | Hailstorms | State | Hailstorms |
| Texas | 795 | Michigan | 115 |
| Kansas | 426 | Montana | 115 |
| Nebraska | 384 | Louisiana | 91 |
| North Carolina | 319 | New Mexico | 81 |
| Oklahoma | 299 | Florida | 73 |
| South Dakota | 293 | West Virginia | 68 |
| Tennessee | 258 | Wyoming | 51 |
| Kentucky | 248 | Vermont | 41 |
| Missouri | 246 | Idaho | 35 |
| Minnesota | 235 | Maryland | 32 |
| Illinois | 229 | Washington | 28 |
| South Carolina | 224 | New Jersey | 27 |
| Alabama | 220 | Oregon | 26 |
| Indiana | 210 | Maine | 20 |
| Virginia | 208 | Massachusetts | 20 |
| Georgia | 196 | California | 17 |
| Ohio | 195 | Connecticut | 15 |
| Iowa | 184 | New Hampshire | 13 |
| Mississippi | 162 | Arizona | 7 |
| Arkansas | 157 | Rhode Island | 6 |
| Pennsylvania | 142 | Utah | 6 |
| North Dakota | 134 | Nevada | 3 |
| New York | 131 | Delaware | 2 |
| Colorado | 123 | Alaska | 0 |
| Wisconsin | 121 | Hawaii | 0 |
The Highway Loss Data Institute says about 250,000 cars are damaged by hail every year in the U.S. alone. Hailstorms are also a prime source of suspicious claims, the National Insurance Crime Bureau says.
Are you covered if your car is damaged by hail?
You're covered for hail damage only if you've purchased comprehensive coverage, sometimes referred to as "other than collision," which also covers hazards including vandalism and theft. Of course, you'll have to first pay the deductible on your insurance policy.
Hailstorm insurance claims averaged about $3,100 in recent years, according to the Highway Loss Data Institute. But many repairs cost less than the customer's deductible, Moreno says, meaning a lot of damage goes unreported to insurance companies.
Will your insurance premium go up if you file a claim for hail damage?
Generally, claims for hail damage won't affect your rates because they're considered natural, unforeseeable events that are out of your control. (See which claims affect your rates with the Crash-o-Matic.) But if you've recently filed other claims, you can be seen as a higher risk, and you'll probably pay more for your automobile insurance in the future.
For that reason, minor hail damage to your car may not be worth an insurance claim.
Insurance companies typically do not charge lower rates for drivers who park in a garage. 
Protect your car from an upcoming hailstorm
So how can you protect your car from an upcoming hailstorm?
Siciliano's Hail Protector comes in sizes that range in price from $299 to $399 and runs off battery power, a car's cigarette lighter or a home electrical outlet. The price also includes a lifetime subscription for alerts to severe weather nearby via smartphone or email, with a warning on the potential for hail 30 to 60 minutes before a hailstorm hits.
Those National Weather Service alerts are available, often free, through other providers as well.
You can also protect your car from an upcoming hailstorm by other methods, says Barry.
"Listen to the weather reports, and if you live in an apartment building, try to park your car under a carport -- a parking space that has a roof on it," he says. Finding a complex with covered parking "is worth the investment if you're an apartment dweller."
If your car does get damaged by hail, Barry says, you should "document the loss by taking photos and notifying your insurance agent right away."
Barry has one final tip: "Don't get rid of your comprehensive coverage. If you look at your policy, the amount that goes to comprehensive coverage is a small percentage that covers a lot -- including floods, hail, earthquakes and windstorms -- so don't get rid of it."
More on CarInsurance.com and MSN Money:

We need to hit our launch campaign goal by May 2nd, so please visit HAIL PROTECTOR at
http://igg.me/at/hai​lprotector/x/2270994​
And within the main portion of the page you will find instructions on how to spread the word and save yourself even more on your selection.  Thank you in advance.  We need leaders!

The HAIL PROTECTOR System provides the user a hail forecast, hours before hail storms, so the user may install their cover in a somewhat leisurely fashion.  Then the user gets a hail alert to their mobile device 30 to 60 minutes prior to hail or the potential of hail within a specific proximity of their specific location.  The user merely presses the activation button on their included remote control.  Protection begins at 2 minutes and is fully active in 5 minutes.  Proven to stop automobile hail damage from hail stones even larger than softballs.  It's that simple.



so every time I get out of my car I have to take 5 minutes to inflate and 10 minutes to put around the car? Plus I will have to deflate and pack it up and we all know things just don't go back in the box like it did from the factory.
I seen this on that Inventor show it is not as easy as it looks to do.
good idea if you travel and leave your car for days but for every day use don't see it..

Well the crowdfunding thing was a circus, so we have now launched The Hail Protector System in a normal fashion, thanks to a few great investors.  Check us out at
http://www.hailprote​ctor.com/
  At less than the price of the typical $500 deductible ($299 to $399) and including the most powerful early warning hail alert engine in the world, plus all the accessories we include, it's a tremendous value that is going to change auto hail damage forever.
Are you sure you want to delete this comment?
DATA PROVIDERS
Copyright © 2014 Microsoft. All rights reserved.
Fundamental company data and historical chart data provided by Morningstar Inc. Real-time index quotes and delayed quotes supplied by Morningstar Inc. Quotes delayed by up to 15 minutes, except where indicated otherwise. Fund summary, fund performance and dividend data provided by Morningstar Inc. Analyst recommendations provided by Zacks Investment Research. StockScouter data provided by Verus Analytics. IPO data provided by Hoover's Inc. Index membership data provided by Morningstar Inc.