Savings per minute: What's your time worth?
Looking to save money fast? Survey shows where the big savings are: Car insurance and cellphones.
This post comes from Donna Freedman at partner site Insurance.com.

When someone asks me how to take control of his finances, I don't advise that he bake his own bread.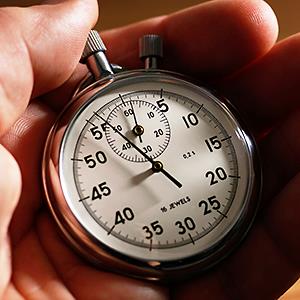 Yet those are the sorts of tips you tend to get when Googling "how to save money." You'll save money, but probably not as much as you'd think. And you'll find these tactics can take time away from everything else you need or want to do.
I suggest instead that people think first about the big-ticket items. Results of a new survey from Insurance.com back me up.
The insurance comparison-shopping site asked 2,000 adults about how much time they spent on five big purchases and how much they saved, then ranked their potential bang for the buck. For example, the typical amount of time spent researching and shopping for a new car was 13.6 hours and the amount saved $1,054 – which works out to about $1.29 a minute.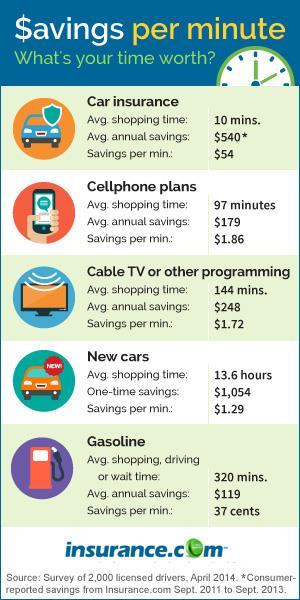 Car insurance:
Average shopping time: 10 minutes
Average annual savings: $540
Savings per minute: $54
Cellphone plans:
Average shopping time: 97 minutes
Average annual savings: $179
Savings per minute: $1.86
Cable TV or other programming:
Average shopping time: 144 minutes
Average annual savings: $248
Savings per minute: $1.72
New cars:
Average shopping time: 13.6 hours
One-time savings: $1,054
Savings per minute: $1.29
Gasoline:
Average shopping, driving or wait time: 320 minutes
Average annual savings: $119
Savings per minute: 37 cents
Shopping for car insurance tops the list. Not only is the potential payoff highest at $540, the time invested is just 10 minutes. You can get a quote from just about any insurance company online or by phone in that time; Insurance.com lets you get quotes from many at once by using a single form.
Frankly, 10 minutes is less than you'd spend digging the bread machine out of the back of the cupboard. And if it turns out you're already getting a great deal, you've only burned 10 minutes to discover that. Win.
'The best bang for the buck'
Your time has value. It may even have potential penalties. Suppose waiting in line for Costco gasoline makes you 10 minutes late getting to the child care center. There's probably a fine attached to late pickup, to say nothing of the frustration of watching the clock (and the traffic) while waiting to fill up.
Sure, Costco or Safeway gas can be up to 15 cents cheaper per gallon. But you could also download a free gas app and get the next-best deal. Even if you don't have to worry about day-care fines, ask yourself this: "What's the best use of my time when it comes to saving money?"
"Everyone wants the best bang for the buck. We went looking for the best payoff for your time," says Des Toups, the site's managing editor.
They also went looking to see how much time shoppers were willing to put into looking for a better price on a range of goods. The winners? Pretty much anything easily comparable online – like airfares, laptops and car insurance.

Here's how much time, on average, 2,000 adults surveyed were willing to put into shopping for a better price on:
Airfare: 68 minutes
Laptop computer: 68 minutes
Auto insurance: 63 minutes
Hotel rooms: 53 minutes
Rental car: 48 minutes
Clothing: 41 minutes
Children's toys: 36 minutes
Prescription drugs: 34 minutes
Groceries: 33 minutes
Pet food: 26 minutes
Beer or alcohol:17 minutes
Cigarettes: 16 minutes
 The value is even greater when you think of short- and long-term values. Sure, it's nice to save $100 on a new flat-screen or a plane ticket home for the holidays. But those are one-time savings. Saving $540 a year on car insurance or $15 a month on a cellphone plan is a gift that keeps on giving.

Picking your spots
Note: Wanting to save money in every area of your life isn't necessarily a bad thing. I once did this as a survival tactic and now do it as part of a balanced budget. But I'm increasingly aware that some frugal hacks can create anxiety or a scarcity mentality.
For example, according to one blogger, homemade laundry soap cost 4 cents per load vs. 12 cents per load for Tide. But Tide goes on sale and coupons are regularly available, which is how I bought detergent as a broke midlife student.
More to the point, my partner and I do only about six loads of laundry per month. Do I want to go to the trouble of shopping for the ingredients and making the detergent to save $5.76 per year? (Hint: No.)
As a reformed penny-pincher, I beg you to pick your battles. Spending 10 minutes getting a car insurance quote or even 97 minutes comparing cellphone plans will likely save you more overall than clipping a cereal coupon or stopping by the bakery outlet. Those last two are perfectly fine strategies, but they shouldn't be the first (or only) ways to save money.
Full disclosure: I still clip coupons and shop at the "used bread" store. But these days I keep an eye on not just on the value but also the emotional impact of my frugal hacks.
I suggest you do the same. If you obsess over a missed sale or a forgotten coupon, or castigate your mate for forgetting to bring home that recyclable soda can, you need to take a look at your relationship with money. Is the hypervigilance worth the small savings?
Yes, a dollar is a lot of money if you're a buck short on this month's rent. Generally, though, if you mind your big-dollar savings then the penny-ante items will take care of themselves.
More from Insurance.com
What coverage do drivers like you buy?
How to switch car insurance companies
Find cheaper car insurance in 8 easy steps


Funny how car insurance tops the list sponsored by insurance.com ... anyways, I Love these tips, but there are some more you should be aware of:
1) drop the smart phone and get a "dumb" one. Save about $50 per month. Get a low-priced tablet (e.g., Kindle Fire) or use your old iPhone as a wi-fi only device. Wi-fi is available everywhere; you really don't need to pay for cell-based data plans
2) call your car and home insurance company and tell them you want to go through all your coverage because you found another carrier that is cheaper. They'll probably help you "find" 10% off or more.
3) speaking of car insurance - An expensive policy from GEICO, Progressive, etc. is not needed. You can find one usually for less than $25/month from a place like Insurance Panda. If you spend too much on car insurance from one of those big companies, chances are you are simply funding their expensive TV ads with cute animals.
4) compare what your house is really worth to your assessment. Many assessments have never been properly adjusted down to reflect the market over the last 4 years. We cut our property taxes by about 20%.
5) re-fi your 30-year mortgage to a 15. The interest rate will drop by at least 50-75 bps, more depending on your current rate. The payment may go up slightly, but it is because you are paying off your loan faster. If it's possible, get the mortgage paid off before the kids go to college. At a minimum, have it paid off before you retire.
6) review your credit card bills for all the things you are paying $10-20 per month for that you no longer need. I bet everybody has at least a couple
7) drop all magazine (paper and on-line) subscriptions. If you look around, you can find comparable content for free.
8) review your investment portfolio for ways to replace higher fee mutual funds or ETFs with lower fee ones. S&P500 funds/ETFs shouldn't charge more than 0.10% in fees. Fees may be higher for specialty funds, but they are all coming down fast. If your company 401K uses high-fee funds, talk to the folks in charge. A difference of 25 bps in fees will mean a difference of about 5% in your portfolio value after 25 or 30 years.
9) and of course the most impactful -- never carry a balance on a credit card. If you can't resist, cut up the cards.

  This my friends is all penny ante stuff, if you really want to save money then do this. Shop for a politician during the election season that thinks of America first. If you don't want something you should not need to buy it, if a country hates us then there is no need to send them money or soldiers to protect their freedom and fair trade should mean that we get jobs at home as well. Last make sure he or she is a Allie of the middle class and not the enemy. This simple before you vote research will save you money, the middle class and in the long run the country as well.    

Are you sure you want to delete this comment?
DATA PROVIDERS
Copyright © 2014 Microsoft. All rights reserved.
Fundamental company data and historical chart data provided by Morningstar Inc. Real-time index quotes and delayed quotes supplied by Morningstar Inc. Quotes delayed by up to 15 minutes, except where indicated otherwise. Fund summary, fund performance and dividend data provided by Morningstar Inc. Analyst recommendations provided by Zacks Investment Research. StockScouter data provided by Verus Analytics. IPO data provided by Hoover's Inc. Index membership data provided by Morningstar Inc.