5 rental car insurance loopholes
Think twice before choosing your credit card's rental car protection plan over optional insurance. You might not be as covered as you think.
This post comes from Jason Steele at partner site Credit.com.

Renting a car is one of those times when you absolutely need a credit card. What's more, most credit cards provide a form of insurance called a collision damage waiver that can save you the expense of purchasing insurance from the rental car agency.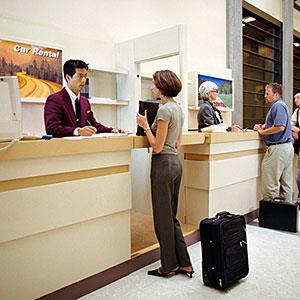 Not so fast, though. As easy as it is to pay for a rental car with a credit card, these policies are full of exceptions and exclusions. Before relying on your credit card's insurance, watch out for the following loopholes:
1. Your credit card might not include rental car insurance. Almost all credit cards include some form of rental car insurance, but not all. Popular products that don't include it are the Slate card from Chase and the Capital One Secured MasterCard.
2. There might be territorial exclusions. Credit cards cover rental cars in nearly every country, but there are some notable exceptions. Most Visa, MasterCard and American Express cards exclude cars rented in popular tourist destinations such as Italy, Ireland, Israel, Jamaica and New Zealand.
3. There might be limitations on certain types of roads. While the rental car insurance itself does not specify that accidents on certain types of roads are excluded from coverage, it does specify that all driving must be done within the terms of the rental car agreement. Most major rental car agencies make drivers agree not to drive on an unpaved road. This is not much of a problem in major cities, but it can be an issue when renting in rural areas or visiting some national parks.
4. You must pay for the rental with your credit card. It sounds obvious, but you must use your credit card to pay for your rental car in order to be covered by its insurance. When you use points or miles to prepay a rental car, you are not covered by your credit card's policy, even if you use it to guarantee your rental or to pay taxes and fees. You must pay the base rate with your credit card and decline the rental car agency's optional coverage. On the other hand, it is OK if your credit card's rewards program reimburses you for travel expenses after the fact.
5. You must rent the right kind of car. Your credit card's rental car policy excludes many types of vehicles, including antique, classic, luxury and exotic cars. And while you might not be renting a '57 Chevy on your next business trip, pickup trucks and full-size vans are common rental cars but excluded by most policies.
By understanding when your credit card will provide insurance for your car rental and when it won't, you can make the best decision the next time you need to rent a car.
More on Credit.com and MSN Money:
Are you sure you want to delete this comment?
DATA PROVIDERS
Copyright © 2014 Microsoft. All rights reserved.
Fundamental company data and historical chart data provided by Morningstar Inc. Real-time index quotes and delayed quotes supplied by Morningstar Inc. Quotes delayed by up to 15 minutes, except where indicated otherwise. Fund summary, fund performance and dividend data provided by Morningstar Inc. Analyst recommendations provided by Zacks Investment Research. StockScouter data provided by Verus Analytics. IPO data provided by Hoover's Inc. Index membership data provided by Morningstar Inc.