Meltdown meter: Why family road trips go bad
Boredom and bother lead to meltdowns on family road trips and lasting repercussions, according to CarInsurance.com's survey.
This post comes from Michelle Megna at partner site CarInsurance.com.

If you see a family sitting in their car on the side of the road this summer, chances are it's due to a breakdown, but not of the mechanical sort. Seventy-one percent of drivers say they've pulled their car over during a family road trip due to someone having a meltdown, according to CarInsurance.com's new survey.
CarInsurance.com asked  1,561 drivers who said their families have experienced road-trip meltdowns to name the main causes, who is the first to experience an emotional eruption in the car and when, and what happens as a result.
Drivers who say a meltdown has led to other problems point to the following repercussions: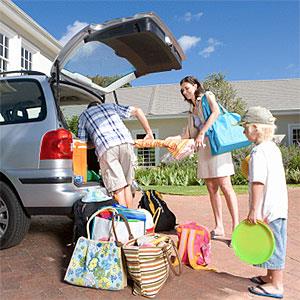 A near-miss: 21 percent
Long-term family argument: 19 percent
Turning around to go home: 19 percent
Traffic ticket: 14 percent
Accident: 8 percent
While your premiums are likely to go up if you do happen to get ticketed or have an accident, you should check with your insurer to see what car insurance discounts you qualify for to help mitigate any potential rate increases.
Boredom, bothering and boiling points
Despite the potential consequences of family road trip mishaps, 86 percent of drivers say they look forward to the seasonal ritual of packing up the car, piling in the family and hitting the road.
Most drivers realize a happy car trip with the kids relies heavily on keeping them entertained, and the survey findings underscore this basic parenting principle. Children under age 13 are most likely to lose their composure first (53 percent), followed by teens (23 percent), wives (13 percent) and husbands (11 percent).
Drivers who have experienced a passenger meltdown flag the following as main causes:
Boredom: 32 percent
Someone pestering someone else: 19 percent
Someone won't stop talking: 7 percent
Someone touches someone else: 6 percent
Disagreement over radio stations: 5 percent
Hunger: 4 percent
Disagreement over stops: 4 percent
Disagreement over where to eat: 4 percent
Someone is looking at someone else: 4 percent
Conflicting directions: 4 percent
Disagreement over a car game: 3 percent
Other: 3 percent
Disagreement over what to watch:   2 percent
Car sickness: 2 percent
Something lost in car: 1 percent
While many families (45 percent) enjoy a peaceful journey for two or more hours before someone melts down, 7 percent experience a meltdown before leaving the neighborhood; 15 percent within an hour of being on the road.
Others put the brakes on the idea altogether – 31 percent have decided not to go on a family road trip due to past passenger meltdowns.
Nearly half of drivers (48 percent) say the longest road trip they would go on would last multiple days and a quarter (25 percent) say a full day is the limit. Nineteen percent will venture out for no more than a half day, and some drivers set the maximum road-trip time at a few hours (7 percent).
Thirty-seven percent of drivers report they take more than one car when they embark on a family vacation on the road. Others prefer not to take their own cars at all – 13 percent always drive rentals; 45 percent rent sometimes.
More from CarInsurance.com
DATA PROVIDERS
Copyright © 2014 Microsoft. All rights reserved.
Fundamental company data and historical chart data provided by Morningstar Inc. Real-time index quotes and delayed quotes supplied by Morningstar Inc. Quotes delayed by up to 15 minutes, except where indicated otherwise. Fund summary, fund performance and dividend data provided by Morningstar Inc. Analyst recommendations provided by Zacks Investment Research. StockScouter data provided by Verus Analytics. IPO data provided by Hoover's Inc. Index membership data provided by Morningstar Inc.