Dashboard cams may be next must-have car add-on
The devices, which can be had for under $100, can help with insurance claims and protect drivers from fraud and other scams.
This post comes from MSN Money contributor Bruce Kennedy.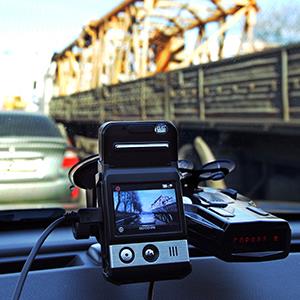 New technologies allow anyone with a cell phone to take still images and usually video, too. Think of all the newsworthy events we have seen in recent years because ordinary people happened to be there with their phones.


But there's another, similar device that Americans have been relatively late to adopt: the dashboard video camera. Now that appears to be changing.


Dashboard cameras have brought us some incredible footage: a tumbling, house-sized boulder landing on a roadway in Taiwan and various shots of a meteor blazing across the sky this year in Russia. Dashboard cameras seem to be ubiquitous for Russian drivers, who use them as a defense against insurance scams.
Police have been using dash cams for years to record evidence during traffic stops. And now more U.S. civilians are joining the market -- whether to monitor a new teen driver's performance or as a form of insurance.
Video documentation from a dash cam can come in handy when it's your word against another driver's following an accident. The National Insurance Crime Bureau reports the rate of "questionable claims" was up 16% last year, to a record 116,268 cases, according to Popular Mechanics.
"Having clear evidence recorded on camera is admissible in court (just as it is for police officers) and can protect you from fraudsters," the magazine notes.
 
Insurance industry experts say they don't know of any companies that offer insurance discounts to drivers who install a dash cam. But that could change as the industry battles to reduce an estimated $32 billion a year lost to fraudulent payouts.

Another big reason dashboard cams are beginning to catch on with American drivers is they have become extremely affordable, with some basic models now selling for well under $100. 
The technology reportedly is becoming very popular with truck drivers – who are often blamed for highway accidents.
One apparently unintended market for dash cams are daredevil drivers – like the fellow who recently posted footage on YouTube of his recent nighttime drive around the perimeter of New York's Manhattan Island – completing the 26.5 mile loop in what he said was a record 24 minutes. New York police were unimpressed and say they're investigating.
More Smart Spending:
DATA PROVIDERS
Copyright © 2014 Microsoft. All rights reserved.
Fundamental company data and historical chart data provided by Morningstar Inc. Real-time index quotes and delayed quotes supplied by Morningstar Inc. Quotes delayed by up to 15 minutes, except where indicated otherwise. Fund summary, fund performance and dividend data provided by Morningstar Inc. Analyst recommendations provided by Zacks Investment Research. StockScouter data provided by Verus Analytics. IPO data provided by Hoover's Inc. Index membership data provided by Morningstar Inc.