How much auto insurance do you need? Don't guess
Car insurance has a mission: Keep an accident from turning into financial disaster. Knowing what most drivers buy can be a good place to start.
This post comes from Des Toups at partner site Insurance.com.

When you bought your last car insurance policy, how did you decide how much coverage to buy?
Sure, there are generally accepted guidelines out there. Homeowners need at least $100,000 in bodily injury liability protection, because a large, valuable asset like a house is an easy lawsuit target if you don't have enough to cover your victim's hospital bills.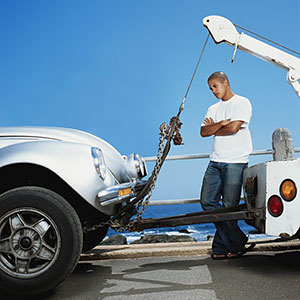 Or maybe you own nothing and have no savings – nothing you could lose. Then you might go for the legal minimum in your state.
There's a lot of room in between, though, and seeing the choices other drivers in your situation make can be a good guideline when you shop for car insurance yourself. 
Insurance.com recently analyzed more than 550,000 insurance quotes delivered through its price-comparison tool to find the most common choices made by drivers of similar age, who live in the same state, who drive the same model year of car, or who own their homes.
You can find data for your state in the "What Drivers Like You Buy" tool.
3 tips for buying the right amount of coverage
Nationwide, there are clear patterns. Three out of four drivers choose a $500 deductible for collision and comprehensive coverage. A third of drivers under age 25 shop for the lowest legal amount of liability coverage, but only 19 percent of drivers over 55 do.
Nationwide, the most common coverage profile looks like this:
Most common bodily injury liability coverage: $50,000 per person ,$100,000 per accident, selected by 46 percent of all drivers.
Most common property damage liability coverage: $50,000, selected by 59 percent of all drivers.
Collision coverage, selected by 60 percent of all drivers.
Comprehensive coverage, selected by 61 percent of all drivers.
$500 deductible, selected by 74 percent of drivers who buy comprehensive and collision.
Towing and emergency road service, selected by 16 percent of all drivers.
Rental reimbursement coverage, selected by 16 percent of all drivers.
Seeing what other people in your situation are buying is a good place to start, but in the end, you need enough coverage for insurance to serve its intended purpose: Standing between you and financial disaster. As you decide on what coverage to buy, consider these tips:
Extra liability coverage beyond the required minimums is generally quite cheap – you'll pay only a fraction as much for an additional $50,000 as you did for the first $25,000.
Raising your deductibles can save you money. Going from a $500 deductible to $1,000 on a 2012 Ford Explorer in Texas, for example, would cut the annual bill for comp and collision from $576 to $470. Saving $100 a year on your car insurance is nice, but only if you have $1,000 to get your car out of hock to the body shop.
Before you make big changes in coverage, shop around first. The more you pay for car insurance, the more you are likely to find savings by switching insurers.
More from Insurance.com

Also consider this: if you can afford, without financial strain, to replace your vehicle with the same or newer model with equal options/equipment, then you might not need to continue full/extensive coverage. If you cannot afford to immediately replace your vehicle, then you should consider continuing/carrying full/extensive coverage that can, at the very least, help you replace your vehicle.

Amazing that this article neglected to mention the most cost-effective and important coverage: uninsured motorist coverage, which fully protects you when your are injured or your vehicle is damaged as a result of the negligence of somebody else who is not insured.
It's the one coverage that insurance companies hate to sell you because it is the least profitable for them.

Everywhere I turn now I see a disturbing trend in our media and among our youth: They say that free speech needs to be limited. They call it bullying and claim that those in power must do more to limit speech they consider to be "harmful". This is very wrong, our country has moved way too far to the left towards those who try to convince us that our own freedom is the enemy. Keep your eyes open!!!
Are you sure you want to delete this comment?
DATA PROVIDERS
Copyright © 2014 Microsoft. All rights reserved.
Fundamental company data and historical chart data provided by Morningstar Inc. Real-time index quotes and delayed quotes supplied by Morningstar Inc. Quotes delayed by up to 15 minutes, except where indicated otherwise. Fund summary, fund performance and dividend data provided by Morningstar Inc. Analyst recommendations provided by Zacks Investment Research. StockScouter data provided by Verus Analytics. IPO data provided by Hoover's Inc. Index membership data provided by Morningstar Inc.