How to find hundreds of birthday freebies
Your birthday is a time to have fun and indulge yourself. And what's more fun than free stuff?
This post comes from Jeffrey Trull at partner site Money Talks News.

Your birthday is the one day each year when you can relish being treated like a king or queen. In addition to the pampering by family and friends, your favorite restaurants and shops will also lavish you with birthday freebies that go far beyond just cake and a song.
There are literally hundreds of birthday offers out there, including free meals, no-cost activities and retail discounts that are all yours, just for being born. Before spending money to treat yourself on your birthday, let's look at how you can find the freebies. 
1. Sign up before your birthday
If you're the type who loves the buildup to your big day, you'll have fun signing up for freebies. Even though many of these offers require an email, some allow you to simply show up with proof that it's your day (so bring your driver's license).
Make sure you're on the mailing lists for promotions from all of your favorite restaurants and retailers before your birthday arrives. You can often fill out a form on the websites of businesses you frequent. Unsure what's out there or who offers what? Freebie fanatics have published online lists to guide you to some of the best of what's out there. Visit sites like Freebie Depot and BDay Free Day to point you in the right direction.
If part of the sign-up form asks for your birthday, you may have birthday savings heading your way. Just don't delay. Many retailers mail coupons days or weeks before your actual birth date.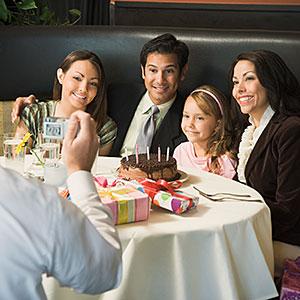 2. Eat your way through your day
Your best bet for your birthday: free food. You can go all day without paying for a single meal.
Start off your big day with a filling breakfast from an American classic: the Denny's Grand Slam, which includes two eggs, two pancakes, two strips of bacon and two sausage links. IHOP offers a nearly identical breakfast, also at no cost.
For lunch and dinner, you'll have a wide selection of restaurants offering free entrees to choose from. For instance, Ruby Tuesday will treat you to one of its burgers, and Moe's Southwest Grill will email you a coupon for a free entree, including chips and salsa.
If there's any one day to indulge in dessert, it's your birthday. There's no need to waste your hard-earned cash on cake. Many spots will satiate your sweet tooth for free. Buy an entree and grab a complimentary Chocolate Thunder From Down Under from Outback, or New York cheesecake at Buffalo Wild Wings. If you're craving ice cream, Cold Stone Creamery has you covered with a free Oreo Overload.
Don't forget local options, which might offer free bites that aren't widely publicized. Visit their websites or give them a call.
For a list of free food you can get from restaurants and more on how to redeem the ones above, find more than 100 freebie options on the Hey, It's Free! website.
3. Have some free fun
After chowing down on all that food, get yourself moving with some free activities. Brunswick Bowling will send you a coupon for two free games as part of its "Bonus Zone." AMF Bowling has a similar deal when you sign up for its email list.
For golf lovers, Greenskeeper.org has compiled a list of courses that offer free or discounted rounds on your birthday.
If you'd rather take it easy, take in a movie. Hollywood Theaters offers free birthday popcorn. If you're in the Detroit area, you can see a free movie compliments of Emagine Theaters.
Don't see any entertainment deals in your area? Try browsing local options on the Internet. A quick search for "free golf birthday (your city)" might yield places to play a round on the house.
4. Save at your favorite stores
Many stores offer coupons for your birthday, but you'll need to be on the list ahead of time to receive these discounts by mail or email. Some notable options:
Old Navy will send you a birthday coupon of, for instance, $10 off a purchase of $50 or more.
Signing up for Sephora's Beauty Insider will score you a Fresh Sugar Kisses Mini Lip Duo.
Columbia Sportswear offers a coupon worth 20% off that's valid throughout your birth month.
American Eagle sends a 15% off birthday coupon for joining its email list.
Kids signed up for Geoffrey's Birthday Club can get a $3 coupon to Toys R Us along with an in-store celebration with hat and balloon.
To claim these and other shopping freebies, check out this list of retail offers at Mr. Free Stuff.
5. Keep the celebration going after your birthday
If your birthday has already passed, you're not out of luck yet. Before you toss out birthday coupons, read the fine print because the offer may be valid beyond your actual birth date. Many coupons don't expire until the end of the month or later.
For hundreds more birthday freebies, check out the following sites:
More from Money Talks News and MSN Money:
Are you sure you want to delete this comment?
DATA PROVIDERS
Copyright © 2014 Microsoft. All rights reserved.
Fundamental company data and historical chart data provided by Morningstar Inc. Real-time index quotes and delayed quotes supplied by Morningstar Inc. Quotes delayed by up to 15 minutes, except where indicated otherwise. Fund summary, fund performance and dividend data provided by Morningstar Inc. Analyst recommendations provided by Zacks Investment Research. StockScouter data provided by Verus Analytics. IPO data provided by Hoover's Inc. Index membership data provided by Morningstar Inc.