9 ways to trim car insurance bills
When was the last time you gave your car insurance a tune-up? If you're overdue, you might be overpaying.
This post comes from Angela Colley at partner site Money Talks News.
In 2010, the last year data was available, American households spent an average of $1,010 for car insurance, according to the Bureau of Labor Statistics (.pdf file).
That's a lot, but there are plenty of ways to drive down the cost ...
1. Know your policy

Step one with any kind of insurance is understanding what you're paying for. 
Know as much as possible about your policy. Take it out (or read it online) and look under the hood. Learn exactly what you're paying for, what it costs and how you might reduce the expense.
If you're not sure what something means or costs, call your company or agent and ask. Part of your premium is going to pay for customer service; use it. 
2. Ask for discounts
There are dozens of discounts that can take a chunk out of your premium. A few examples:
Being a member of an organization like a fraternity, credit union or educational association.
Having safety features like air bags, anti-theft systems or anti-lock brakes.
Having good grades.
Being over 50.
Being a non-smoker.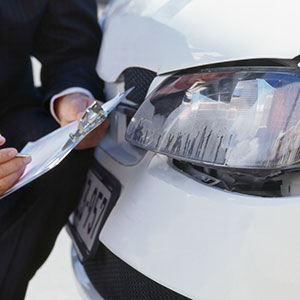 If you assume your insurance company will automatically apply discounts you're eligible for, you're probably wrong. Few insurance companies actively attempt to reduce their profits by calling you and offering discounts. Pick up the phone and ask for a full list of available discounts. 
3. Raise your deductible
The deductible is simply what you're willing to pay in the event of an at-fault accident. Shoulder more of the burden and you'll lower your premiums.
The Insurance Information Institute says going from $200 to $500 can knock 15% to 30% off the cost of the comprehensive part of your policy. Set your deductible to $1,000 and you could save 40%.
Think of the max you'd be willing to pay, then raise your deductible to that level.  Most people wouldn't report a $500 accident for (justifiable) fear of a premium increase.  If that's true, why would you pay extra for a $500 deductible? 
4. Check your credit
Your credit can affect your insurance rates, because insurance companies have apparently decided that people with wrecked credit are more likely to wreck cars.
Have a great credit history and you'll see more affordable quotes. Have a blemished credit history and you'll deal with higher premiums. If you haven't checked it lately, do it for free at annualcreditreport.c​om.  
5. Before car-shopping, insurance shop
When it's time to buy a car, don't just compare gas mileage, style and features; compare insurance costs as well.
Some cars are more expensive to insure than others. Insure.com recently released a study of the least-expensive cars to insure for 2013. Top three: The Ford Edge SE (average annual premium $1,128), the Jeep Grand Cherokee Laredo (average annual premium $1,148), and the Subaru Outback 2.5i Premium (average annual premium $1,150).
Whether you're buying new or used, before you buy any car, call your existing company or use online insurance quote comparisons to see what you'll be paying.
6. Shop regularly
When you buy a car isn't the only time you should shop insurance. Carriers have no incentive to offer you the lowest rate, especially once they already have you as a customer. They know what a pain it is for most consumers to shop rates and switch companies, so they'll raise rates, confident you won't leave.
Don't be a patsy. Whenever you get your annual or semi-annual bill, spend a few minutes comparing quotes from competing companies. If you find a better deal, ask your insurer to match it, or switch companies.
7. Group your policies
You can sometimes get a discount by grouping your policies. For example, carrying renters insurance and car insurance with the same company can lower your premiums. And if you have multiple cars in your household, keep them on the same insurance plan for another potential discount.
8. Keep a clean driving record
Your driving record obviously affects your premium: Accidents and tickets add points to your driver's license and raise your rates.
Insurance.com analyzed the effect of traffic violations on more than 490,000 quotes. Here are some scary statistics:
Not wearing a seat belt – average 2.8% increase.
Speeding up to 14 mph over – average 10.62% increase.
Tailgating – average 13.37% increase.
Reckless driving – average 21.9% increase.
Nobody tries to get tickets, of course, but if you get one, try everything in your power to avoid points, from hiring a lawyer to opting for traffic school.
9. Drive less
I save a ton on insurance simply because I don't drive much. I work from home and live near everything, so I drive only about 1,000 miles a year. While you probably can't stop driving altogether, you can do a few things to lower your total yearly miles and your insurance cost:
Carpool – Carpool with co-workers and cut out up to four driving days a week.
Walk – Walk whenever you can. You might end up saving on health insurance while you save on car insurance.
Use public transportation – Sign up for a frequent traveler card at your local transit office and you'll save on trips too.
More from Money Talks News and MSN Money: 
DATA PROVIDERS
Copyright © 2014 Microsoft. All rights reserved.
Fundamental company data and historical chart data provided by Morningstar Inc. Real-time index quotes and delayed quotes supplied by Morningstar Inc. Quotes delayed by up to 15 minutes, except where indicated otherwise. Fund summary, fund performance and dividend data provided by Morningstar Inc. Analyst recommendations provided by Zacks Investment Research. StockScouter data provided by Verus Analytics. IPO data provided by Hoover's Inc. Index membership data provided by Morningstar Inc.