Kids getting phones at ever earlier ages
Parents can set rules to help teens and preteens use mobile devices responsibly.
This post comes from Michelle V. Rafter of MSN Money.
Debbie Dick didn't get her three children cellphones until they were  old enough to drive. "They simply did not need one," she says.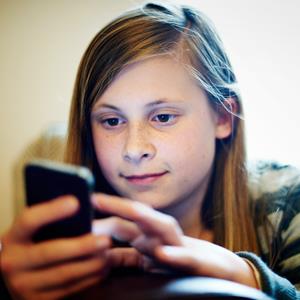 Laurie Furlong gave her  kids cellphones when they were preteens because the family had ditched a land line phone and she and her husband's work schedules "were so crazy," she says. "We did not want them home alone without a way to contact them."

Mary Jo Stepps Campbell didn't intend to get her son a phone until high school, but changed her mind after he was diagnosed with Type I diabetes. Instead, he got a phone at 11, entering sixth grade. "We needed the peace of mind," she says.

Whether for safety reasons, medical issues or just because, families are giving kids phones at younger and younger ages.

Parenting experts, school administrators and wireless companies urge families to use contracts, house rules or usage controls to make sure kids use phones responsibly regardless of age. Such guidelines can counteract bad behaviors like sexting and cyberbullying that can take place on apps popular with teens and tweens including Facebook, Instagram and SnapChat.
Nearly six in 10 parents with tweens bought cellphones for their young children, according to a July 2012 National Consumers League survey. The number ranges from 62% in  families with household incomes of more than $100,000 a year to 41% for families making less than $50,000 a year.

In Massachusetts, 18% to 20% of children had a cellphone by the third grade, according to a 2011 study from Bridgewater State University. The number of kids with cellphones grew to 39% by fifth grade, according to the study.

And increasingly kids are getting smartphones.

Smartphone use among teenagers is growing faster than any other segment of the population, according to Nielsen's latest poll of the U.S. mobile market. As of July 2012, 58% of the country's 13- to 17-year-olds who use a cellphone own a smartphone, compared with 36% the previous year, according to the poll.

A separate AT&T survey found that 34% of 8- to 17-year-olds with phones owned a smartphone.

Experts suggest giving cellphones with lots of strings attached. One parent who followed that advice to great acclaim is Janell Burley Hofmann. Over the holidays, an 18-point iPhone contract that the Cape Cod writer and community activist posted online when she gave her 13-year-old son Gregory a phone went viral, gaining more than 32,000 Facebook "likes."
In the contract, Burley Hofmann admonishes him to turn off his phone in public, answer it when it rings, look up every once in a while to enjoy the scenery, and never, ever send sexts.
"Do not send or receive pictures of your private parts or anyone else's private parts," she writes.""Don't laugh.  Someday you will be tempted to do this despite your high intelligence.  It is risky and could ruin your teenage/college/adul​t life."
Here's other advice from parenting experts and wireless providers on how families should approach giving kids phones:

1. Delay as long as possible. "We like the age of 14-ish," Ruthie Matinko-Wald, an associate at Portland, Ore., parenting education agency Family Empowerment Network, shared in a recent school presentation in the city
2. Start with a plain vanilla feature phone. Agreeing to give your kid a phone doesn't automatically mean you're agreeing to give them access to texting, the Internet, SnapChat et al. "Smartphones are the No. 1 risk factor for opening them up to cyberbullying, and for boys for pornography," Matinko-Wald says.

3. Have a contract. Burley Hofmann's contract stipulated that she and her husband would always know the password to their son's phone, would keep it at home during the school day, and would take it away if he messed up. "We will sit down and talk about it," she writes. "We will start over again.  You & I, we are always learning.  I am on your team.  We are in this together." The Family Online Safety Institute offers a sample online safety contract that can be adapted to cellphone use.

4. Set house rules. Don't want the kids to text at the dinner table? Have a family meeting and establish ground rules for what is and isn't acceptable. Those rules could include asking your kids' friends to toss their phones in a basket or "dog pound" when they visit so they're forced to communicate sans texts. Parents need to follow the rules too.

5. Turn off phones before bed. Middle-school teachers attending Matinko-Wald's presentation shared how they routinely overhear students talking about texting each other at midnight, or later. Sleep deprivation from taking phones to bed is becoming a huge public-health issue, Matinko-Wald says. "Get screens out of bedrooms."

6. Turn on usage and parental controls. Most wireless providers offer controls that account holders can use to limit the amount of text messages or talk time available in a month, or the times of day a child can be on their phone. They can also avoid having kids run up phone bills by limiting how many downloads, ringtones or games they can buy in a month. In addition, providers offer content Filters and service blocks to keep kids away from inappropriate websites or other online content. Verizon Wireless' Smart Phone Parenting website offers more tips on wireless use and parent controls.
More from MSN Money
DATA PROVIDERS
Copyright © 2014 Microsoft. All rights reserved.
Fundamental company data and historical chart data provided by Morningstar Inc. Real-time index quotes and delayed quotes supplied by Morningstar Inc. Quotes delayed by up to 15 minutes, except where indicated otherwise. Fund summary, fund performance and dividend data provided by Morningstar Inc. Analyst recommendations provided by Zacks Investment Research. StockScouter data provided by Verus Analytics. IPO data provided by Hoover's Inc. Index membership data provided by Morningstar Inc.