4 phone calls that will lower your bills
Sure you'll spend some time on hold. But you'll be glad you took the time once you see your immediate savings.
This post is by Dawn Papandrea of the blog, Living on the Cheap.

Putting money back into your pocket every month by lowering your bills would be great, right? By making a few key phone calls and being a smart consumer, you can do just that. All you need to get the job done is some dedicated time to get the right person on the phone. Easier said than done, right? But trust me -- once you do it and start saving some dough, you'll want to call every company, utility and service provider you pay.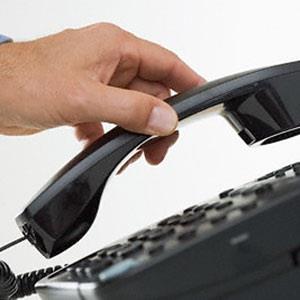 Here are a few ideas to jump start "Operation Phone Call Savings."
1. Your cable TV and/or internet provider
If you haven't chatted with someone in customer service about your account in a while, this call could be worth your while. When you're going through the automated phone system, choose whichever option mentions making changes to your account. Service providers will jump at the chance to up-sell you or get you to sign a new contract, so use that to your advantage. Ask about what promotions the company is offering loyal customers, and if need be, mention that you're considering moving to a competitor. At the very least, you may score a few months of some premium movie channels for free. But, if you're comfortable with renewing a contract and/or bundling services, you may end up lowering your bill while upgrading your service.
2. Cellphone and/or home phone service
Along the lines of the above, take a look at your current package to see if you're paying for services you're not using. For instance, you might have a super plan with thousands of minutes, but you hardly ever use your cellphone. Or, your land line account might have charges involving international phone service, something you never use. Ask a representative to review your usage, and you may be able to trim your bill.
3. Insurance carriers
Be diligent about reviewing your insurance policies to make sure you have the coverage you need, but also to ensure you aren't paying more than is necessary. For car insurance in particular, it doesn't hurt to comparison-shop rates from time to time. You may also ask if there is a discount for using the same company for all of your insurance needs.
Smart Spending on the go:
Get our app for Android or iPhone


4. Credit card companies
If you've been a responsible borrower who makes payments on time and has an account in good standing, it never hurts to call your creditors and ask for a lower interest rate. You can also request an increase in your credit line, which will lower your debt utilization ratio (that's the amount you owe compared to the amount of available credit). A lower utilization is seen as favorable by the three credit bureaus, the entities that determine your credit score. This is important if you plan on applying for a car or home loan since a better credit score can mean lower interest rates, which can translate into thousands of dollars in savings over time.

More from Living on the Cheap:

I called Chase to ask for a lower interest rate.  I was told by a foreigner overseas who could barely speak English that those requests cannot by done by phone.  So, I asked how I could do it.  He repeated his answer.  I called my local Chase bank and they said I needed to call the main number about that request.  I was given a runaround and nothing got done.  I also called Target Master Card and went through the same runaround.  If anyone has any suggestions, please let me know.
I called my cable company and Chase about lowering my bills.  At both companies they both spoke English and I was able to understand them.  I was able to get a lower payment (for the same features) at my cable company and Chase lowered my interest rate since I have been with them for more than 20 years.  It was worth the calls.

I call my cable and internet companies once a year to ask about promotions. Sometimes they play along and sometimes they don't. Often times it has a lot to do with who you're talking to. The worst these companies can say is "no". If they do, don't get discouraged and try again at a later date. Also, sometimes you can have better luck with IM.

I haven't tried switching insurance, but I might at some point. My rates keep going up (they keep telling me my car is now more expensive to insure even though it's getting older). I think the hindrance many people face is the hassle of changing all of their policies (auto, home, life in my case).

There isn't anything I can do with my cellphone unless I want to cancel texting or data (neither of which I want to cancel at this point). I do know a number of people who could benefit from this though. I never ceases to amaze me how laziness can be a factor in wasting so much money.



The only way I've ever been able to get my cell phone or cable bill reduced is by calling the company to cancel service.  The cancellation department seems to have the authority to match offers from competing providers. Just be ready to really cancel if they won't do a price match.  It's worked every time so far.

In regards to the internet/cable/ phone provider this presumes that you don't live in an apartment complex that prohibits any of the competition. BTW if we drop the phone from the bundle our price per month will go up.
For my cell phone plan we could cut the minutes we buy per month, but if we do we will increase our cost, as we will no longer be able to bundle our two phones together as a single family plan. So why am I going to pay for two separate plans of 500 minutes when I will pay less to put the two of us together on a family plan of 1500 minutes?
Insurance: I do use the same carrier for all our policies that we can. It does reduce our costs. I have yet to find any one that offers a auto policy that will match what I have, and even with their lower coverage they cost as much as I am paying for my current policies, so why switch?
Regarding your cell phone sometimes it pays to go to a prepaid plan without losing coverage. This works best if your contract has already expired and you pay month by month. You can even use your existing phone if there is nothing wrong with it. Just make sure your phone is compatible. 
Example: Nearly all 3G Verizon phones can be on prepay plans, but none of the 4G phones can.
Are you sure you want to delete this comment?
DATA PROVIDERS
Copyright © 2014 Microsoft. All rights reserved.
Fundamental company data and historical chart data provided by Morningstar Inc. Real-time index quotes and delayed quotes supplied by Morningstar Inc. Quotes delayed by up to 15 minutes, except where indicated otherwise. Fund summary, fund performance and dividend data provided by Morningstar Inc. Analyst recommendations provided by Zacks Investment Research. StockScouter data provided by Verus Analytics. IPO data provided by Hoover's Inc. Index membership data provided by Morningstar Inc.