Bogus air bags may shoot shrapnel
Counterfeit air bags used as replacement parts trigger a safety advisory, as they may fail to inflate properly.
This post comes from Michelle Megna at partner site Insurance.com.

If you got a bargain on a replacement air bag, it may be bogus -- and dangerous.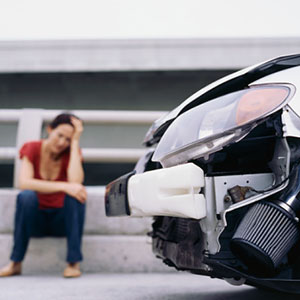 Air bags replaced within the past three years by auto repair shops not affiliated with a new-car dealership are at risk for malfunctioning, according to a federal safety advisory.
At issue are counterfeit air bags made in China -- and sold in the U.S. as replacement parts -- that may not inflate properly in accidents, according to the National Highway Traffic Safety Administration.
The bogus bags look nearly identical to certified equipment parts and bear the branding of major automakers, but NHTSA testing showed "consistent malfunctioning ranging from non-deployment of the air bag to the expulsion of metal shrapnel during deployment," the NHTSA said in a statement.
Motorists at risk include the following, according to the NHTSA:
Those who had air bags replaced within the past three years at a repair shop that is not part of a new-car dealership.

Drivers who bought a used car that may have had an air bag deployment before their purchase.

Motorists who own a car with a title branded salvage, rebuilt or reconstructed. Also, consumers who have purchased replacement air bags from eBay or other noncertified sources, especially if they were purchased at unusually low prices -- for example, for less than $400. 
If you're concerned about having a faulty air bag, you should contact your automaker's call center to have your vehicle inspected. Unfortunately, you'll have to pay for the inspection, which the NHTSA says can cost $100 or more.
Some of the car models at risk are:
2011 to 2012 Chevrolet Volt.
2006 to 2010 Chevrolet Aveo.
2003 to 2012 Honda Accord.
2006 to 2011 Honda Civic.
2006 to 2011 Lexus IS250, IS350, IS-F.
2008 to 2009 Subaru Forester and Outback.
2002 to 2006 Toyota Camry.
2004 to 2011 Toyota Highlander, Sienna and Tacoma.
Visit the NHTSA website for the complete list of cars that may have counterfeit air bags, as well as the list of call centers.
Who picks up the tab for a new air bag?
If you find that you have to replace an air bag, it could be costly -- up to $1,000 -- but you may not have to pay for it, depending on where you have the work done.
If you file a claim after your car is wrecked and have it fixed by one of your insurer's preferred shops, the work is typically covered for as long as you continue to own the vehicle, says CarInsurance.com consumer analyst Penny Gusner. In this case, if a preferred shop installs a fake air bag while repairing your car, the shop and the insurer will likely pay to replace the counterfeit air bag, though you should contact them to be certain, says Gusner.
If a mechanic at an independent shop installed a counterfeit air bag in your car while fixing it, paying to replace the fake will have to be discussed between you and the owner of the shop, Gusner says.
Air bags among safety discounts for car insurance
Air bags debuted in the late 1970s, and by 1998 all new cars were required to have front air bags for drivers and passengers. Now all new cars have a minimum of four air bags.
Despite how standard air bags have become, most car insurance companies provide a safety discount for them.
For instance, you could save up to 25% for driver-side air bags or 40% for full–front-seat air bags if you have Geico car insurance. Note, however, that these discounts apply to the medical payments or personal injury portion of your car insurance premium, according the Geico website.
In addition to safety features, security is a priority for insurers. Most car insurance companies also provide discounts for anti-theft equipment.
More on Insurance.com and MSN Money:
Are you sure you want to delete this comment?
SMART SPENDING
How to check out a vacation rental
Renting a home at your destination can make a lot of sense, but scammers can turn your dreamed-of vacation into a big disappointment. Here's what to look for -- along with 4 potential signs of trouble.