Maybe you should retire outside the US
According to a new study, the nation lags well behind many others when it comes to overall financial security for retirees.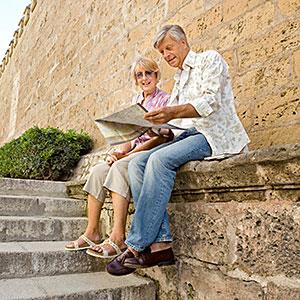 Thinking about moving, once you retire? If you're American, how about out of the country?
A new annual index by Boston-based Natixis Global Asset Management says the U.S. ranks 19th worldwide when it comes to retirement security.
The study looked at how well retirees in 150 countries live, based on health, material well-being, their finances and other personal data. Not surprisingly, the top 10 countries on the list were all in Western Europe, which has a tradition of strong health care and social programs for retirees. Norway came in on top, followed by Switzerland, Luxembourg, Sweden and Austria.
Natixis says a number of factors are at work when it comes to its rankings.While the U.S. has the world's largest pension market, it still trails less affluent nations when it comes to income and health metrics. And even though the U.S. might have the most per-capita health care spending, individuals still have to pay at least part of their own health care expenses.
"The U.S. does lag behind Western Europe and some smaller economies in retirement security, specifically in the areas of health and income equality," Tracey Flaherty, Natixis senior vice president for government relations and retirement strategy, said in an interview with Pension&Investments. "There are also demographic trends (in the U.S.) that will have a negative impact on retirement."
Among those trends, according to the study, is America's rapidly aging population, higher life expectancy and declining birth rates. And as the over-65 population increases, so will the pressure on federal programs like Social Security and Medicare.
Combine those figures with many Americans' lack of personal investment and savings with the economic toll taken on retirement savings during the ongoing global economic downturn, and you have a recipe for trouble.
The study's overall message, says Natixis President and CEO for the Americas and Asia John Hailer, is that Americans will be called on to finance more of their own retirements.
"Citizens of other industrialized nations may rely on strong social safety nets in old age, at least for now," he said in a press release. "In the U.S. we encourage workers to plan, save and invest, and promote policies that help them meet their future needs."
DATA PROVIDERS
Copyright © 2014 Microsoft. All rights reserved.
Fundamental company data and historical chart data provided by Morningstar Inc. Real-time index quotes and delayed quotes supplied by Morningstar Inc. Quotes delayed by up to 15 minutes, except where indicated otherwise. Fund summary, fund performance and dividend data provided by Morningstar Inc. Analyst recommendations provided by Zacks Investment Research. StockScouter data provided by Verus Analytics. IPO data provided by Hoover's Inc. Index membership data provided by Morningstar Inc.