Is the end of an error coming soon?
This might be the month of reckoning for failed central bank money-printing policies. Mounting evidence suggests that markets are starting to notice that the Fed is trapped.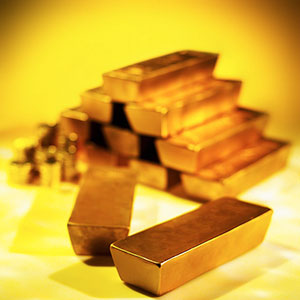 It was interesting to see in the most-recent quarterly filing (released a week ago) that Goldman Sachs Group (GS) spent around $500 million in the period to buy 3.7 million shares of SPDR Gold Shares (GLD), making Goldman the exchange-traded fund's seventh-largest shareholder.
After having been a vocal proponent of the view that a much stronger economy (which we haven't seen) would lead to a tougher Federal Reserve (which won't ever happen) and a weaker gold price (which we did experience until June 30), Goldman is perhaps starting to connect the dots.
Putting the 'gold' in Goldman
To be sure, Goldman's negative call on gold received a tremendous amount of fanfare, and it appeared to be at the epicenter of the huge price break we saw in the second quarter. But I haven't seen comments anywhere discussing its quiet, bullish bet. (For all we know, depending on exactly how the company holds the shares, it could be some sort of arbitrage against something else, but I doubt that.)
As for why we own gold in the first place, that of course has to do with reckless money-printing on the part of the Fed (the subject of my book "Greenspan's Bubbles: the Age of Ignorance at the Federal Reserve"). That effort started somewhat innocently in the early 1990s, and, at first, it produced a powerful bull market, which turned into a huge bubble in the late 1990s.
That led to a bust, which led to more money-printing, followed by a massive real estate bubble and an epic collapse, with the financial system nearly disappearing, which resulted in an even more gargantuan amount of money-printing.
A rise by any other name . . .
Those of us who understand the process have known that each dose of liquidity by the Fed has weakened the economy, and that money-printing would not solve anything, as can be seen in the sequence of events outlined above.
Money-printing cannot solve problems. It doesn't really give us much gross domestic product growth, as we have seen. It hasn't really helped on the employment front either, as job growth is meager (of course, it is also hampered by other government policies). What money-printing has accomplished is to push the stock market high enough to cause people to once again become delusional in their expectations.
The bloom has come off the (stock market) rose a bit recently, but this is essentially the same process that has been at work for more than 20 years. Money-printing gets the stock market to a place where folks think that it means something.
We witnessed the same thing in the late 1990s, when the Wall Street Journal saw fit to capitalize "New Economy," which was a farce, and the Fed concocted a crazy theory about too much savings in the world with regard to what generated the real estate bubble that burst in 2007-08. Now, somehow, stock prices are so high they have induced people to believe in Goldilocks again.
It takes two to contango
The purpose of reviewing all of the above is to set the stage for the possibility that we are starting to come to the end of the charade, and in the next couple of weeks, the Fed is going to have to decide whether it is going to begin to taper -- and we will see what happens if it does -- or that it can't even start.
The early handicapping of that outcome began with today's nonfarm payroll report (released after this column's deadline), but in the end, the die is cast. If Bernanke et al decide to taper, it won't be long before they are compelled to change their minds. Money-printing will continue until the bond market makes it clear that that is not an acceptable outcome, a process I think is already under way.
(I see 10-year rates approaching 3% not because of the prospect of some modest amount of tapering, but because enough money has been printed to take the deflationary outcome off the table and because the bond market is slowly pricing in the fact that the coupons out to 30 years are at a discount to the inflation rate.)
In any case, hopefully September will be a major inflection point for what is known as "modern-day" finance and money-printing.
At the time of publication, Bill Fleckenstein owned gold.
DATA PROVIDERS
Copyright © 2014 Microsoft. All rights reserved.
Fundamental company data and historical chart data provided by Morningstar Inc. Real-time index quotes and delayed quotes supplied by Morningstar Inc. Quotes delayed by up to 15 minutes, except where indicated otherwise. Fund summary, fund performance and dividend data provided by Morningstar Inc. Analyst recommendations provided by Zacks Investment Research. StockScouter data provided by Verus Analytics. IPO data provided by Hoover's Inc. Index membership data provided by Morningstar Inc.
MARKET UPDATE
NAME
LAST
CHANGE
% CHANGE
There's a problem getting this information right now. Please try again later.
NAME
LAST
CHANGE
% CHANGE
There's a problem getting this information right now. Please try again later.
Market index data delayed by 15 minutes
[BRIEFING.COM] The S&P 500 (-0.5%) remains pressured as every uptick has been met with selling activity. This morning, the health care sector (-0.6%) was an early source of weakness in reaction to concerns about the impact of new rules on tax inversion deals.

Over the past 30 minutes, Bloomberg reported that Pfizer (PFE 30.01, -0.17) has approached Actavis (ACT 242.88, +7.02) about a potential acquisition. Actavis, which traded with a slim loss ahead of the reports, has ... More
More Market News
Currencies
NAME
LAST
CHANGE
% CHANGE
There's a problem getting this information right now. Please try again later.