Too-easy money makes market too risky
The liquidity-fueled rally of the past 9 months is easy to like. But recent history tells us higher prices based on easy money carry extreme dangers, so a violent drop could lie ahead.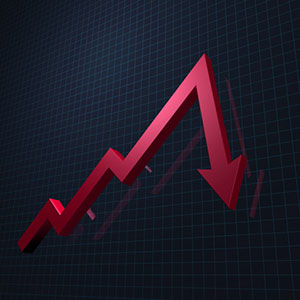 There is not much one can say to make sense out of the maniacal rise we have seen in the stock market since last fall, other than to note that the third and fourth rounds of bond buying by our Federal Reserve (aka QE3 and QE4) have boosted stock prices 20 to 25%.
Beneath the surface, however, stocks are a house of cards. Simply because prices are rising as a consequence of the massive liquidity injected by the Fed (and the Bank of Japan) – combined with "professionals" running other people's money who are terrified of not keeping up with the averages – does not mean that participating in the stock market at the moment is something that anyone who is sane ought to do.
The wrong kind of royal flush
Even so, resisting the siren song of apparently easy money is difficult, and most people eventually get sucked in. This is shown by the latest mutual fund statistics, which show that people are taking money out of bond funds and pushing it into stock funds.
It is not knowable when this maniacal rise in equity prices will come to an end. As I have stated many times, either the market has to exhaust itself, some sort of catalyst has to come into play or something has to stop the Fed. Obviously, the only thing that can take away the printing press is the bond market, and that will take some time.
As for "tapering," if the Fed tries to cut back its bond buying, my guess is that Wall Street would throw a fit and stock prices would tank, which would also hurt the economy. And if Fed Chairman Ben Bernanke and his colleagues are paying attention to the job market, nothing is occurring there to make them want to taper. Thus, I continue to think tapering is very unlikely.
He's just covering his basis
Perhaps Bernanke has an ulterior motive and wants to do a bit of tapering, if only to try to create the illusion that he's capable of being "tough." But I really can't speculate about that. I do know that printing money does not boost the economy or create jobs. All it does is misallocate capital, increase risk and precipitate inflation.
Meanwhile, many of those who were crushed in the stock and real-estate busts think we are in a Goldilocks (i.e., perfect) environment. In fact it is actually still 2009, just with much higher stock prices and a somewhat healthier banking system, thanks to taxpayer money and the fact that the Fed is stealing from savers via artificially low interest rates to give the proceeds to banksters. All in all, the financial environment is literally a house of cards built on runaway speculation.
Burning Japanese
Tuesday night, Japan was the scene of a fair amount of red ink, as its equity market lost about 4%, though the yen was quite strong. At least for the time being, those seduced into playing the easy-money game in Japan are seeing their financial dreams complicated by the fact that so many are all on the same side of the page. That problem will present itself in America at some point; we just don't know when.
Parenthetically, I think most people look at the fundamentals of the yen and say, "Wow, there is a currency that ought to decline." But in fact it has been rallying for the past month against the dollar, despite talk of tapering, and we can make the same comparison to the euro. I find it interesting that everyone can see the flaws in the yen and euro, yet for a while now those currencies have been doing better than the dollar, which so many people seem to think is still a sound currency. In any case, what this more likely illuminates is the wackiness of what transpires in financial markets in a world saturated with QE-created liquidity.
I am not the only one who thinks that beneath the shiny veneer of rising stock prices, the investing landscape has become fraught with risk. Many longtime successful investors do, as well. In his most recent newsletter, my good friend Fred Hickey shared a quote from Seth Klarman, founder of Baupost Group, that I found particularly timely and poignant. Klarman described the current investment environment as "… harder than it has been at any time in our three decades of existence … the underpinnings of our economy and financial system are so precarious that the unabating risks of collapse dwarf all other factors."
I suggest everyone read those two points a couple of times.
When the best offense is defense
At some point, the stock market will decline violently in a short space of time and there will be economic carnage in its wake. I continue to think that the computers that run so much money will eventually get loose on the downside at some point as the underlying economic and financial risks of the world rear their ugly heads. (Read "Every day, another flash crash" for more on those computers.)
Could it be two years from now? Yes, in theory, though I seriously doubt this can go on that long. I suspect the next nine months could be very pregnant – no pun intended.
In any case, folks need to be prepared for some serious carnage, even though the timing is not yet predictable.
DATA PROVIDERS
Copyright © 2014 Microsoft. All rights reserved.
Fundamental company data and historical chart data provided by Morningstar Inc. Real-time index quotes and delayed quotes supplied by Morningstar Inc. Quotes delayed by up to 15 minutes, except where indicated otherwise. Fund summary, fund performance and dividend data provided by Morningstar Inc. Analyst recommendations provided by Zacks Investment Research. StockScouter data provided by Verus Analytics. IPO data provided by Hoover's Inc. Index membership data provided by Morningstar Inc.
MARKET UPDATE
NAME
LAST
CHANGE
% CHANGE
There's a problem getting this information right now. Please try again later.
NAME
LAST
CHANGE
% CHANGE
There's a problem getting this information right now. Please try again later.
Market index data delayed by 15 minutes
[BRIEFING.COM] The stock market finished an upbeat week on a mixed note. The S&P 500 shed less than a point, ending the week higher by 1.3%, while the Dow Jones Industrial Average (+0.1%) cemented a 1.7% advance for the week. High-beta names underperformed, which weighed on the Nasdaq Composite (-0.3%) and the Russell 2000 (-1.3%).

Equity indices displayed strength in the early going with the S&P 500 tagging the 2,019 level during the opening 30 minutes of the action. However, ... More
More Market News
Currencies
NAME
LAST
CHANGE
% CHANGE
There's a problem getting this information right now. Please try again later.