A silver opportunity in a beaten miner?
Pan American Silver's stock has fallen sharply as the potential negatives have been written into the price. But an informed look reveals the silver lining behind the clouds.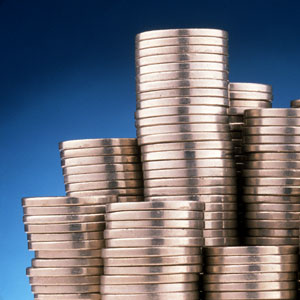 On Tuesday night, Pan American Silver (PAAS) reported earnings. It is a company I know rather well, and one in which I have a decent-sized position, which I added to this week. Thus, I thought I might take the opportunity during an otherwise extremely quiet  and boring week on Wall Street to offer a closer look at a single company than I otherwise might.
First, let me be clear that I am biased. I know the people at Pan American quite well, and I am a big fan of theirs. I was a director of the company for almost 15 years, having stepped down from the board in December 2011.
In the past I have not been able to discuss the company in too much detail, for fear of crossing a line and running afoul of securities regulations (even though it is unlikely I would have done that). Now that I have been away from the board for eight months, I feel I am free to say whatever I want.
Mining the data
By way of background, the stock has been pummeled in the past year, as have many miners. But Pan American has been punished more than others, for a variety of reasons, not the least of which is because it has two properties in Argentina -- one that has been quite a success, and the other, Navidad, that can only go forward if the mining laws are changed.
The company, believing the laws would be revised, purchased the asset nearly three years ago, believing the laws would be revised. Now, the government in the state where the mine is located has proposed allowing open-pit mining, except it also proposed taxes that would cause the project not to make economic sense.
My belief is that the Argentinian government is willing to change the law to create jobs. Once the politicians get their heads around the fact that their tax proposal won't fly, they will find a way to compromise. That is my opinion, and I think it is the also the company's, but obviously there can be no guarantee that will actually happen.
Similarly, the company has a mine in Bolivia and, for those who don't know, that country is a bit of a mess. But what many people may not know is that in Bolivia it matters where you are, and in the area where Pan American mines, the company has pretty strong local support. The majority of the crazy threats and pernicious actions by the government have been thwarted by the locals, who have been treated right and like their jobs in Bolivia.
This is not to say that the state mining agency, Corporación Minera de Bolivia, hasn't taken more than its fair share. It has. But Pan American's operations in Bolivia are not an unmitigated disaster, as people may assume.
Buy the way
In short, the macro "taint" associated with Argentina and Bolivia has, I believe, been more than discounted in the stock price, and no potential positive developments there (or anywhere else) have been taken into consideration. The stock is so cheap that Pan American has completed a 5.4-million-share buyback, and plans to apply for approval to purchase 7.6 million more shares.
(Pan American is based in Canada, where the process of buying back stock is stupidly cumbersome. In this case, the company must wait until 12 months from the approval of the most recent program -- i.e., Sept. 1 -- to apply to do the next one. Like many Canadian securities rules, shareholder-friendly​ procedures are thwarted to "protect" people, while ridiculous policies proliferate.)
If the next buyback is approved and executed, and I believe both will occur, the company will have re-bought just under 9% of its stock. I am not 100% certain of this, but I don't believe a buyback of even 1% has ever been announced, much less completed, in the mining sector. The bottom line is that company insiders, who know the company best, are voting with their wallets in a big way. To wit, Ross Beaty, the founder of Pan American and many other successful mining ventures, recently bought about 300,000 shares, taking his ownership to around 2.1 million.
Turning to this quarter specifically, from a financial perspective it was a bit of a disappointment. But operationally (which to me is more important, because that is where the long-term implications and ramifications are), the results seemed quite acceptable.
Part of the problem with this quarter had to do with the drop in price and some sales adjustments for base metals in prior quarters, as well as a rather sizable buildup in inventory. (In mining, inventories get built because, for various reasons, production doesn't ship. It is just one of the vagaries of the business, but if prices are rising it is a good thing, since it will boost next quarter.)
The silver lining
As for potential positives, the company announced remarkably good drilling results at its La Colorada property, which has been a huge success story. That could mean the mine will become bigger or the mine life will double, depending on additional drilling results. It also reported rather startling success at a long-held property called Waterloo. The bottom line here is that there are positive developments taking place, and that is not even discussing what may happen when drilling really gets under way at the company's recently acquired Dolores mine.
Regarding valuation, as anyone who has looked at the mining sector knows, there are many ways to try to value mines. The most popular is "net present value," which is predicated on expectations of metals prices and reserves. I don't like that approach, but on that basis, according to most "dead fish" analysts (whose views I obviously disdain), it sells at one times NPV, versus 1.6 for its peers. However, one can always look at earnings, and Pan American is trading for nine times earnings.
The way I prefer to look at it is this: If you acquired the whole company and then sold all the gold from its Dolores mine, excluding expenses, you would get all your money back plus a tidy return. And you would get the rest of the company for free.
Folks can calculate valuation any way they want, but the net of it all, in my opinion, is that the company is cheap, insiders are buying, and the bad news has been fully discounted but no potential good news has been. In addition, the company raised its dividend again and is going to review its policy for potentially raising it more.
Pan American has been able to carry out exploration, capital projects, dividend increases and stock buybacks, yet it still has $740 million in working capital (of which nearly half a billion dollars is cash) -- unlike some companies that report wonderful earnings but see their cash levels fall behind said earnings. (A little company called IBM (IBM) is the classic example.)
Start at the top
In any case, for anyone considering owning a miner, you have to be bullish on metals prices. But if you are bullish on silver, gold and -- to some degree -- base metals, it seems to me if those go higher, it will be almost impossible not to make more money owning Pan American silver.
I feel about it sort of like I did regarding Microsoft (MSFT) a couple of years ago when I said if you can't make money in Microsoft, you're not going to make money in anything. That might have been something of an overstretch, although Microsoft has worked out OK. (Microsoft owns MSN Money.)
I have a similar feeling about Pan American: I think the risk has been squeezed out, so if you can't make money owning it, you probably won't make money owning any miner. As I said, I am biased, but I love the people there and I feel comfortable that I understand the assets.
So there you have it: a quick look at one of the companies I know best. It just goes to show you how emotion and sentiment swing around, as for a long time Pan American was regarded as the darling of the industry, and now it's the dog. Perhaps it didn't deserve to be the darling, but I guarantee you it is not the dog.
On the air

Finally, in my latest interview with Eric King, I amplify some of my comments from last week's column regarding my criticism of the Fed. Interested readers can listen to it here.  
At the time of publication, Bill Fleckenstein owned or controlled shares of the following companies mentioned in this column: long positions in Pan American Silver and Microsoft.
DATA PROVIDERS
Copyright © 2014 Microsoft. All rights reserved.
Fundamental company data and historical chart data provided by Morningstar Inc. Real-time index quotes and delayed quotes supplied by Morningstar Inc. Quotes delayed by up to 15 minutes, except where indicated otherwise. Fund summary, fund performance and dividend data provided by Morningstar Inc. Analyst recommendations provided by Zacks Investment Research. StockScouter data provided by Verus Analytics. IPO data provided by Hoover's Inc. Index membership data provided by Morningstar Inc.
MARKET UPDATE
NAME
LAST
CHANGE
% CHANGE
There's a problem getting this information right now. Please try again later.
NAME
LAST
CHANGE
% CHANGE
There's a problem getting this information right now. Please try again later.
Market index data delayed by 15 minutes
[BRIEFING.COM] The stock market finished an upbeat week on a mixed note. The S&P 500 shed less than a point, ending the week higher by 1.3%, while the Dow Jones Industrial Average (+0.1%) cemented a 1.7% advance for the week. High-beta names underperformed, which weighed on the Nasdaq Composite (-0.3%) and the Russell 2000 (-1.3%).

Equity indices displayed strength in the early going with the S&P 500 tagging the 2,019 level during the opening 30 minutes of the action. However, ... More
More Market News
Currencies
NAME
LAST
CHANGE
% CHANGE
There's a problem getting this information right now. Please try again later.