It's the printing press or the euro
Despite the latest deal, the European Central Bank remains unwilling to pump out cash as readily as its counterparts elsewhere. And that's the only real way to save the euro.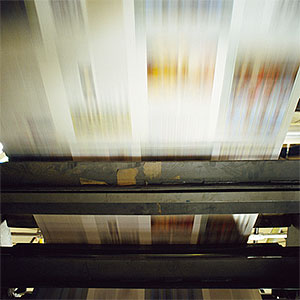 Hopes were no doubt running high this week that somehow a solution to the euro crisis would be found at the European summit, which began Thursday. Unfortunately, however, that was always extremely unlikely, as I'm sure anyone who thought about it could see.
In fact, world markets rallied Friday on headlines about a deal that includes letting European banks borrow from the European Stability Mechanism, a rescue fund. Details were sketchy, as usual, but a deal in and of itself will not provide much relief.
We need to be clear about what separates the European Union from everyone else and, though I have discussed this ad nauseam, I think it is worth repeating: The problem the Europeans face is the fact that the individual countries, and the European Central Bank collectively, are unwilling to use the printing press with reckless abandon.
The only way is the wrong way
That does not mean they aren't printing already, because they are: Witness the balance sheet of the ECB, which is now more than $3 trillion. Rather, the stumbling block is that the ECB doesn't stand ready to print money in unlimited quantities as the "winners" of the monetary world are, i.e., the U.S., Japan, Switzerland, the U.K., etc.
I don't mean to imply that using the printing press is an intelligent choice, nor is it a solution. In fact, printing money has caused the economic woes of America and the rest of the world. However, as I have said often, we are not going to rid ourselves of this menace until it is carried to its logical conclusion.
Thus, we can only hope that the crisis in Europe will rise to the point where the Germans choose the printing press as the least-bad option. To my mind, they will never agree to "eurobonds," jointly issued bonds proposed as a way to lower borrowing costs for struggling nations. But I do think that, at some point, the ECB will choose to print money, despite the objections from Germany, as opposed to seeing the euro collapse.
A default line in the sand
Though I have felt rather strongly that the problem is as I have described it, I hadn't seen it laid out just that way by others until George Soros defined it similarly in an interview for Bloomberg TV  just this week. He said: "The individual members don't now control the right to print money -- they have given that over to the central bank, you see, and that has created the situation with a European country that could actually default, and that is the risk that the financial markets price into the market."
Thus, if he and I are right, it would seem at some point the powers that be in Europe will decide that printing money is better than the disaster scenario conjured in their heads when they think of the consequences of the eurozone fracturing.
The house of cards that Jack built
While I'm on the subject of wrongheaded policies that are perceived to be panaceas, I would also like to point out that the problem in the housing market in America is not that prices are too low but rather that they are still too high. The solution to high prices is high prices. That is what brings on supply, which then curbs demand, just as the solution to low prices is low prices, whereby demand increases, which leads to higher prices and ultimately an increase in supply.
In The New York Times last Sunday, in a lead editorial headlined, "Still depressed after all these years," the editors indicated that we need to avoid "falling prices," stating that, "policymakers need to take steps now to prevent a renewed housing downturn."
The real-estate bubble -- which was aided, abetted and exacerbated by irresponsible lending -- resulted in prices in the stratosphere. If the "authorities" would stand back and encourage the foreclosure process to run to its conclusion and allow prices to fall, the real-estate market would clear, and then cease to be a problem at all.
DATA PROVIDERS
Copyright © 2014 Microsoft. All rights reserved.
Fundamental company data and historical chart data provided by Morningstar Inc. Real-time index quotes and delayed quotes supplied by Morningstar Inc. Quotes delayed by up to 15 minutes, except where indicated otherwise. Fund summary, fund performance and dividend data provided by Morningstar Inc. Analyst recommendations provided by Zacks Investment Research. StockScouter data provided by Verus Analytics. IPO data provided by Hoover's Inc. Index membership data provided by Morningstar Inc.
MARKET UPDATE
NAME
LAST
CHANGE
% CHANGE
There's a problem getting this information right now. Please try again later.
NAME
LAST
CHANGE
% CHANGE
There's a problem getting this information right now. Please try again later.
Market index data delayed by 15 minutes
[BRIEFING.COM] Equity indices remain near their recent levels with the S&P 500 (-0.1%) hovering below its flat line.

Countercyclical sectors displayed early strength, but two of those groups have since slipped behind the broader market. Telecom services (-0.5%) and utilities (-0.5%) are now among the laggards, while consumer staples (unch) and health care (+0.1%) trade a bit ahead of the S&P 500.

Meanwhile, the six cyclical sectors trade mostly lower with energy (-0.8%) ... More
More Market News
Currencies
NAME
LAST
CHANGE
% CHANGE
There's a problem getting this information right now. Please try again later.