Why investing seems so hard these days
A look back at the past 30 years of investing tells us something about what it takes to be a successful investor in today's market. And why, in a bubble-free market, it seems so hard.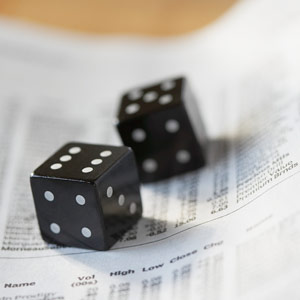 After reading a Tuesday article in the Financial Times headlined "End to 'alpha' spells trouble for fund managers," by Dan McCrum (registration required), I found myself writing so many comments in the margin that I thought it might be worthwhile to step away from market minutia a bit and subject readers to some of my broader thinking on investing.
What the article seems to say is that, for some reason, it has become vastly harder in the past decade, and most especially in the past few years, to make money as an investor.
It has become harder, because we have been in a secular bear market. But McCrum puts the blame elsewhere: "The skills needed to select securities that worked as stocks and bonds rose in value for much of the preceding three decades have become out-of-date." While McCrum has put his finger on something, he is not correct, for several reasons.
The right place at the wrong time . . .
First of all, the past three decades were not one homogeneous period. Skill was required for the 1980s, but not really the 1990s, while the 2000-2010 period required a mixture of skill and luck. By that I mean, in the 1990s, as the stock bubble was inflated by former Federal Reserve Chairman Alan Greenspan, all you needed to do was conclude that you should be long, and the longer and riskier the security, the better.
(In essence, folks confused "alpha" with "leveraged beta." That is, investors thought their success was because they were managing risk intelligently, when in fact they were benefiting from inflated stock prices, as well as increased risk tolerance, which were both consequences of the Fed's easy-money policies.)
Obviously, that did not work in the early part of the new millennium after the stock bubble burst, until the Fed managed to inflate the real-estate bubble. Thus, until that bubble burst in 2008, there had essentially been a period of almost 20 years where the Fed was basically driving stock prices higher (excluding, of course, those immediately following the collapse of the stock bubble).
Thus, not much skill was called for over these two decades. You just needed to be in the investment business.
. . . or vice versa
What McCrum should have said is that the lack of required skills that allowed folks to do well in that period no longer applies. In other words, the investment business is more difficult now than it was for much of the past 20 years, but not because certain investing skills are now obsolete. It is more difficult now because that period was an anomaly, driven essentially by the stock and housing bubbles.
The other point that the article attempts to get at, but doesn't quite reach, is the role of the top-down, macro viewpoint (as contrasted with the bottom-up, micro approach): "Much of the blame for this (poor performance over the last couple of years) tends to be attributed to the fact that markets now move to a drumbeat of statements from politicians and central bankers, such as the head of the US Federal Reserve. 'All 500 S&P companies have the same chairman and his name is Ben Bernanke,' says Jurrien Timmer of the Fidelity Global Strategies Fund."
While that is a clever and correct assessment of the Fed's impact on markets, it is a slight to the important component of macro analysis in investing. Again, for almost the entire decade of the 1990s, as well as from about 2003-2008, macro analysis didn't matter, as the Fed's easy money drove stock prices higher. However, it certainly has mattered since 2008, and prior to the Greenspan era, it mattered a great deal.
Thus, those who aren't able to analyze macro developments are now at a severe disadvantage versus those who can, with the former complaining that the environment is now "all macro all the time." Of course, it isn't. Different periods are driven by different factors, and while sometimes macro analysis matters more, at other times bottom-up details are more relevant. But both are always important.
So many bad habits were created in the 1990s and over a chunk of the past decade that a lot of people have learned the wrong lessons and have no real understanding of how the investment business works, even though they might be in it.
Data points
The author also seems to suggest one reason managers have done poorly is the proliferation of facts and figures that "have made it far easier to analyse asset prices, but harder to gain an edge over peers by acting faster, or more smartly."
What he fails to realize is that it is not necessarily the volume of information or data that makes one a successful manager, it is knowing what to ignore and what to focus on. All information isn't created equal, and many people fall victim to the problem of knowing the price of everything and the value of nothing. There is no more "real," actionable intelligence nowadays than there used to be; it is just easier to slice and dice mountains of it. Most data are still useless, and therefore should be ignored. (Of course, knowing what matters requires experience.)
What the headline of the article completely misses is that, for the most part, stocks have been in a secular bear market since the equity bubble burst in 2000. Even though there have been a couple of big declines and multiyear rallies, the fact of the matter is that, in the aggregate, stocks have gone nowhere for a decade; also, in the past several years valuations have compressed, therefore making it much more difficult for folks to make money.
The author does seem to arrive at the right conclusion: that the skills to be really successful are "held by perhaps 5 to 10 percent of the current investor universe." I don't know if that is the right percentage, but it doesn't much matter. It is more important that folks realize it is not easy to make money, nor should they expect it to be. It requires discipline, yet flexibility (especially when speculating, as opposed to investing) plus top-down as well as bottom-up analysis. And lastly, one must know how to combine these various factors.
The errors of our ways
One of my personal mottoes is "Often wrong, never in doubt," so lest my criticism lead to the impression that I think I am "always right," let me be clear: One of the crucial elements of being successful as an investor or speculator is dealing with your errors.
When I mentioned that one had to be disciplined yet flexible, my point was that what often happens is you put on, say, a short position, but then come to find out that your timing is wrong. (For those who don't know, short selling, or betting a stock will fall in price, is about timing: when to put positions on, add to them or take them off. Yes, research is important, but managing your positions is far more so, at least in my opinion.) Having the ability to get away from a "great hand," to steal a term from poker, is absolutely critical on the short side.
When one is long, betting a stock will rise, it also sometimes turns out you have made a mistake, but you need to be able to figure out the difference between those instances and random investment noise. That is just as important as timing is on the short side, but far easier said than done. That is why, when a position is small, I will sometimes average down, for example, by buying more of a stock I am long after it has declined from my original purchase price. But if I already have a big position in a certain stock, I usually refuse to average down.
There are no hard-and-fast rules to determining when you are wrong or early, or when the market is just being noisy. But how you deal with those cases is a big determinant of how successful you will be. You learn from your mistakes. That, of course, costs money, but it is the tuition we must pay to Mr. Market to gain the knowledge ("experience") that we need to be successful in the long run.
DATA PROVIDERS
Copyright © 2014 Microsoft. All rights reserved.
Fundamental company data and historical chart data provided by Morningstar Inc. Real-time index quotes and delayed quotes supplied by Morningstar Inc. Quotes delayed by up to 15 minutes, except where indicated otherwise. Fund summary, fund performance and dividend data provided by Morningstar Inc. Analyst recommendations provided by Zacks Investment Research. StockScouter data provided by Verus Analytics. IPO data provided by Hoover's Inc. Index membership data provided by Morningstar Inc.
MARKET UPDATE
NAME
LAST
CHANGE
% CHANGE
There's a problem getting this information right now. Please try again later.
NAME
LAST
CHANGE
% CHANGE
There's a problem getting this information right now. Please try again later.
Market index data delayed by 15 minutes
[BRIEFING.COM] S&P futures vs fair value: -5.50. Nasdaq futures vs fair value: -13.00. Nasdaq at... NYSE Adv/Dec 0/0... Nasdaq Adv/Dec 0/0.
More Market News
Currencies
NAME
LAST
CHANGE
% CHANGE
There's a problem getting this information right now. Please try again later.