Down to the wire in Europe
The European Monetary Union seems unable to get ahead of the region's problems, putting stress on markets worldwide even as the endgame approaches.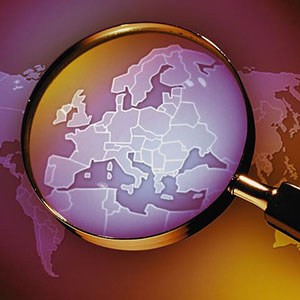 A lot of last week's market action, particularly in European markets, seemed to be largely maneuvering at the margins, as I imagine folks felt the need to jigger their positions in front of Sunday's election in Greece.
Not that any such maneuvering would have been constructive. But suffice to say, the endgame is rapidly approaching for all of the PIIGS, those troubled nations of Portugal, Italy, Ireland, Greece and Spain.
There were more signs of that on Wednesday and Thursday, as the collapse of European sovereign debt markets accelerated, with yields on Spanish debt rising more than 40 basis points to 6.85%. Likewise, Italy's rose about 25 basis points to as high as 6.25% (before both markets rallied a bit). In addition, France saw its rates rise 17 basis points to 2.70%, while Germany's rose 12 basis points to 1.40% (these last two are noteworthy only because of the resulting percentage declines in bond prices).
False hope springs eternal
To demonstrate that hope still trumps facts, there had been a brief respite from the worrying Sunday and Monday, as world markets were initially higher on the news of the Spanish bailout fantasy, with our S&P ($INX) futures leaping almost 1.5% early Sunday evening. I have no idea who was dumb enough to believe that the news, as the details were extremely sketchy.
How sketchy? There hadn't even been a decision about whether the money would come from the European Stability Mechanism or the European Financial Stability Facility, with the former not even coming into existence until July 1. If it is the latter, there are going to be collateral problems. Then there are the knock-on effects, i.e., how the Irish will want similar treatment (retroactively) and the Greeks will try to use this is in their upcoming elections. In any event, the momentum from the weekend didn't even make it to lunchtime on Monday.
Every day that goes by, the pressure increases on those in charge of the flawed euro currency project to do something bigger and bolder, and the more desperate they become, the more likely that is. On the other hand, it is hard to see what they can do to get ahead of the curve, as events are quickly going from the impossible to the inevitable on a regular basis.
Sudden-death overtime
Unfortunately, I have no idea what the endgame will look like. Either the European Central Bank will blink and print enough euros to buy more time for the political leaders to continue their policy of can-kicking half-measures, or the eurozone will actually fracture.
The latter seems more disastrous. On the other hand, how they might keep the whole thing together seems virtually impossible to figure out, even if the ECB does print lots of money (though printing would most likely delay the destruction of the eurozone for quite some time).
The bottom line -- as has been the case for three years now -- is that the European authorities still seem unable to grasp the dire nature of the situation they are in, and they are constantly trying to play catch-up with virtually everything they try to address.
King World News
Tuesday's interview with Erik King turned out to be pretty timely. You can listen to it here.
DATA PROVIDERS
Copyright © 2014 Microsoft. All rights reserved.
Fundamental company data and historical chart data provided by Morningstar Inc. Real-time index quotes and delayed quotes supplied by Morningstar Inc. Quotes delayed by up to 15 minutes, except where indicated otherwise. Fund summary, fund performance and dividend data provided by Morningstar Inc. Analyst recommendations provided by Zacks Investment Research. StockScouter data provided by Verus Analytics. IPO data provided by Hoover's Inc. Index membership data provided by Morningstar Inc.
MARKET UPDATE
NAME
LAST
CHANGE
% CHANGE
There's a problem getting this information right now. Please try again later.
NAME
LAST
CHANGE
% CHANGE
There's a problem getting this information right now. Please try again later.
Market index data delayed by 15 minutes
[BRIEFING.COM] The S&P 500 trades lower by 0.4%, while the Russell 2000 (-0.9%) underperforms.

Just reported, existing home sales hit an annualized rate of 5.05 million units in August, while the Briefing.com consensus expected a reading of 5.20 million. The pace for August was up from the prior month's revised rate of 5.14 million units (from 5.15 million). Nasdaq -26.88 at 4552.91... NYSE Adv/Dec 559/2272... Nasdaq Adv/Dec 561/1935.
More Market News
Currencies
NAME
LAST
CHANGE
% CHANGE
There's a problem getting this information right now. Please try again later.