The Fed's inflation 'solution'
If you think you haven't been paying high enough prices, you're in luck. Some Federal Reserve officials agree with you.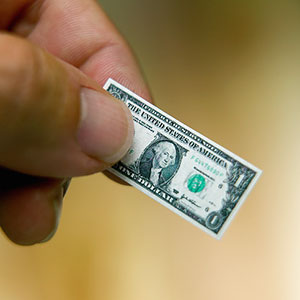 Prominent articles in The Wall Street Journal and The New York Times on Tuesday discussed interviews given Monday by the head of the Federal Reserve Bank of Boston, Eric Rosengren, and they naturally goosed the market while also getting under my skin.
For one, the articles made it painfully obvious that Rosengren is a central planner at heart. If he had his way, he would unleash as much money as it took to force the economy to deliver the lower job and higher inflation rates he wants:
"You continue to do it (print money, monetize debt)  until you have documented evidence that you are getting growth in income and the employment rate consistent with your economic goals . . . . For the first seven months we've been treading water. That's different from what we expected at the beginning of the year," Rosengren said.
I think I speak for everyone here?
Now we get to the really insidious portion of his comments: "The one thing I think all economists agree on is that the Fed should be able to have an impact on inflation . . . . We're missing on the inflation target. I think all economists would agree that we should take action to get back to the inflation target."
His proposal to do that would basically be to have inflation/employment​ rate targeting, where the Fed would have open-ended asset buying programs (aka, quantitative easing), which has the bank buying assets to pump money into the economy) until the desired rates were achieved.
What is really disturbing about his views -- albeit not surprising, I'm sorry to say -- is that, once again, we see that no lessons have been learned. The Fed is the epicenter of the financial disaster and ruined lives that have become the America of the past decade or so, and yet no one there can see it.
During the first equity bubble, I used to comment a lot on the fact that while we were in the midst of a stock mania, and even while there were regular articles about how Japan was struggling as it wrestled with the aftermath of the very same thing, there was almost no recognition of the bubble in America, let alone the consequences that would follow.
Similarly, during the real-estate bubble I was mystified to see people behave even more recklessly than they had in the late 1990s, even though they still had the scars from that experience.
He's not speaking for me
Now we have the Fed advocating that we pursue the same insane policies that have been the source of our economic ills -- as I noted earlier and have protested repeatedly for 17 years,. Does anyone in America really think that the inflation rate isn't high enough? Don't we all want lower prices?
It is just insane that the Fed (or its supporters) has a shred of credibility left. Historians are going to look back on this period and say people were literally out of their minds to fall all over themselves buying government paper -- bonds -- when nominal (and actual) rates were negative and while the Fed (and every other central bank) was intent on creating even more inflation.
As great of an opportunity as the early 1980s were for stocks and bonds, due to the valuations and the policies in place, this is an even more absurd "opportunity."  However, it's not anywhere near as easy to capture; shorting bonds or making investments predicated on inflation is not as easy as just locking up long-term Treasurys at 12%-plus and letting Paul Volcker  and compounding work their magic.
Just put us into our misery
Nevertheless, Rosengren's interview spree is a good look into the "mind" of the easy-money "doves" at the Fed. Though it pains me, and I know it is perverse, I continue to advocate that the Fed just hurry up and do what it's going to do so the bond and currency markets can revolt and the country will hopefully be forced to pursue sane policies. The reason I am willing to do that is because I know they are going to be irresponsible, and I know that will lead to more trouble, but it will be the kind of trouble we actually need. Only by pursuing these policies to their absurd conclusions can we put an end to them.
I made the mistake from 1995 to 2000 of continually expecting the Fed (in the form of Alan Greenspan) to do the right thing. I was not only disappointed, but it cost me a good deal of money for a time. However, I learned that just because these fellows are in positions of power doesn't mean that they are either smart or inclined to do what is right.
A better future through fewer options
As I have chronicled more times than I care to count, the people who run the Fed and other central banks are more apt to pursue the wrong policies than anything else. One has to know what one is up against. In this case, the people who have the incredible power that printing money bestows have no understanding of history and have shown irresponsibility that would be criminal in other contexts. While we all might wish that weren't the case, unfortunately it is. Thus, we must understand what they are going to do and prepare ourselves for those policies and their consequences.
The silver lining is that I think (and hope) that we are in the late stages of centrally planned money printing, and when that ends, sane policies will be forced upon us by the world's currency and bond markets. Then we can get back to rooting for the right thing, instead of the wrong thing as a means to a right end.
DATA PROVIDERS
Copyright © 2014 Microsoft. All rights reserved.
Fundamental company data and historical chart data provided by Morningstar Inc. Real-time index quotes and delayed quotes supplied by Morningstar Inc. Quotes delayed by up to 15 minutes, except where indicated otherwise. Fund summary, fund performance and dividend data provided by Morningstar Inc. Analyst recommendations provided by Zacks Investment Research. StockScouter data provided by Verus Analytics. IPO data provided by Hoover's Inc. Index membership data provided by Morningstar Inc.
MARKET UPDATE
NAME
LAST
CHANGE
% CHANGE
There's a problem getting this information right now. Please try again later.
NAME
LAST
CHANGE
% CHANGE
There's a problem getting this information right now. Please try again later.
Market index data delayed by 15 minutes
[BRIEFING.COM] The stock market finished an upbeat week on a mixed note. The S&P 500 shed less than a point, ending the week higher by 1.3%, while the Dow Jones Industrial Average (+0.1%) cemented a 1.7% advance for the week. High-beta names underperformed, which weighed on the Nasdaq Composite (-0.3%) and the Russell 2000 (-1.3%).

Equity indices displayed strength in the early going with the S&P 500 tagging the 2,019 level during the opening 30 minutes of the action. However, ... More
More Market News
Currencies
NAME
LAST
CHANGE
% CHANGE
There's a problem getting this information right now. Please try again later.