The Fed's 'taper' and other fairy tales
As Japan's problems continue, investors worldwide are still largely convinced central bankers are in control. They're not. The market is.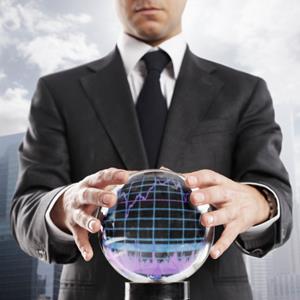 As I noted last week, I am focusing much more than usual on Japanese markets, since I believe there may be important information to be gleaned from the action there in stocks and, particularly, in Japanese government bonds (JGBs).
The Nikkei 225-stock index was hit hard on Monday and Wednesday, making the cumulative pullback in Japanese stocks about 20% from their recent high. Yet the bond market has rallied only about six basis points from its worst level. Obviously, the Bank of Japan has its work cut out for it as it tries to create negative interest rates and a bond market that doesn't collapse.
As my friend the Lord of the Dark Matter summed up in a recent email: "We all get that (Bank of Japan Governor Haruhiko) Kuroda wants Japanese real interest rates to be negative, but achieving that without implied yen-rate volatility trending higher and Tokyo banks realizing losses on JGBs is going to be tricky."
Bond market to introduce 'start loss' orders
I would go one step further and say it's going to be impossible.
Basically, bondholders have to be willing to accept a negative real rate of return, and although that has been the case worldwide for quite a while, the bond market at some point is going to believe central bankers when they say they want more inflation, because they will get it (in fact, they have already).
Once the perception changes to inflation being the only outcome, life for central bankers is going to become incredibly complicated.
One reason markets have become so ebullient, particularly here in the United States: They have concluded that money-printing has created a Goldilocks environment instead of the stagflation or inflation I have long expected. Obviously, Goldilocks is a state of mind and can only last so long, but when you are in the money-printing "sweet spot," anything is possible.
I never would have dreamed it could last this long, nor gone to the extremes that it has, but, then again, we have never had the world's central banks printing this much money.
When you consider that the BOJ and the Fed together are printing $170 billion a month, and that only about $50 billion of liquidity provided by the Fed in the winter of 1999 blew the top off the stock market then, it is easy to see why insanity rules.
However, minds may be changing. David Rosenberg, of Gluskin Sheff, to cite one example, is now expecting stagflation. When the bond markets of the world collectively have the same opinion, the funding crisis will be upon us. (That is not yet today's problem, even though -- as I noted recently -- the very early stages may be occurring in Japan.)
Heading into negative knowledge territory
As a bit of an aside, I would like to make a point about the media and the 20% decline in the Nikkei. Most media talking heads know nothing about investing, yet love to talk about a 20% decline as the definition of a bear market, and other assorted nonsense.
The fact of the matter is that 20% doesn't mean anything. It is just a decent-size decline. It could be a correction or the early stages of a bear market (although that is quite unlikely at this early juncture for Japan). Nonetheless, a bear market is a bear market, but it doesn't become one when you cross 20%. You've quite likely been in one, and it might be over, or it might have been just a correction. In any case, thinking about things from that perspective is totally useless.
We have room only for the big picture
Speaking of wrong-headed, large numbers of investors still believe it is possible that the Federal Reserve will stop its quantitative easing efforts, let alone "taper" them. I continue to believe it is very unlikely that Fed Chairman Ben Bernanke will ever willingly taper.
After all, we've had five years of 0% interest rates, and the Fed can't even talk about an exit strategy that allows it to sell bonds, only buy fewer of them. The same sort of discussion has been held every year, but the masses fail to comprehend that, and get more excited with each QE-inspired rally -- with the latest goosed by the BOJ actions.
Once it is clear that tapering is not likely to occur, it will be interesting to see where the stock market is. It is quite likely to have a failing rally and, in the interim, stock market weakness might give us some insight into where the bond market might fail.
As I have noted, there are plenty of crosscurrents, and in this era, they can be incredibly violent. Unfortunately, when there is so much money printing going on around the planet, virtually all trades are macro.
On the air
In my latest interview with Eric King on King World News I talk about one of the most exciting investment opportunities I have ever seen in my career. Eric called it my "most powerful interview ever." Interested readers can listen to it here.
DATA PROVIDERS
Copyright © 2014 Microsoft. All rights reserved.
Fundamental company data and historical chart data provided by Morningstar Inc. Real-time index quotes and delayed quotes supplied by Morningstar Inc. Quotes delayed by up to 15 minutes, except where indicated otherwise. Fund summary, fund performance and dividend data provided by Morningstar Inc. Analyst recommendations provided by Zacks Investment Research. StockScouter data provided by Verus Analytics. IPO data provided by Hoover's Inc. Index membership data provided by Morningstar Inc.
MARKET UPDATE
NAME
LAST
CHANGE
% CHANGE
There's a problem getting this information right now. Please try again later.
NAME
LAST
CHANGE
% CHANGE
There's a problem getting this information right now. Please try again later.
Market index data delayed by 15 minutes
[BRIEFING.COM] S&P futures vs fair value: -1.50. Nasdaq futures vs fair value: -1.50. Nasdaq at... NYSE Adv/Dec 0/0... Nasdaq Adv/Dec 0/0.
More Market News
Currencies
NAME
LAST
CHANGE
% CHANGE
There's a problem getting this information right now. Please try again later.