Is Japan's bond market in revolt?
Our own funding crisis could very well be precipitated by trouble elsewhere. And there are signs that Japan's bond market may be rejecting the nation's monetary policy.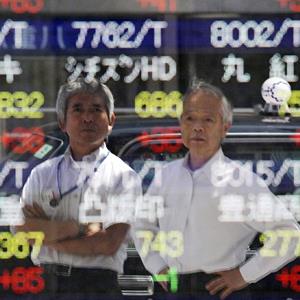 I was fortunate to spend a recent Saturday with my anonymous friend, to whom I refer in my columns as the Lord of the Dark Matter, and I wanted to share the key points of our conversation.
He believes that we need to stay focused on Japan because its stock and currency markets are acting as if they (preemptively) are rejecting the concept of money printing.
The yen has tanked 15% and Japan's bond yields have climbed from 0.50% to 0.82% (more than 60%) since Japanese quantitative easing commenced in November. That increase in volatility alone might begin to cause problems for Japanese derivative books.
Bonds? Aye!
When you are in a country such as Japan, where interest rates have been zero for a long time, you can be sure all manner of volatility has been sold (at the wrong price) in an attempt to enhance yields. So if volatility and interest rates increase, we could see quite a lot of chaos precipitated from Japan, just as when the housing bubble burst and it wasn't just declining housing prices that caused problems. (It was also the levered-up exposure to mortgage-backed assets and other crazy products.)
Thanks to the policies of central banks, we live in a world where there has been a mad scramble for yield, which means too much leverage has been employed and no one is paying attention to credit risk (or the absolute level of interest rates, for that matter). As said more cleverly by LODM, "the world is short gamma." That means that if the situation starts to get out of control in Japan, there will be big ramifications, there and here.
My, gamma, what big teeth you have
I don't want to get ahead of myself, because if the Japanese bond market revolts soon, it won't be just a funding crisis, but a preemptive one as well. My thesis has always been that inflation will eventually cause bond buyers to take the printing presses away from central banks. That is, the funding crisis would be a reaction to inflation.
If Japan's bond market trouble is imminent, it would be a proactive strike on the part of bond investors. Therefore, I am not quite sure a funding crisis can occur in the short run. But, given the insanity of the Japanese debt market and the monstrous size of the monetization program, we have to be alert to new developments.
We all know that the policies being pursued by governments and central banks are insane and ultimately disastrous, but they won't stop without being forced to. This is also why I would expect the Bank of Japan to do more rather than less at the first sign of real "front page news" trouble.
And what might the BOJ have up its sleeve to fight this unwanted development? The LODM suggested that if the Bank of Japan were really clever and wanted to stabilize the longer end of the bond market, it would do something like cap 10-year Japanese government bonds at 100 basis points, which isn't very far from where they are today. In that way, given the BOJ's inflation target of 2%, it would guarantee negative real returns and dampen volatility. Obviously, that wouldn't change the eventual outcome, but it would likely buy the BOJ some time.
Say a few 'Abe Marias' while they're at it?
Of course, nothing like that has been announced. But the point of this exercise is to acknowledge the fact that Japanese Prime Minister Shinzo Abe and his cohort at the BOJ are not going to give up easily. Capping the 10-year for a while is something they can do, and for all I know there are other clever maneuvers they could also try. At any rate, this is potentially a very serious problem, as JGBs comprise about 900% of Japanese banks' Tier 1 capital. Thus, authorities there are going to move heaven and earth as they fight the bond market.
So far, however, world markets have concluded that the BOJ's actions have been a thing of beauty (i.e., the Federal Reserve on steroids), as the Nikkei has levitated 45% this year with no negative ramifications. Thus, I don't want to become too alarmed, and I have taken no action regarding the potential for a Japan-centric financial nuclear event. But I wanted to call it to everyone's attention.
This process has just begun, and there is no point in getting excited too soon, but it is a very important development that bears watching.
DATA PROVIDERS
Copyright © 2014 Microsoft. All rights reserved.
Fundamental company data and historical chart data provided by Morningstar Inc. Real-time index quotes and delayed quotes supplied by Morningstar Inc. Quotes delayed by up to 15 minutes, except where indicated otherwise. Fund summary, fund performance and dividend data provided by Morningstar Inc. Analyst recommendations provided by Zacks Investment Research. StockScouter data provided by Verus Analytics. IPO data provided by Hoover's Inc. Index membership data provided by Morningstar Inc.
MARKET UPDATE
NAME
LAST
CHANGE
% CHANGE
There's a problem getting this information right now. Please try again later.
NAME
LAST
CHANGE
% CHANGE
There's a problem getting this information right now. Please try again later.
Market index data delayed by 15 minutes
[BRIEFING.COM] Equity indices have climbed out of the gate with support from most economic sectors. The S&P 500 trades higher by 0.3% with the financial sector (+0.7%) showing relative strength for the second day in a row.

Likewise, the materials sector (+0.5%) also finds itself among the early leaders after displaying relative strength yesterday. Meanwhile, the remaining cyclical groups hover a bit closer to their flat lines.

On the downside, energy (-0.2%) and utilities ... More
More Market News
Currencies
NAME
LAST
CHANGE
% CHANGE
There's a problem getting this information right now. Please try again later.