Election aside, we're stuck with Big Ben
No matter who wins the presidency, Federal Reserve policies and players are unlikely to change much, and Bernanke will be with us a while longer. But Wall Street seems to think change is on the way.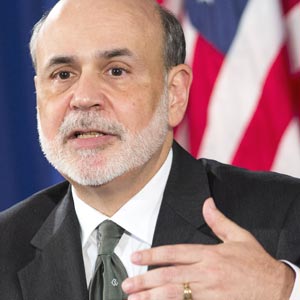 I have noticed a great deal of chatter recently about the prospects of how different the Fed might look if Mitt Romney prevails over President Barack Obama. This, to me, seems not well thought out at all, but there is no doubt it is adding to the crosscurrents and uncertainty precipitated by the election and the coming federal budget crunch known as the "fiscal cliff."
The thinking seems to be that since Romney doesn't like quantitative easing -- the Fed's efforts to inject money into the economy -- Chairman Ben Bernanke won't be able to take the heat of being easy if the Republican wins.
However, I submit that if former Fed Chairman Paul Volcker could take the intense political heat precipitated by his aggressive fiscal tightening in 1980 to '82, then Bernanke could withstand the infinitely easier-to-deal-with flack that being "too easy" (in terms of low interest rates and monetary policy in general) might cause.
In short, a very loose monetary policy won't generate any real criticism.
It's as if he never left
In any case, Bernanke's term does not expire until 2014. While he obviously could decide to resign early, I can't believe that a man whose whole life has been about chronicling the "fact" that the Depression was caused by the Fed not being easy enough (he is wrong about that) would walk out with time left in his term, especially when (in his mind) the world "needs him most."
Thus, we should expect that Bernanke will be the chairman until 2014, regardless of who wins the election.
Given all that, in my opinion, the discussion of what Romney might do regarding a new Fed chairman is wasted speculation.
Nonetheless, if Romney were to win, the market could trade for a short period as if the Fed were about to become hawkish, even though the premise is ridiculous. That's not just because it is likely that Bernanke will serve out his term but also because the composition of the Fed next year will be particularly dovish.
For folks to believe that the Fed is going to get tough if Romney is elected would mean they expect that basically the entire Fed board will change its stripes or walk out, neither of which will happen.
The reason I bring this up is because, as I noted above, there seems to be a growing feeling on Wall Street that if Romney wins, various markets will trade as if the Fed were ready to tighten monetary policy, so I wanted to put this on people's radar screens. As I have just described, I don't think there is going to be a tighter Fed as a result of the election, no matter who wins. While I suppose the Fed could be ever-so-slightly less easy, given the fiscal constraints that might come from a Republican administration, the governors could also decide that they need to ease monetary policy to compensate for budget cuts.
Heads up for a head fake
So the bottom line is that there is liable to be a what's-the-Fed-going​-to-look-like crosscurrent laced with election headline roulette, which will most likely entail the idiotically named risk-off trade.

If that occurs, it will likely present opportunities in a variety of assets (which could be anything, from oil to currencies, depending on the mood of the moment), as it is extraordinarily improbable that the Fed is going to approach anything like "not easy," much less actually tightening. 

How is Bill Fleckenstein like Ben Bernanke? Well, Ben wishes he had hair and Bill is a fiscal conservative who saves money on haircuts. Taking interest rates to zero makes stocks more attractive than bonds which makes it really really hard for Ol' Bill to short this market. I guess that means metaphorically, Ol' Bill is getting a haircut right now!
I look forward to 8 more years of Obamalove. He's like a dark chocolate Carebear that makes stocks go up!
HAPPY OBAMAWEEN!!!

OMG, I just paid my $120/year for the FLECKENSTEIN CAPITAL NEWSLETTER using a stolen debit card and all I got back after registration was a dozen junk emails from Bain Capital and the Romney Campaign!!! The Bain Capital email said "dear new investors, the campaign to destroy FOX NEWS is almost complete. Can they look any sillier? We are looking forward to stripping this network right down to the silicon breasts but we're replacing the guy who looks like a Jew with a Mormon." Then I read the Romney Campaign email which said: "Dear Satan, I mean Bill, I know I promised you my soul for a win in November but you never told me you were voting for Ron Paul instead. OMG, why can't I get anybody to vote for me?"  Then I googled Fleckenstein Capital Newsletter and nothing came up except the numbers 666 pointing me to the website for in-n-out burger. Could Bain Capital be trying to leverage into in-n-out? I've noticed the animal fries are a little less spicy. Bill what does this mean?

Keeping the enemy close thats funny actually their the only news station that tells the American people the truth about this sorry **** administration that needs to be replaced by somebody that cares about the problems facing the USA.I love this country and Im tired of a president and administration investing my money in stimulis plans that dont work and also I dont believe this president an American if he didnt have anything to hide why would he seal his school records.Maybe he took foriegn aid and really was possibly born somewhere else like Kenya

BILL, EASY BUTTON FOR YOU is the GLOBAL MARKET is scared to death of a Romney win because he is a religious fanatic and bishop of a cult first and an evil businessman second. Has he really run a business? Didn't he really just use cloak-and-dagger means to destroy companies, buy them cheap, hire someone else to manage them, then sell them for a profit later? Were the companies profitable because of Romney's business skills or simply profitable because he stopped trying to destroy them? This man is the anti-christ of the business realm. I don't like his religion, I don't like his obvious faults such as repeatedly and chronically flip-flopping and lying and I really despise his hound-dog-eyed little buddy Lyin' Ryan who could go get groceries with a 20 and come back short with no groceries. Surely you see these two are endemic of the problems within the Republican Party which is more concerned with imposing their religious will upon us and stripping us of our liberties just like Bush. BIG OIL was the crux of the GOP. BIG OIL is dead. Green energy will one day replace oil just like cars replaced the horse and buggy. Google the Paris Auto Show for the dozens of electric and hybrid cars ready for the market NOW. VOTE OBAMA!!

I was keeping the enemy close by watching FOX NEWS tonight. FOX NEWS was calling out the President to reveal national security secrets and CIA intel to back up their claim that the President ignored calls for help from the attacked embassy in Libya and FOX conjectured that the CIA is actually inside Libya and could have responded. First of all, that former politician from Arkansas who shall remain nameless is a shameless media whore and religious fanatic to the nth degree who needs to be censored. The President is doing the right thing by ignoring these morons. We do not blast national security intelligence over the airwaves for the enemy to hear. My point is this is all they can come up with this close to the election, lies and more lies. Why did Arab Spring occur? Because the oil companies were paying GOP-backed bribes to dictators and killers like Quaddafi who tortured his own people and they finally had enough. When the rebels entered his private chamber, there were documents showing payments from the CIA. If true, the Republicans were caught paying off killers of Americans in exchange for oil. We must proceed with green energy as urgently as possible so as to never again be at the mercy of such immoral monsters. Quaddafi is dead, Bin Laden is dead and America is still alive. VOTE OBAMA!!

There was a time when an old short-seller like Bill Fleckenstein could mesmerize Republicans everywhere with tales of a collapsing market, easy riches and a quick ride back up the wave of deceit.
However, President Obama was elected to make those shameful riches go away by installing oversight again of the stock market. So, Bill is now relegated to subtly suggesting that Romney may win and what might happen if he does, as though psychic powers have now replaced simply waiting until a market event happens then writing about it post-haste as though you knew it was coming in the first place. Oh Bill, you devilish penmeister of olde!! Calm your hearts dear friends. President Obama will be re-elected easily and Ben Bernanke, who saved us from the Bush apocalypse, will remain in place to see us forward. God Bless America and please VOTE OBAMA!!! I voted early and gave my vote to the President. Please do not waste your vote on a pair of con artists and confirmed liars like Romney/Ryan who want to replace civil rights with religious control while the wealthy continue to legitimately rape us. VOTE OBAMA!!!!
Are you sure you want to delete this comment?
DATA PROVIDERS
Copyright © 2014 Microsoft. All rights reserved.
Fundamental company data and historical chart data provided by Morningstar Inc. Real-time index quotes and delayed quotes supplied by Morningstar Inc. Quotes delayed by up to 15 minutes, except where indicated otherwise. Fund summary, fund performance and dividend data provided by Morningstar Inc. Analyst recommendations provided by Zacks Investment Research. StockScouter data provided by Verus Analytics. IPO data provided by Hoover's Inc. Index membership data provided by Morningstar Inc.
MARKET UPDATE
NAME
LAST
CHANGE
% CHANGE
There's a problem getting this information right now. Please try again later.
NAME
LAST
CHANGE
% CHANGE
There's a problem getting this information right now. Please try again later.
Market index data delayed by 15 minutes
[BRIEFING.COM] The major averages have not wasted any time in rebounding from their opening lows. The S&P 500, which started with an eight-point loss, has already recovered all but two points help from influential sectors like energy (+0.4%), financials (+0.1%), and technology (+0.1%).

On the flip side, consumer discretionary (-0.1%), industrials (-0.3%), and health care (-0.4%) remain weak.

The performance of the six sectors is likely to influence the direction of the ... More
More Market News
Currencies
NAME
LAST
CHANGE
% CHANGE
There's a problem getting this information right now. Please try again later.