Election aside, we're stuck with Big Ben
No matter who wins the presidency, Federal Reserve policies and players are unlikely to change much, and Bernanke will be with us a while longer. But Wall Street seems to think change is on the way.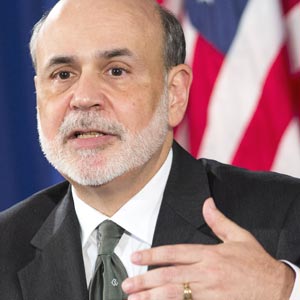 I have noticed a great deal of chatter recently about the prospects of how different the Fed might look if Mitt Romney prevails over President Barack Obama. This, to me, seems not well thought out at all, but there is no doubt it is adding to the crosscurrents and uncertainty precipitated by the election and the coming federal budget crunch known as the "fiscal cliff."
The thinking seems to be that since Romney doesn't like quantitative easing -- the Fed's efforts to inject money into the economy -- Chairman Ben Bernanke won't be able to take the heat of being easy if the Republican wins.
However, I submit that if former Fed Chairman Paul Volcker could take the intense political heat precipitated by his aggressive fiscal tightening in 1980 to '82, then Bernanke could withstand the infinitely easier-to-deal-with flack that being "too easy" (in terms of low interest rates and monetary policy in general) might cause.
In short, a very loose monetary policy won't generate any real criticism.
It's as if he never left
In any case, Bernanke's term does not expire until 2014. While he obviously could decide to resign early, I can't believe that a man whose whole life has been about chronicling the "fact" that the Depression was caused by the Fed not being easy enough (he is wrong about that) would walk out with time left in his term, especially when (in his mind) the world "needs him most."
Thus, we should expect that Bernanke will be the chairman until 2014, regardless of who wins the election.
Given all that, in my opinion, the discussion of what Romney might do regarding a new Fed chairman is wasted speculation.
Nonetheless, if Romney were to win, the market could trade for a short period as if the Fed were about to become hawkish, even though the premise is ridiculous. That's not just because it is likely that Bernanke will serve out his term but also because the composition of the Fed next year will be particularly dovish.
For folks to believe that the Fed is going to get tough if Romney is elected would mean they expect that basically the entire Fed board will change its stripes or walk out, neither of which will happen.
The reason I bring this up is because, as I noted above, there seems to be a growing feeling on Wall Street that if Romney wins, various markets will trade as if the Fed were ready to tighten monetary policy, so I wanted to put this on people's radar screens. As I have just described, I don't think there is going to be a tighter Fed as a result of the election, no matter who wins. While I suppose the Fed could be ever-so-slightly less easy, given the fiscal constraints that might come from a Republican administration, the governors could also decide that they need to ease monetary policy to compensate for budget cuts.
Heads up for a head fake
So the bottom line is that there is liable to be a what's-the-Fed-going​-to-look-like crosscurrent laced with election headline roulette, which will most likely entail the idiotically named risk-off trade.

If that occurs, it will likely present opportunities in a variety of assets (which could be anything, from oil to currencies, depending on the mood of the moment), as it is extraordinarily improbable that the Fed is going to approach anything like "not easy," much less actually tightening. 
DATA PROVIDERS
Copyright © 2014 Microsoft. All rights reserved.
Fundamental company data and historical chart data provided by Morningstar Inc. Real-time index quotes and delayed quotes supplied by Morningstar Inc. Quotes delayed by up to 15 minutes, except where indicated otherwise. Fund summary, fund performance and dividend data provided by Morningstar Inc. Analyst recommendations provided by Zacks Investment Research. StockScouter data provided by Verus Analytics. IPO data provided by Hoover's Inc. Index membership data provided by Morningstar Inc.
MARKET UPDATE
NAME
LAST
CHANGE
% CHANGE
There's a problem getting this information right now. Please try again later.
NAME
LAST
CHANGE
% CHANGE
There's a problem getting this information right now. Please try again later.
Market index data delayed by 15 minutes
[BRIEFING.COM] The stock market finished the Tuesday session on the defensive after spending the entire day in a steady retreat. The S&P 500 (-0.6%) posted its third consecutive decline, while the small-cap Russell 2000 (-0.9%) slipped behind the broader market during afternoon action.

Equity indices were pressured from the start following some overnight developments that weighed on sentiment. The market tried to overcome the early weakness, but could not stage a sustained rebound, ... More
More Market News
Currencies
NAME
LAST
CHANGE
% CHANGE
There's a problem getting this information right now. Please try again later.