This is what tops look like
Like Apple stock a year ago, the market's sunny optimism sits in sharp contrast to the situation on the ground. Going against the mainstream at times like these is the best way to put the odds of success in your favor.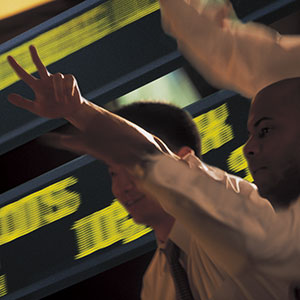 Being a contrarian is not easy. If you are right about a new idea, it always takes time to prove out. In the short run, you usually appear to be wrong, and you look -- and often feel -- silly.
While I don't consider myself contrarian for its own sake (I am a contrarian because it is the best way to improve your risk/reward odds), longtime readers know that I have no problem voicing unpopular opinions. I try to be disciplined about coming to my own conclusions, regardless of what anyone else might think.
About a year ago, I had a great opportunity to illustrate this point. On MSN Money on April 5, 2012, I published a controversial column titled, "Is it time to bet against Apple?" It certainly generated a lot of negative replies.
It's no longer Apple season
Those who are interested can re-read it if they are so inclined, but to summarize, I made the point that "as successful as Apple has been, probably some time in the next couple of quarters, if not sooner, I think it is much more likely to make a great short sell (for those who feel lucky, brave or both) than a great investment from the long side. Given the money-printing environment we have been in, I may or may not try that tactic (it all depends on the setup)."
For the record, I did not try shorting it, but I did trade it briefly in late 2012 for a decent bounce of 1%.
At this time a year ago, this view was unpopular, to say the least. Apple (AAPL) had experienced enormous recent growth and seemingly could do no wrong. To express an opinion that its success might not continue was typically dismissed as sour grapes by someone who had not owned it on the way up. I would have been subject to much less grief if I had talked about why I thought Apple stock would go to $1,650. (If you look at my original column, you will find a link to just such an opinion from a writer at Forbes).
I have been wrong too many times to take any particular pleasure in being right about Apple, which has lost more than 30% in the past year. My point in bringing it up is to learn from this outcome.
What happened with Apple is not unique, which is partly why I was able to come to the conclusion that I did. It is what a top in a stock looks like. This is important because, as I have said repeatedly, you can't know in advance when a stock will experience a top. You have to be alert to the signs. If you know what a top looks like, you will have a better chance of recognizing one as it starts to develop.
The current environment is another example. As stock markets around the world have risen this year, so has confidence that the "worst" -- whatever that is -- might be behind us. Despite the huge misallocations of capital we saw during the stock and housing bubbles, people still believe that Wall Street prices are generally "right" and that, therefore, rising stock prices indicate a rosy future.
94% pure bull?
To give an indication how far this mindset has spread, last weekend Barron's again featured a picture of a bull on the cover, this time with a "Dow 16,000" headline. What readers may not remember is that near the market peak in 2007, a Barron's cover called out "Dow 14,000." (Historically, Barron's covers have been a somewhat contrarian indicator.)
What was truly remarkable, however, were the results of the magazine's Big Money poll, which showed that 74% of institutional money managers were either bullish or very bullish -- an all-time high going back 20 years. Furthermore, looking out five years, 94% of these folks are bullish.
I really don't know what to say about that, it is so astounding. When you think about the large institutional crowd that has convinced itself that basically the future has never been brighter, and combine that with money printing by central banks, it does explain why the stock market is where it is.
What it does not explain is how anyone who lived through the past 10 to 15 years could have come to the conclusions they have come to, but that is a different question entirely. (How so many so-called professionals could miss both bubbles and still have their jobs is an even more perplexing question.)
The optimist sees the year as only half-begun
In any case, we can't answer the unknowable. Obviously, sentiment is not likely to get much more lopsided. Though the one-sidedness of people's opinions does not mean that the market has to decline tomorrow, it does suggest that a great number of people have acted on this viewpoint and probably explains what has hampered gold.
The emotional dynamic in that market, especially regarding the miners, is the exact opposite of what we saw with Apple a year ago, or with the stock market generically now. Except instead of being able to do no wrong, the metals complex seems unable to do anything right. Sentiment is lopsidedly negative, and prices are depressed. That in and of itself doesn't mean the market will turn tomorrow, but just as experience tells one how to recognize a top, it can do the same for spotting when a market may have hit bottom.
When psychology starts to shift back toward the problems that we face, as it did in the second half of 2011 and 2012 (this year's underlying fundamentals are worse), while stocks will likely sink, gold may find a few more buyers.
 At the time of publication, Bill Fleckenstein owned gold.
DATA PROVIDERS
Copyright © 2014 Microsoft. All rights reserved.
Fundamental company data and historical chart data provided by Morningstar Inc. Real-time index quotes and delayed quotes supplied by Morningstar Inc. Quotes delayed by up to 15 minutes, except where indicated otherwise. Fund summary, fund performance and dividend data provided by Morningstar Inc. Analyst recommendations provided by Zacks Investment Research. StockScouter data provided by Verus Analytics. IPO data provided by Hoover's Inc. Index membership data provided by Morningstar Inc.
MARKET UPDATE
NAME
LAST
CHANGE
% CHANGE
There's a problem getting this information right now. Please try again later.
NAME
LAST
CHANGE
% CHANGE
There's a problem getting this information right now. Please try again later.
Market index data delayed by 15 minutes
[BRIEFING.COM] The stock market finished an upbeat week on a mixed note. The S&P 500 shed less than a point, ending the week higher by 1.3%, while the Dow Jones Industrial Average (+0.1%) cemented a 1.7% advance for the week. High-beta names underperformed, which weighed on the Nasdaq Composite (-0.3%) and the Russell 2000 (-1.3%).

Equity indices displayed strength in the early going with the S&P 500 tagging the 2,019 level during the opening 30 minutes of the action. However, ... More
More Market News
Currencies
NAME
LAST
CHANGE
% CHANGE
There's a problem getting this information right now. Please try again later.