Fed adheres to 'jawbone' standard
When it comes to monetary policy, our Federal Reserve is hoping words speak just as loud as actions.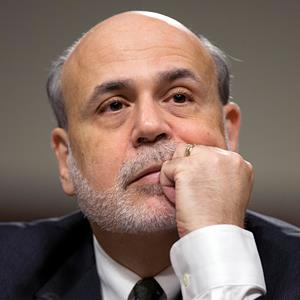 It's time once again to check in on our fearless leaders at the Federal Reserve, as Wednesday was the scene of Chairman Ben Bernanke's most recent congressional testimony (as well as the release of the latest FOMC minutes).
Spoiler alert
But we already knew -- regardless of what Bernanke or the minutes said -- what the Fed is going to do, namely what it has always done since former Chairman Alan Greenspan manned the helm. This is not debatable: The central bank is going to print money -- too much money, it as it will turn out, and the central bankers won't understand that -- leading to a collapse in the economy and financial markets, and so the Fed will come back and do the same thing on an even bigger scale.
For five years now, there has been steady talk of exit strategies, yet none has occurred. Nor is exiting described as a binary on-off switch any longer, but rather as a dial whereby the flow of money can be scaled up or down, depending on the data.
Thus, the very concept of an exit strategy, where the Fed might suddenly stop buying or actually sell bonds and reduce its balance sheet, has been abandoned and is never going to happen.
This makes it rather annoying and maddening to deal with financial markets that move on every speech given by every Fed head as they work their jawbone standard. But that is where we are.
Fed won't hit the brakes until it's sure we've hit something
No one should be shocked to learn that Bernanke opened Wednesday's testimony by saying that a premature tightening risks slowing or ending the recovery.
That is all you need to know: There will be no premature tightening. Bernanke is not going to pre-empt anything, certainly not inflation.
In fact, he said, ". . . inflation, if anything, is a little too low."
All of the tough talk, I believe, is because the powers that be at the Fed have some inkling somewhere in the back of their minds that maybe if they "overdo it," financial markets might get a little (in Fed terminology) overheated.
Other than that, they have no interest in ending their massively stimulative policies in any time frame that could remotely be called early.
In any case, when the Bernanke headline hit the tape, everything vaulted to the upside. Then, during the question-and-answer period with lawmakers, Bernanke said he could raise or lower the purchase pace of Fed bond buying (gee, what a shock), depending on the data (ditto).
But then he dropped a supposed bombshell, noting that the Fed could cut the pace of bond purchases at one of its next few meetings (yes, slowly, or maybe not at all). That comment caused a great deal of selling in the bond, currency and metals markets, but it initially had only a modest impact on the stock market, which eventually sank with everything else.
Hanging ourselves on every word
The bottom line is that this is a whole lot of hot air, but we are forced to deal with it on a daily basis because we live in a world where central bankers think they know the future and the only standard that exists anymore is the jawbone standard.
(And, most importantly, the damage from money printing has already been done, the consequences just haven't yet fully manifested themselves.)
Are bonds u-ZIRP-ing control?
Bonds were deservedly smoked on Wednesday, and yields are approaching their highs of the year. If they keep sliding, stocks will get hit (though they could tank for any reason now, given how frothy the market is) and then the economic data will be seen for what it is: weak.
Of course, "taper talk" would then cease and folks would realize that the Fed is (and has been) trapped. You can't abandon zero-interest-rate-p​olicy (aka ZIRP) until the market forces you to via a funding crisis. Period!
At the time of publication, Bill Fleckenstein owned gold.
DATA PROVIDERS
Copyright © 2014 Microsoft. All rights reserved.
Fundamental company data and historical chart data provided by Morningstar Inc. Real-time index quotes and delayed quotes supplied by Morningstar Inc. Quotes delayed by up to 15 minutes, except where indicated otherwise. Fund summary, fund performance and dividend data provided by Morningstar Inc. Analyst recommendations provided by Zacks Investment Research. StockScouter data provided by Verus Analytics. IPO data provided by Hoover's Inc. Index membership data provided by Morningstar Inc.
MARKET UPDATE
NAME
LAST
CHANGE
% CHANGE
There's a problem getting this information right now. Please try again later.
NAME
LAST
CHANGE
% CHANGE
There's a problem getting this information right now. Please try again later.
Market index data delayed by 15 minutes
[BRIEFING.COM] The stock market finished an upbeat week on a mixed note. The S&P 500 shed less than a point, ending the week higher by 1.3%, while the Dow Jones Industrial Average (+0.1%) cemented a 1.7% advance for the week. High-beta names underperformed, which weighed on the Nasdaq Composite (-0.3%) and the Russell 2000 (-1.3%).

Equity indices displayed strength in the early going with the S&P 500 tagging the 2,019 level during the opening 30 minutes of the action. However, ... More
More Market News
Currencies
NAME
LAST
CHANGE
% CHANGE
There's a problem getting this information right now. Please try again later.