Former Amazon CFO dies in cycling crash
Joy Covey, who helped take the retailer public, was 50.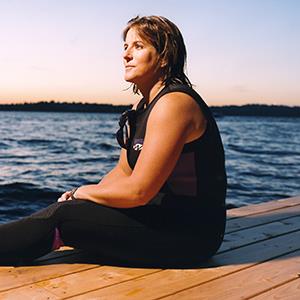 By Laurence Arnold, Bloomberg

Joy Covey, who helped take Amazon.com (AMZN) public as the Internet retailer's chief financial officer, has died. She was 50.
She died Wednesday after colliding with a minivan while riding her bicycle downhill on Skyline Blvd. near Portola Valley, Calif., according to Art Montiel, a public information officer at the California Highway Patrol in Redwood City. She was pronounced dead at the scene. The San Mateo County Coroner's Office confirmed her identity.
"Except on an occasional basis when it is critical for me to deal with Wall Street, she makes it possible for me to spend a lot more of my time on the customer experience," Amazon founder and CEO Jeff Bezos said of Covey, according to the article. "Her job is not only in the CFO capacity but somewhat broader and deeper in communicating our message to investors, which is so important to our future."
Amazon went public on May 14, 1997, with an initial offering price of $18. Shares are now worth about $318.
In 1999, Fortune magazine named Covey on a list of the 50 most powerful women. "As CFO, her feat was convincing Wall Street that a profitless company was worth $22 billion," the magazine wrote.
In a 2002 interview with the Harvard Law Bulletin, Covey recalled of her Amazon years, "Our view was that most companies depart from their best long-term business thinking in order to please Wall Street. And they often do things that are not in the best long-term interest of the business because they're under pressure from investors for short-term results."
Joy Dianne Covey was born on April 25, 1963, in Boston, the second daughter for Maurice C. Covey, a physician, and the former Joan De Vries, according to an obituary of her father, who died in 2011. She grew up in San Mateo, Calif.
She didn't finish high school, moving away from home at 15 and working as a grocery clerk in Fresno, according to the Harvard interview.
She graduated in 1982 from California State University in Fresno and began her career as an accountant at Arthur Young LLP, working for clients including Denny's restaurants, according to the Journal. She graduated from Harvard Law School's joint J.D.-MBA program in 1989.
After a stint at the investment firm Wasserstein Perella & Co., she landed in 1991 as CFO of Digidesign Inc. in Menlo Park, Calif., a digital audio software maker, guiding its IPO and 1995 sale to Avid Technology Inc., according to a profile of her in Forbes magazine. She moved to Boston to work for Avid but soon was back in Silicon Valley. When she started working at Amazon, she won permission to stay in California and commute to company headquarters in Seattle.
When she joined Amazon, it had 150 employees and $16 million in sales. As of December, the company had 88,400 employees and $61 billion in revenue.
She took a salary of less than $100,000 in favor of stock options that, as of 1999, gave her a net worth exceeding $200 million, according to Forbes magazine.
Covey moved from CFO to chief strategy officer in April 1999 and left Amazon in April 2000. She was named to JetBlue Airways Corp.'s board of directors in 2003.
More recently she was a trustee at the Natural Resources Defense Council, which called her "an active environmentalist" who "loves adventure, travel and outdoors activities, including kite surfing, skiing the steeps, and cycling." A pilot, she transported a Mexican gray wolf from a sanctuary outside St. Louis to the woods of the U.S. Southwest and also helped rescue an orphaned grizzly cub from Alaska, according to the NRDC.
Her son Tyler is among her survivors.
More from Bloomberg
DATA PROVIDERS
Copyright © 2014 Microsoft. All rights reserved.
Fundamental company data and historical chart data provided by Morningstar Inc. Real-time index quotes and delayed quotes supplied by Morningstar Inc. Quotes delayed by up to 15 minutes, except where indicated otherwise. Fund summary, fund performance and dividend data provided by Morningstar Inc. Analyst recommendations provided by Zacks Investment Research. StockScouter data provided by Verus Analytics. IPO data provided by Hoover's Inc. Index membership data provided by Morningstar Inc.