How to spot a flood-damaged car
Vehicles swamped by Hurricane Sandy will soon be arriving on used-car lots across the country.
This post comes from partner site Insure.com.

Whether you live close to a recent flood or across the country, you might feel the effects if you buy a used car: You can expect water-damaged cars will soon be making their way to your region.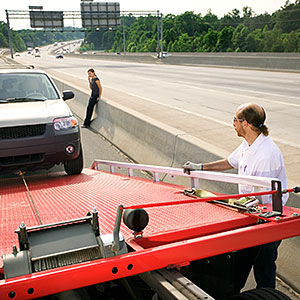 One consequence of any major flood is an onslaught of water-damaged cars appearing on the used-car market, as owners try to unload their vehicles onto unsuspecting buyers.
When a car gets caught in a flood, you might expect that once it dries out, it simply sputters to the salvage yard. Think again.
Sometimes flooded cars are totaled by an insurance company, sold through auto salvage auctions, shipped hundreds of miles away and cleaned up by dealers for resale.
You can avoid flood-damaged cars and the problems lurking beneath their hoods if you know what to look for.
What's that smell?
It doesn't take a trained nose to recognize a flood-damaged car. If the car doors have been closed and the car has been sitting out in the sun, the interior will have a strong musty odor. Bad odors are mainly due to moisture-laden carpet padding. Unless the carpet is removed and shampooed, the musty smell will never fully disappear.
However, not all flood cars reveal their true nature by aroma. Unscrupulous car dealers often mask water-damage smells with deodorants. If a car has a newly deodorized "fresh mountain air" scent, warning bells should sound in your head and you should look for other signs of water damage.
Specifically:
Check all gauges on the dashboard to look for signs of moisture.
Test all the dashboard switches and devices, including the lights, wipers, turn signals, radio, heater and cigarette lighter.
Flex wires under the dashboard. If the wires crack, the vehicle likely has water damage.
Check for signs of rust in the interior of the vehicle. Front-seat bolts tend to corrode quickly and they're very visible. Look for signs of rust in the trunk, especially at the lower part of the compartment near the tail lights.
Check for water lines in the carpeting. Look closely at the kick panels in the front seat. Water and silt have a tendency to collect in those areas.
Problems down the road with flood cars
A flood-damaged car doesn't always reveal its shortcomings right away. Yet engine, transmission, wheel and brake damage can develop just weeks after you purchase the car. 
If the car was totally submerged, it is wise to walk away from it. The vehicle could have been in sewer water, sandy water or relatively debris-free water. Regardless, if water seeped into the engine or transmission, problems are bound to crop up. For example, if the water carried sand into the engine, misfiring and blown gaskets could be just around the corner.
Additionally, submerged vehicles will often develop electrical problems.
There is also a chance you could get sick if you're driving a car that was submerged in sewer water. Unless your dealer removed the vehicle's carpet and padding and disinfected the interior, elevated bacteria levels are possible.
Can they all be bad?
Not all flood-damaged cars are pariahs. You can still get a quality car if it has been cleaned and restored properly. That process includes removing the vehicle's interior, including seats; removing the carpet padding and replacing it; disinfecting the car; changing the seat foam and shampooing the carpet; greasing all electrical connections; and replacing any corroded wires or components.
To ensure that a vehicle has been repaired properly, take it to a reputable mechanic for a pre-purchase inspection. You don't want to buy a car that will drown you in bills.
Not all car insurance companies will sell you a policy on a flood-titled car, but some may offer to sell you a liability policy but no collision or comprehensive coverage.
If you're suspicious about whether a car you're thinking about buying has indeed been in a flood, you can pay for a vehicle history from services such as CarFax.com. You can also try the free National Motor Vehicle Title Information System and VINCheck from the National Insurance Crime Bureau.
Keep in mind that the car's title will show that it's been in a flood only if it was officially totaled by an auto insurance company.
More from Insure.com and MSN Money:
You "Get a CarFax" believers are so naive. A CarFax report is no guarantee that any and all damage will be listed. The flaw is the vehicle in question has to have the damage reported to the insurance company to get reported on CarFax. CarFax offers no guarantee that their information is correct and will not cover you if the information they supply is wrong. All you get is a warm fuzzy feeling. Get any used car inspected by a professional that you trust. A CarFax report is not a substitute. Any good dealer will be happy to allow this inspection. If not keep looking.

i bought a deaership car with a clean carfax. i trusted them. after all how could they sell me a flood car? how wrong i was. you need to bring any car you buy to a trusted mechanic who knows what to look for. if the seller does not cooperate in any way just walk away from the deal and that dealership, period. there are plenty of dealers and plenty of used cars out there. DONT GET EMOTIONAL IN YOUR SELECTION. a decision and deal made on how much you "love" the car could be your worst nightmare later. always try to get a warranty. a few thousand mile or a few months warranty give you a lot more power to just return the car within 72 hours of the deal in most states. be aware your lender will not help you and the dealer will say you cant return the car. I MADE THESE MISTAKES but had the car inspected and it was an obvious flood vehicle after looking under the car. i notified every consumer and motor vehicle agency i could. i had a liscensed certified mechanic declare it unsafe and brought it back and thew th keys on the salesmans desk had a witness took pictures of everything including where i dropped it off with identifiers in the backround and dates on the pictures. the salesman said i cant do this its yours now you cant reverse the sale etc. and tried to make me keep it saying what can we do to make you happy. i said just take it back and forget about it over and over and left it there. one week later the loan dissapeared from the bank and the car was relisted for sale  a check for my deposit appeared in my mail. one thing i can say is i was very lucky to do this. it was the biggest dealer in tampa fl and they could have fought this but probably did not want to get the publicity that i told them i would create. i figure the car came out of hurricane irene from up north.CAR FAX DOES NOT HAVE PRIVATELY PAID REPAIRS ON IT SO HOW CAN YOU BE SURE< GET IT INSPECTED BY SOMEONE WITH THE KNOWLEDGE

Not all flood-damaged cars are pariahs. You can still get a quality car if it has been cleaned and restored properly. That process includes removing the vehicle's interior, including seats; removing the carpet padding and replacing it; disinfecting the car; changing the seat foam and shampooing the carpet; greasing all electrical connections; and replacing any corroded wires or components.  End quote.
No mention is made of water intrusion into the myriad of electrical components such as computers, window and seat motors, air bag sensors, etc. These failures will show up sooner or later, good luck staying ahead of the repairs.
If you have any indiacation of water intrusion as high as the seats, walk, no, RUN away from the deal.

by the way did i say DONT TRUST ANYTHING THEY SAY. CAVEAT EMPTOR< let the buyer beware. especially look for out of state registrations on the carfax and the dates and try to find out if there were floods there at those times. the really good scammers will really do a good job on the cosmetics,new carpet or seats. look under the seats. does it have rust under there. it shoudnt at the metal frame.look under the carpet, find rust run away from theredid they spray paint inside the fendewells or undercoating underneath that looks new run away. does the solid iron parts have flakey kind of rust that falls off in chunks run away. do the nuts and bolts of thing mounted under the hood look real rusty or are they too new be suspicios but you can look up the things to look for. look for rust in the underbody nooks and crannies up above the suspension mounts. look for telltale signs of waterlines or rust lines under the fenders in the trunk behind the liners. look for brand new transmission fluid in them. how many people change their trans fluid? very few. look for new gaskets on the differential housings and brand new differential fluid in them. who changes that stuff? very few. salt water immersion will give all the alloy parts like the transmission, water pump,alternator hosings a strange. pitted look. if you dont know what normal stufff looks like when used go visit your local junkyard and look at their transmissions alternators and other alloy parts. all that stuff has been wet and will not look like the salt water corrosion stuff. you can find pictures of and articles on the internet on salt water corrosion effects and how it looks. also salt water corrosion and rust on painted parts have a unique look to them ask you body shop guy to help you.the loss of possibly tens of thousands of cars from tis hurricane is in the works here and all this JUNK is going to be pawned off on the unsuspecting public all over this country and end up in the junkyard as late model repacement parts too. the money that will be made screwing us on this JUNK will be enormous. the temptation is too great especially in this economy which is already screwed up plenty. DONT GET ME STARTED. this is not supposed to be a blanket covering all used car dealers and junk yards. even they will be screwed when all this JUNK comes back to bite them and they wont want to take a loss but they are much better informed than we are so have an advantage over us.we will be the ultimate losers and tis JUNK will be out there for years if not decades. WATCH OUT 
Are you sure you want to delete this comment?
DATA PROVIDERS
Copyright © 2014 Microsoft. All rights reserved.
Fundamental company data and historical chart data provided by Morningstar Inc. Real-time index quotes and delayed quotes supplied by Morningstar Inc. Quotes delayed by up to 15 minutes, except where indicated otherwise. Fund summary, fund performance and dividend data provided by Morningstar Inc. Analyst recommendations provided by Zacks Investment Research. StockScouter data provided by Verus Analytics. IPO data provided by Hoover's Inc. Index membership data provided by Morningstar Inc.