Top 10 family cars for 2013
Parents Magazine and Edmunds.com make their picks in several categories. And it's not all about the minivan anymore...
Sure, who doesn't want to tool around town in a Corvette or a Ferrari? But you've got a family now, and when it comes to schlepping, you need to be a lot more practical these days ... not to mention frugal.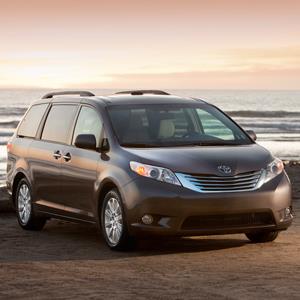 Parents Magazine
and the auto site
Edmunds.com
just released their sixth annual top picks for best family cars. While the minivan and SUV might be the right choice for some families, the list does include vehicles in a broad range of categories since cars are certainly not a one size fits all proposition.
To come up with their choices they started with picking vehicles that had top marks in crash testing. Each vehicle must have electronic stability control, which helps prevent rollovers, and at least six airbags. After that, they judged based on style and standard features.
While minivans aren't nearly as popular as they once were, they are built with the family in mind. Atop the list is the sizable
Toyota Sienna
, which has a starting list price of $26,585. The Sienna, which can hold eight passengers, is the only minivan that offers an all-wheel drive option -- albeit priced considerably higher than the standard model.
As much as minivans have flagged in popularity over the years, crossovers have risen. The top crossover vehicles are:


Hyundai Santa Fe Sport
(starting at $24,700)
Honda CR-V
(starting at $22,795)
The reviewers liked that the Santa Fe has four outlets and a lot of configurations for storage -- plus a hidden trunk compartment. And they raved that "The CR-V has so many practical features, it's like a mini minivan in disguise." The car is filled with storage areas and nooks and now comes with a standard rear view camera. Both seat a maximum of five passengers.
When it comes to SUVs, the reviewers liked the
Chevrolet Traverse
(starting at $30,510) and the
Nissan Pathfinder
(starting at $28,650). These vehicles are bigger than the crossovers. The Traverse can seat eight and the Pathfinder seven. The reviewers liked the amount of cargo space in the Traverse, the flexibility of seating options, its touchscreen dashboard and multiple climate control settings. They liked the storage nooks and seating flexibility in the Pathfinder and gave it good marks for handling. 
In the budget category, the top choices are the
Subaru Impreza
(starting at $17,895) and
Honda Civic
(starting at $18,165). Both seat up to five people. In addition to costing less, both vehicles get good gas mileage. And the Impreza comes with all-wheel drive standard. Reviewers found the Civic to deliver a good, safe ride and have some nice features including an iPod compatible screen and rear view camera.
Ford's Fusion
(starting at $21,900) and the
Honda Accord
(starting at $21,680) were tops in the sedan category. Reviewers like the looks and comfort of the Fusion and the standard features of the Accord -- rear view camera, dual-zone climate control and a few other bells and whistles.
Lastly, reviewers picked the
Prius C
(starting at $19,080) as best hybrid. "This baby Prius is a terrific bargain for families with up to two kids looking to save at the dealership and the filling station." Plus, all models of Prius come with nine air bags.

More from MSN Money:

I don't understand how you can write an article like this and leave the Dodge Grand Caravan off the list.  For the money there is no better family hauler out there.  Objectively, you might be able to pick better vehicles (comfort, fuel economy, etc), but the Grand Caravan offers so much for so much less you can't ignore it.

I have a 2012 Chevy Cruze RS.  Politics about the nature of GM's existence aside; this is a great safe and efficient vehicle.  I've easily gotten 500 miles or more to a tank on numerous occasions (15.6 gallon tank).  I'm sure the Ford Focus and Hyundai Elantra are great vehicles too but I don't think you can get much better than the Cruze.  Just my opinion... 

The only thing I can think of is that the 2012 Chevy Cruze RS and the Dodge Grand Caravan did poorly with respect to reliability.  It's nice to have a car that holds all of your family comfortably, but it is even nicer to have a car that won't break down in a bad neighborhood leaving you and your children stranded.

Nothing says family vehicle like a big SUV. When the family is 6 and the smallest is 5'6" (and growing) you need plenty of room. I favor these (love my Expedition) over minivans (I have own the Caravan. Good van but not multi-purposed.) because I can actually tow a large trailer with a RWD SUV. Yes gas prices make it a tough choice. But I live in Texas. Everything is always an hour away! So you adjust. I am surprised that crew cab pickups were not on the list.
As for the Traverse and Pathfinder, they might seat 7 or 8 people, but not nearly as comfortably as a Suburban, Sequoia, Armada or Expedition.

Are you sure you want to delete this comment?
DATA PROVIDERS
Copyright © 2014 Microsoft. All rights reserved.
Fundamental company data and historical chart data provided by Morningstar Inc. Real-time index quotes and delayed quotes supplied by Morningstar Inc. Quotes delayed by up to 15 minutes, except where indicated otherwise. Fund summary, fund performance and dividend data provided by Morningstar Inc. Analyst recommendations provided by Zacks Investment Research. StockScouter data provided by Verus Analytics. IPO data provided by Hoover's Inc. Index membership data provided by Morningstar Inc.