Drive that new car home -- with a 97-month loan
Rising auto prices have lenders offering ever-longer terms to help buyers keep their payments down. But that's not all good.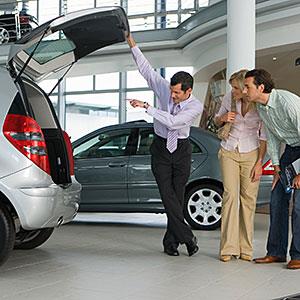 It's always exciting to buy a new car, but there's a new twist in the auto industry that might temper some of that enthusiasm. 

Loan terms are growing longer than ever as car prices have jumped by about 9% over the past four years, according to The Wall Street Journal. At the same time, personal income has stagnated since 2008, when the U.S. tumbled into the Great Recession.
As a result, lenders are offering longer loans, with some extending to 97 months (that's eight years of monthly payments).
Some auto lenders are also resorting to subprime loans to extend credit to risky buyers, according to Reuters. Loans to subprime borrowers surged 18% in 2012, according to Equifax. Many of those subprime loans are showing up in personal bankruptcy filings. 
The average loan term for an auto purchase was 65 months during the last quarter of 2012, the longest ever, The Journal notes, citing data from Experian Information Solutions. About 17% of all new-car loans are between 73 to 84 months (six to seven years), a jump from about 11% of all loans four years ago. 
Driving the trend is a desire for consumers to keep their payments below $500 per month. Consumers are also getting some help from lower interest rates, with the result that the average monthly car payment has been cut by $5 and now hovers around $460, The Journal notes. 
But longer loans can mean more risk, and carmakers also worry that such deals will keep consumers from replacing their automobiles. 
Ford Motor (F) tells The Journal that its in-house financing arm averages new-car loans of 59 to 60 months to keep consumers coming back. "We don't want to keep buyers out of the showroom longer than that," Margaret Mellott, a spokeswoman for Ford, told the publication. 
As for the subprime loans, some carry interest rates higher than 20%, which helps offset the risk of taking on shakier borrowers. For buyers with good credit, interest rates are more likely to hover around 2% to 3%. 
What's to blame for the surge in subprime auto loans? The Federal Reserve, according to Reuters. 
The U.S. central bank has pumped trillions into the financial system and kept short-term interest rates extremely low, which has pushed some money into the more riskier aspects of finance. Critics say the Fed's strategy is creating more financial bubbles. 
"It's the same sort of thing we saw in 2007," William White, a former economist at the Bank for International Settlements, told Reuters. "People get driven to do riskier and riskier things."
But for consumers searching for a new car, the availability of credit on top of more flexible repayment terms are likely greeted by a revving new engine. 
DATA PROVIDERS
Copyright © 2014 Microsoft. All rights reserved.
Fundamental company data and historical chart data provided by Morningstar Inc. Real-time index quotes and delayed quotes supplied by Morningstar Inc. Quotes delayed by up to 15 minutes, except where indicated otherwise. Fund summary, fund performance and dividend data provided by Morningstar Inc. Analyst recommendations provided by Zacks Investment Research. StockScouter data provided by Verus Analytics. IPO data provided by Hoover's Inc. Index membership data provided by Morningstar Inc.