10 states hardest hit by unemployment crunch
Unless Congress extends benefits once again, hundreds of thousands of long-time unemployed Americans will stop getting unemployment checks. These are the states with the most residents facing the cutoff.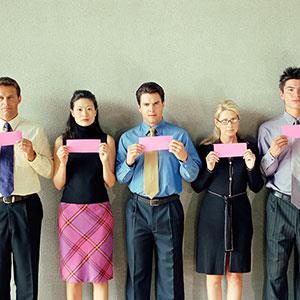 By Samuel Weigley, 24/7 Wall St.
During the Great Recession, the U.S. unemployment rate reached double digits, triggering government aid programs to help those seriously affected. The labor market

has much improved, and the unemployment rate fell to 7.9% in October. But 12.3 million active job seekers remain unemployed in the U.S. Approximately 5 million of those, or 40%, are defined as long-term unemployed, meaning they have been out of a job for at least 26 weeks.
Most states provide 26 weeks worth of unemployment benefits. During the recession, Congress extended the benefit through the Emergency Unemployment Compensation program and Extended Benefit program, although the latter has been curtailed in 2012. Together, these programs provide up to 99 weeks of benefits for the unemployed.
At 24/7 Wall St.: The best and worst run states in America
While Congress has extended these programs in the past. Payments could stop at the end of this year unless it acts again, cutting off insurance for 2 million people, according to the National Employment Law Project. 24/7 Wall St. reviewed the 10 states where the most people would lose unemployment benefits.
Extending federal unemployment insurance for another would cost about $30 billion, according to George Wentworth, a senior staff attorney with NELP. However, each $1 spent on these benefits, he said, generates between $1.60 and $2 in economic activity.
"Unemployment insurance is always one of the most dynamic stimulus initiatives you can implement," Wentworth said in an interview. "People who receive unemployment insurance invariably put it right back into the economy."
A majority of the states with the most residents on the verge of losing benefits are among the most populous states, but not all. Some of the less populous states have disproportionately high numbers of people standing to lose unemployment benefits compared to their population, while some very populous states have a comparatively low number.
In general, the states on this list suffer from high unemployment. All but one had a higher unemployment rate in October than the national rate. Six states had among the 10 highest unemployment rates in the country. California, the state with the most people that stand to lose benefits, had the third-highest unemployment rate in the country in October, at 10.1%.
Based on data provided by NELP, 24/7 Wall St. identified the 10 states with the most workers who stand to lose unemployment benefits after the week of Dec. 29. We included in our analysis state unemployment rates from October, compared to 12 months prior. All unemployment data came from the U.S. Bureau of Labor Statistics. We also considered a state's population for 2011, from the U.S. Census Bureau.
At 24/7 Wall St.: America's poorest states
These are the 10 states with the most people about to lose unemployment checks.
 1. California
·         Number to lose benefits: 362,800
·         Population: 37,691,912 (the highest)
·         Unemployment rate: 10.1% (3rd highest)
California, like other Western states such as Nevada and Arizona, was hit especially hard by the housing downturn, which contributed to higher unemployment. California is also one of just three states with unemployment above 10% -- more than three years after the official end of the recession. A study published in early 2012 by economists at University of California-Los Angeles noted that California's unemployment rate is expected to remain above pre-recession levels until 2016, according to the Los Angeles Times. The good news for California residents is that jobs will come back to the state at a faster rate than the country as a whole, led by a strong technology sector in Silicon Valley.
2. New York
·         Number to lose benefits: 204,100
·         Population: 19,465,197 (3rd highest)
·         Unemployment rate: 8.7% (11th highest)
New York's unemployment rate from October 2011 to the following year grew a national-high of half a percentage point, while the rate was falling in most states. Because unemployment has been rising in the state, out-of-work New Yorkers are entitled to an additional 20 weeks of extended benefits along with the traditional emergency unemployment compensation. But those benefits will lapse along with the traditional benefits if Congress doesn't extend unemployment insurance.
3. New Jersey
·         Number to lose benefits: 119,600
·         Population: 8,821,155 (11th highest)
·         Unemployment rate: 9.7% (4th highest)
The nearly 120,000 New Jerseyans who will be cut off from unemployment insurance is particularly high given that the state is even among the nation's top 10 in terms of population. The state's unemployment rate of 9.7% in October 2012 is up from 9.3% at the same time last year. The administration of Gov. Chris Christie has questioned the validity of the unemployment figures, especially when the number of jobs has increased by 50,000 in the last year. While the unemployed continue to face hardship, New Jersey is trying to help. It was the first state to enact a law that banned job advertisements discriminating against the unemployed.
4. Pennsylvania
·         Number to lose benefits: 115,300
·         Population: 12,742,886 (6th highest)
·         Unemployment rate: 8.1% (20th highest)
Relative to its population, Pennsylvania will be hit especially hard by the end of federal unemployment benefits. Pennsylvania had an unemployment rate below the national rate throughout most of the economic downturn. However, its unemployment rate grew every month from May to September, even as the national rate fell during that time. While total employment grew 0.8% between October 2011 and October 2012, it fell in sectors such as construction and government, the second-largest sector in Pennsylvania according to the Bureau of Labor Statistics.
5. Georgia
·         Number to lose benefits: 114,800
·         Population: 9,815,210 (9th highest)
·         Unemployment rate: 8.7% (10th highest)
Due to federal changes to unemployment insurance, Georgians were only eligible for about 54 weeks of unemployment insurance in October 2012, just over half of the 99 weeks available in the same month last year. Since the unemployment rate fell below 9% in April and May, some unemployed Georgians had their benefits cut at the time. However, last month the state's Department of Labor notified approximately 13,000 unemployed Georgians that up to 10 weeks of additional unemployment benefits would be available since the unemployment rate for each of the summer months was at least 9%.
At 24/7 Wall St.: The 12 companies paying Americans the least
6. Florida
·         Number to lose benefits: 113,900
·         Population: 19,057,542 (4th highest)
·         Unemployment rate: 8.5% (14th highest)
Fortunately, Florida's labor market has improved tremendously over the past year. The state's unemployment rate was 10.2% in October 2011, the sixth-highest of all states, as Florida was reeling from the effects of the housing downturn. Although the rate has dropped to a much lower 8.5% in October, it was still significantly higher than the 7.9% unemployment for the country. Those unemployed in Florida tend to be unemployed for a long time too. According to a Brookings Institute study, 53.4% of the unemployed in 2011 were out of work for a minimum of six months, the highest-rate of all states.
7. Texas
·         Number to lose benefits: 110,400
·         Population: 25,674,681 (2nd highest)
·         Unemployment rate: 6.6% (16th lowest)
Although 110,400 unemployed Texans are slated to lose benefits by the end of the year, this number is not high considering that Texas is the second most-populous state. And while the state's unemployment rate was low compared to the country's rate, that doesn't mean Texans have good jobs. In 2011, 8% of all hourly paid workers in the state made the federal minimum wage or less -- higher than the 5.2% of workers nationwide. Also, more than a quarter of Texas residents didn't have health insurance, according to an August study by Gallup. This was the highest rate in the country.
8. Michigan
·         Number to lose benefits: 92,900
·         Population: 9,876,187 (8th highest)
·         Unemployment rate: 9.1% (6th highest)
Michigan has come a long way from its low during the height of the recession when it was hit by both the housing downturn and the near-collapse of the automobile industry. In the summer of 2009, unemployment in the state topped 15%. Although that number has gone down substantially since, Michigan is still just one of a handful of states with an unemployment rate above 9%. In March, Gov. Rick Snyder launched an initiative known as Community Ventures, a public-private venture connecting the unemployed with employers in Michigan communities.
9. Illinois
·         Number to lose benefits: 88,800
·         Population: 12,869,259 (5th highest)
·         Unemployment rate: 8.8% (9th highest)
Illinois was just one of four states in 2011 where at least 50% of the unemployed population has been out of work for at least six months, according to a study released by the Brookings Institute in January. Although the state's unemployment situation has improved this year, the October unemployment rate was almost one percentage point higher than the national rate. But the long-term unemployed in Illinois -- along with several other states -- were cut off from the Extended Benefit Program in May due to better employment prospects, reducing unemployment benefits for these workers by 20 weeks.
10. North Carolina
·         Number to lose benefits: 77,100
·         Population: 9,656,401 (10th highest)
·         Unemployment rate: 9.3% (5th highest)
While North Carolina's unemployment rate declined significantly from 10.6% in October 2011 to 9.3% last month, it remained considerably higher than the national rate of 7.9%. More than 77,000 people in the state could lose their unemployment benefits by the end of 2012. And that is on top of the 22,500 who were cut off from the Extended Benefit program back in May. The end of Extended Benefit means that unemployed North Carolinians are only eligible for 73 weeks of benefits as of May, compared to 99 weeks previously.
At 24/7 Wall St.: Nine beers Americans no longer drink