Apple wins $1 billion award in patent case
A federal jury in San Jose, Calif., says Korea's Samsung Electronics violated multiple Apple patents for its iPhone, including design, rubber banding and tap-to-zoom. Apple shares jump to record levels after hours. Google falls back.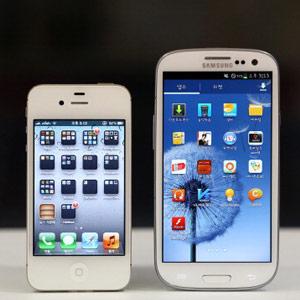 Updated: 10:24 p.m. ET


A federal jury in San Jose, Calif., ruled today that South Korean electronics giant
Samsung's
smartphones violated at least six patents held by rival -- and partner --
Apple
(
AAPL
). The jury ruled that Samsung should pay $1.05 billion in damages. 
The nine-member jury ruled that Samsung had violated Apple patents for the iPhone's and iPad's rubber-banding and tap-to-zoom features, graphic user interface and design. The violations occurred on multiple Samsung devices.
The jury found for Samsung on a small number of the devices, however, but said Apple did not have to pay damages.
The verdict -- which came much sooner than expected -- could lead to an outright ban on sales of key Samsung products and will likely solidify Apple's dominance of the exploding mobile computing market.
Samsung called the verdict "a loss for the American consumer" and said it plans to appeal. It may be years, in fact, before the final judgment is entered and any money changes hands.
The outcome of the legal battle between two companies that sell more than half the world's smartphones and tablets will reverberate around a mobile industry struggling to make headway against the pair. It also could affect
Google
(
GOOG
), whose Android operating system and user interface is used in phones made by Samsung and other manufacturers.
Apple had sought more than $2.5 billion in damages. Although it did not get that amount, The Wall Street Journal noted, the award was bigger than Samsung had estimated and will still rank among the largest
intellectual-propert​y
awards on record.
Article continues below. Apple shares rose $11.73, or 1.8%, to $764.95 after hours, theoretically a new intraday high. The shares had finished up 59 cents at $663.22 in regular trading. Google was down $5.63, or 0.8%, to $673 after hours. It had climbed $1.83 to $678.63 in regular trading.
While the ruling won't affect any of the companies' latest products, it could shape how smartphones and tablets are designed and the fortunes of companies that make them.
During the trial, Apple and Samsung considered much of the evidence so sensitive that their lawyers fought to exclude them from the case, arguing they would divulge corporate secrets or weren't relevant, the Journal said.
The jury deliberated for three days, fewer than many had expected for such a complex case. Jurors --two women and seven men -- were required to fill out a 20-page verdict form with answers to more than 700 questions relating to the particulars of the case. They had been given 100 pages of instructions by U.S. District Judge Lucy Koh.
The California verdict is the first in a wave of legal cases in the United States involving smartphone patents to reach a jury trial. The case has a high profile because Apple and Samsung are the two biggest makers of smartphones in the world. They also are partners, with Samsung manufacturing many of the components used in iPhones.

Apple had asked for damages for what it said was Samsung's violation of a handful of patents related to the physical design and software functions of the iPhone and the iPad. Samsung had demanded that Apple pay it $422 million for its own patent violations.
Lawyers from both sides presented internal emails, drew testimony from designers and experts and put on product demonstrations and mock-ups to convince the jury.
At times, their questions drew testimony that offered glimpses behind the corporate facade, such as the margins on the iPhone and Samsung's sales figures in the United States.
From the beginning, Reuters said, Apple's strategy was to present what it thought was chronological evidence of Samsung copying its phone.
Juxtaposing pictures of phones from both companies and internal Samsung emails that specifically analyzed the features of the iPhone, Apple's attorneys accused Samsung of taking shortcuts after realizing it could not keep up.
Samsung's attorneys maintained Apple had no sole right to geometric designs such as rectangles with rounded corners. They called Apple's damage claim "ridiculous" and urged the jury to consider that a verdict in favor of Apple could stifle competition and reduce choices for consumers.
The fight began last year when Apple sued Samsung in multiple countries, accusing the South Korean company of slavishly copying the iPhone and iPad. Samsung countersued. 

The companies are rivals, but also have a $5 billion-plus supply relationship. Apple is Samsung's biggest customer for microprocessors and other parts central to Apple's devices.
This afternoon's decision came after a South Korean court held earlier today that Apple and Samsung had violated each other's patents. The court ordered Samsung to stop selling 10 products including its Galaxy S II phone and banned Apple from selling four different products, including its iPhone 4.
The three-judge panel said Apple infringed two Samsung technology patents, while Samsung violated one of Apple's patents. The court awarded small damages to both companies and said they must halt sales of the infringing products in South Korea.
Critically, however, none of the banned products are the latest models of Samsung or Apple devices.
The Korean court also ruled that there was "no possibility" that consumers would confuse Samsung and Apple smartphones, the Journal noted. And Samsung's smartphone icons don't infringe on Apple's patents.