The 3 states with the highest gas prices
With fuel prices on the rise, some drivers wonder if gas will hit $4 per gallon again this summer. In some places, it already has.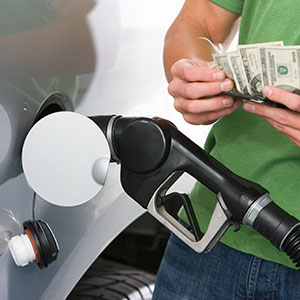 By Samuel Weigley, Alexander E.M. Hess and Michael B. Sauter, 24/7 Wall St.
U.S. gasoline prices have fluctuated between $3.40 and $3.60 for the past few months. As of

Tuesday, the average fuel price nationwide was $3.63 per gallon, up from $3.48 per gallon a week ago. This recent spike has some drivers wondering if the average price of gas will reach $4 by the end of the summer.
But in some states, the price of gas is already above $4, and in others, it is very close to crossing that mark. Gas prices in nine states were at least $3.80 a gallon as of Tuesday. In some cases, prices are higher because of the difficulty of transporting oil there. In other cases, high gas taxes are the culprit. Based on AAA's Daily Fuel Gauge Report, which monitors gas prices nationwide, here's a look at the states with the most expensive gas.
Gas prices increased nearly 5% in the past week as the price of crude oil has risen over $100 per barrel. Crude oil prices have shot up partially as a result of the political unrest in Egypt. While the country is not a major producer, there is concern that serious violence could result in the Suez Canal -- an important route for oil shipping -- being closed off. The effects of investors unwinding speculative trades in oil also may be driving prices up.
At 24/7 Wall St.: 10 brands that will disappear in 2014
When it comes to high gas prices in some states, one consideration is where the gas is coming from. Some states with high gas prices, such as New York and Connecticut for example, have to transport in a large portion of their refined gasoline from far away. Connecticut, which has no operating refineries of its own, has to import all of its fuel. California, which also has among the most expensive gas, still imports a great deal of refined fuel, despite the fact that it has refineries. Transportation is mostly via tanker, which can be expensive.
The price at the pump is often heavily influenced by the amount tacked on by the state's gas tax. Of the nine states with the highest gas prices, seven have among the 10 highest gas taxes in the country. This includes California, Hawaii, New York, Connecticut and Michigan, which have the highest total taxes in the nation -- in that order. California's total state and federal gas tax amounts to 71.9 cents per gallon, higher than the national average of 49.5 cents.
To find the states with the highest gas prices, 24/7 Wall St. reviewed average fuel prices as of July 16 from AAA's Daily Fuel Gauge Report. We also reviewed the U.S. Energy Information Administration's 2013 Refinery Capacity Report, which breaks out production capacity and the number of operable refineries by state. Capacity figures cited reflect the number of barrels of oil that can be produced at operable refineries in a calendar date within a state. Finally, we looked at gas taxes per state from the American Petroleum Institute.
These are the states with the most expensive gas.
1. Hawaii
> Average gas price: $4.34
> 1-yr. price increase: 14 cents (7th smallest)
> Taxes per gallon: 69.0 cents (2nd highest)
Hawaii is by far the most expensive state in which to buy gas. The average gas price of $4.34 per gallon exceeds the record gas prices reached in states like New York and Illinois, both of which are no strangers to high gas prices. Shipping costs drive up the price of gas because all oil refined and consumed as gasoline in the state must be transported across the ocean. Hawaii also has one of the highest excise taxes on gasoline in the nation at 69 cents a gallon.
2. Alaska
> Average gas price: $4.06
> 1-yr. price increase: 4 cents (2nd smallest)
> Taxes per gallon: 26.4 cents (the lowest)
Gas prices in Alaska average $4.06 a gallon, up four cents from the same time in 2012. In that time, prices have risen as high as $4.25 and fallen as low as $3.66. Alaska is the second-most expensive state in terms of cost-of-living after Hawaii. However, the state's median income, which was the second highest in 2011, helped to offset some of this cost. Prices are slightly lower in Anchorage, the largest metro area in the state. In Anchorage, gas prices average $3.95 a gallon.
3. California
> Average gas price: $4.02
> 1-yr. price increase: 31 cents (5th largest)
> Taxes per gallon: 71.9 cents (the highest)
California does not suffer from any lack of supply, with oil coming to the state from Alaska and abroad. The state itself is home to potentially sizeable oil deposits as well, and few other states can match California's refining capacity. The state has the ability to produce 1.6 million barrels per day from 16 refineries, both third highest behind Louisiana and Texas. However, a gallon of gas still costs roughly 38 cents more in California than it does nationwide, likely pushed up by the 71.9 cents per gallon residents pay in gas taxes and fees, the most of any state.
Click here to see more of the states with the highest gas prices at 24/7 Wall St.