'Car surfing': Does this look smart?
A youngster riding on top of a moving vehicle -- what could go wrong? When something does, here's who pays.
This post comes fromGina Roberts-Grey at partner site Insure.com.
"

Car surfing," the death-defying extreme "sport" that has claimed the lives of thrill-seeking teens and young adults nationwide, is a trend that driving-safety experts, parents and auto insurance agents wish would come to a stop.
Car surfing is an extremely dangerous activity where people sit or stand on moving cars as though they were "surfing."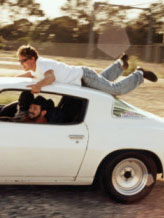 In some instances, "surfers" try to hop from one moving vehicle to another, emulating the recklessness and wild abandon of a Hollywood stuntman. However, stuntmen have training -- and often padded suits.
Len Pagano, president and CEO of the Safe America Foundation, says even though car-surfing occurs more frequently in rural areas, kids everywhere are hopping on the roofs, hoods and trunks of cars, trying to ride them like a rogue wave off the coast of California.
"Like many other unsafe driving acts, kids usually take part in car surfing out of peer pressure or to pursue the perceived thrill that comes from it," he says.
Not only do these young people risk their lives and the lives of those around them, they also jeopardize the car insurance coverage of the cars' owners -- who in most cases are their parents.
Car surfing insurance liability
If a car surfer falls off the vehicle but is lucky enough to escape with all his limbs and cognitive functioning intact, industry analysts say the car owner could still be in for an unpleasant surprise from a car insurance claim. Article continues after video.
If the person surfing is injured, he can file a claim against the driver's car insurance policy for medical bills and damages. Unless the car surfer himself is found to be negligent, that claim will go on the car owner's insurance record and possibly lead to an increase of their car insurance rates.
"Each state has their own laws on 'contributory negligence,' which means if the surfer is found negligent . . .  the claim may not be paid," says Allstate Insurance spokesperson Hyacinth Tucker. "However, the [car owner] would likely need a lawyer to fight the claim in court."
"In a majority of states, the driver would be responsible and a claim could be paid," says Ashley M. Hunter, an instructor at Kaplan Professional Schools and former adjuster for State Farm Insurance.
And if the surfer dies as a result of the stunt, the car owner may be liable for that death, says Hunter.
Tucker says there are different polices that may be called upon to pay if car surfing results in property damage or injuries.
Here's who pays for what:
The car being surfed is damaged. That claim is filed under the driver's auto insurance policy -- but the driver would need collision insurance to make a claim. If the driver does not carry collision insurance, he would have to pay for repairs himself.
There is property damage. If the damage is done by the car, the driver's car insurance liability policy will be responsible for payment. Tucker says, "If the property damage is done by the surfer when he flies off the car's hood and is thrown into property, the surfer may be liable for that claim."
The driver is hurt. The driver's health insurance plan or car insurance policy (or both) could pay. The driver would need MedPay or personal injury protection (PIP) on his car insurance policy in order to make an injury claim for himself.
The surfer is hurt. The car surfer could make a claim for injuries under the driver's liability policy, or PIP coverage, says Tucker.
Surfing your way to car insurance problems
The financial fallout for car surfing can be widespread. Surfers and drivers can suffer debilitating injuries. Owners of damaged property can file insurance claims and lawsuits against the driver. And the parents who own the car will ultimately be on the hook -- even if they had no knowledge that their teen was car-surfing.
Car insurance companies will hold you irresponsible for handing over the keys to your car-surfing kid.
The ramifications could go beyond high car insurance prices.
"It's very likely that a policy will not be renewed and insurance would need to be obtained through companies that are willing to cover high-risk drivers," adds Hunter.
"If the policy is renewed, the driver behind the wheel during the surfing incident could be excluded from future coverage on the policy," adds Tucker.
Read more from Insure.com and MSN Money: