5 states where teens can't find work
In a job market where many adults are happy just to have a job, nearly one-fourth of teens looking for work can't find it. In these states, the numbers are even worse.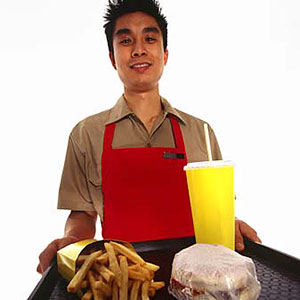 For the past four and a half years, teen unemployment has exceeded 20%. As of April 2013, 24.1% of teens seeking jobs were unable to find work, according to a report released last week.
This is the worst environment for teens seeking a job on record, according to nonprofit public policy research organization Employment Policies

Institute, which released the report. In some states, the jobless rate among teens is even higher. In California, an average of 34.6% of teens looking for jobs in 2012 were unemployed. Based on the 2012 average unemployment rates for 16-to-19 year olds, we've taken a look at the states where teenagers are least likely to find work.
According to Employment Policies Institute (EPI) Research Director Michael Saltsman, the lack of teens with jobs does not just mean they are going to have less summer spending money. The trend also means that this generation is more likely to lack crucial job experience and connections that could help them in future employment.
''Some people call it 'soft skills' and economists call it 'the invisible curriculum,'" Saltsman said. "But whatever you want to call it, there are a certain set of skills that teens who miss out on them are at greater risk of being unemployed now and in the future.''
The EPI report suggests that one reason for a worsening teen job market may be a product of higher minimum wages in these states. However, the data is less than clear. Half the states with the highest teen unemployment rates do not impose a minimum wage higher than the federal minimum of $7.25 an hour.

Read the full report on "States where teenagers cannot find work" at 24/7 Wall St.
Another factor that Saltsman suggests is behind the record teen unemployment is the overall poor economic condition of the country, conditions that began in the Great Recession and continue today with a painfully slow recovery. Teens usually work in the leisure and hospitality and retail trade industries, industries that have taken a hit during the recession. Moreover, with the overall labor market also in trouble, more out of jobs adults are willing to take on lower-paying jobs traditionally held by teenagers.
Based on information provided by MinimumWage.com, a project by the Employment Policies Institute, 24/7 Wall St. reviewed the 10 states where the unemployment rate among teens was highest. EPI also provided 24/7 Wall St. with data on minimum wage laws by state as well as figures on teen employment and general employment breakdowns created from the current population survey. Figures on the proportion of teenagers in certain job categories was for 2011, the most recent available year available. Education and poverty figures are from the U.S. Census Bureau's 2011 American Community Survey. Annual average unemployment rates by state are from the Bureau of Labor Statistics.
Here are the five with the highest teen unemployment rates.
1. California
> Teen unemployment rate: 34.6%
> Total unemployment rate: 10.5% (2nd highest)
> High school graduation rate: 81.1% (3rd lowest)
> Minimum wage: $8.00 (7th highest)
California had the worst teenage unemployment rate of any state in 2012 -- with more than a third of California teens looking for a job unable to find one. Overall, California's unemployment rate has been higher than most other states in the past several years due at least in part to the effects of the housing downturn. The average unemployment rate in California was 10.5% in 2012, higher than any other state except for Nevada. The high unemployment rate has not deterred many from advocating for a higher minimum wage. Legislation has been introduced to raise the state's minimum wage from its current $8 an hour to $8.25 an hour by 2014. It would then increase again to $8.75 an hour by 2015, $9.25 an hour in 2016 and would be adjusted for inflation in the following years.
2. South Carolina
> Teen unemployment rate: 32.8%
> Total unemployment rate: 9.1% (8th highest)
> High school graduation rate: 84.2% (12th lowest)
> Minimum wage: $7.25 (federal minimum)
South Carolina's minimum wages for both regular employees and tip-based jobs are in line with the nation's federal minimum wage. But despite keeping its minimum wages at the lowest allowable levels, teens in South Carolina still had the second-highest teen unemployment rate in the United States during 2012 at 32.8%. This was far worse than in 2011, when just over one-quarter of workers aged 16 through 19 were unemployed. This figure has continued to climb and, in the most recent trailing 12-month measurement, more than one-third of all teens looking for a job were unemployed.
3. Washington
> Teen unemployment rate: 29.9%
> Total unemployment rate: 8.2% (18th highest)
> High school graduation rate: 90.1% (16th highest)
> Minimum wage: $9.19 (the highest)
Although the teen unemployment rate approached 30% in 2012 in Washington, it was an improvement from the 30.4% teen unemployment rate in 2011. However, the decline in teen unemployment was not as swift as the decline in overall unemployment, which fell from 9.2% in 2011 to 8.2% in 2012. The percentage of all jobs held by teens has been on the decline in recent years as well, falling from 5.2% of all jobs in 2003 to 3.1% in 2011. Washington currently has the highest minimum wage in the country at $9.19 an hour for both tipped and non-tipped employees, which conservatives argue has priced many teens out of the labor force.
4. Hawaii
> Teen unemployment rate: 29.7%
> Total unemployment rate: 5.8% (12th lowest)
> High school graduation rate: 90.6% (10th highest)
> Minimum wage: $7.25 (Federal minimum)
Labor market conditions for Hawaiian teens changed dramatically in a span of just one year. In 2011, the state's unemployment rate for teens was 19.7%, which was among the lowest-third of all states in the country. Fast forward to 2012, and the unemployment rate for this age group rose a whopping 10 percentage points. This is despite the fact that Hawaii's unemployment rate has declined from 6.5% in 2011 to 5.8% in 2012. Even before 2012, teen's share of jobs has been on the decline. This was especially true in retail, where teens made up just 3.6% of the labor force, compared with 5.6% in 2003.
5. Georgia
> Teen unemployment rate: 29.6%
> Total unemployment rate: 9.0% (9th highest)
> High school graduation rate: 84.3% (13th lowest)
> Minimum wage: $7.25 (federal minimum)
Georgia's average teen unemployment rate has inched up between 2011 and 2012 from 29.0% to 29.6%. By contrast, the overall unemployment rate in Georgia fell from an average of 9.9% in 2011 to 9.0% in 2012. Yet, in all likelihood, many of the older workers found jobs that often are filled by the nation's youngest workers. Georgia adults were less likely than most American adults to have a high school diploma, while residents were among the most likely Americans to live below the poverty line. Worse still, Georgia is a state that typically does not have many opportunities for teens. In 2010, just 2.3% of workers were teens, the lowest figure in the nation. In 2011, this figure had improved only to 2.7%.
Click here to see five more states where teenagers cannot find work at 24/7 Wall St.
Also at 24/7 Wall St.: