Phil Mickelson teed off about taxes
The golfer, one of the world's highest-paid athletes, said changes in tax laws could force him into drastic career changes. Tuesday, he backed away from the comments.
Phil Mickelson says he spoke too soon about taxes.
The Hall of Fame golfer, who has pocketed $66 million in career prize money, made news on Sunday when he announced that changes to federal and California state tax rates would prompt him to make some "drastic changes" to his career -- including a possible retirement from golf or moving out of state.

But Mickelson is now backing away from his earlier comments -- saying he shouldn't have made his opinions on taxes and finances public. 
Mickelson is ranked seventh on
Forbes
' 2012 list of the world's highest-paid athletes, with $4.8 million in earnings and another $43 million in endorsements last year.
His concern stems partly from the tax increase California voters approved in November. Proposition 30 raised the marginal state income tax rate to 13.3% on incomes over $1 million. It is the first statewide tax increase there since 2004. The measure, according to KPCC Radio, also helps California "stave off nearly $6 billion in education cuts."
Sunday, the 42-year-old golfer said he was weighing his options.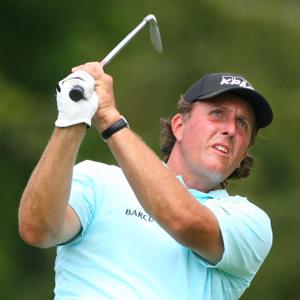 ''If you add up all the federal and you look at the disability and the unemployment and the Social Security and the state, my tax rate's 62, 63%,'' Mickelson said, according to Associated Press. ''So I've got to make some decisions on what I'm going to do.''
His estimates have been widely disputed. At the National Review Online, Patrick Brennan estimated that Mickelson would probably likely only end up paying a 50% top marginal rate.

Mickelson tried to tamp down reaction to his comments Tuesday, hinting that he will not abandon his career.
"I absolutely love what I do," he said in a statement. "I love and appreciate the game of golf and the people who surround it. I'm as motivated as I've ever been to work on my game, to compete and to win championships."
He is expected to address the issue in a news conference on Wednesday at Torrey Pines, in his native San Diego.
"Right now, I'm like many Americans who are trying to understand the new tax laws," he said. "I've been learning a lot over the last few months and talking with people who are trying to help me make intelligent and informed decisions. I certainly don't have a definitive plan at this time, but like everyone else I want to make decisions that are best for my future and my family."
Last month, Mickelson said he was no longer involved in a group that had purchased baseball's San Diego Padres.

The New York Times reports that, when asked whether the tax increase in his home state influenced his decision to step away from the Padres, Mickelson replied, "Yeah, absolutely."