Is snack food doomed in a post-Twinkie world?
Americans still love cake, pizza and other snacks, and they're always waiting for the next food trend. Twinkies, however, are not it.
Is the Twinkie Apocalypse upon us? A few Hostess fans are making panic-stoked runs on Twinkies and other products following news that Hostess Brands is going out of business after a protracted labor dispute.

A Wonder Hostess Bakery Outlet in Loveland, Colo., was cleaned out of its snack cake inventory in less than two hours on Friday. "We open at 9, and we had people here at 20 til 9," assistant manager Melissa Bradt told her local newspaper. "They were going for the snack cakes this morning, especially the Twinkies."

Friday was also Bradt's last day on the job -- one of 18,500 company workers laid off.
But while the future of some beloved and iconic American snacks may be in doubt, a long-time observer of U.S. food trends says consumers are still devoted to cake and pastries.
"Something like over 40% of Americans still eat cake at least once in a two-week period, " notes Harry Balzer, chief industry analyst for The NPD Group, a consumer marketing research firm. "And to put that into perspective if I was talking about coffee… 48% of all Americans will consume coffee sometime in the next two weeks. Now you drink coffee a lot more frequently than you eat cake -- but the point is that there are a lot of people still invested in the cake business."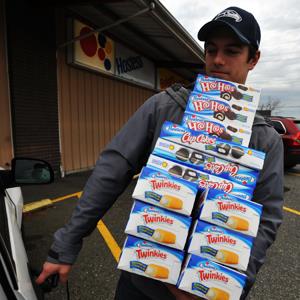 Balzer knows Americans are almost always ready for the next new food trend, so long as it doesn't involve cooking. And over the past decade, the two categories of food that have exploded when it comes to consumer growth are energy and granola bars and yogurt.
"Yogurt plays a role that really speaks to what Americans want from its food supply," he says. "Increasingly we're including yogurt in our diet, because yogurt has this wonderful benefit. It can not only be a snack, it can be a main meal, it can be breakfast, it can be lunch, it can be supper."
That doesn't mean all the Baby Boomer food favorites, like Twinkies, might fade into consumer history. Some 65% of Americans in the 18-to-34 age group will reportedly eat pizza sometime in the next two weeks -- up 30% for that  demographic since the 1980s.

"We're not snacking more -- we're just snacking differently," says Balzer, "generally snacking on things that could also be a snack or a main meal."
And while many Americans are trying to eat healthier by cutting down on sugar and fats, the generation currently raising children is not denying them the sugary snacks their parents grew up on -- maybe just limiting that intake a bit more.
Balzer says Americans are adventurous when it comes to foods, but that most food changes come "if we decide that this makes my life easier or this makes my food costs cheaper, because we can measure time and money.  And that's the real value of the changes you make. "