Do Americans care about the debt ceiling?
Politicians and financial experts warn of economic collapse if there's no deal to raise the ceiling by next week. The vast majority of Americans don't share that concern, according to a survey.
By Rich Mintzer, MoneyRates.com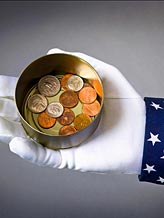 As congressional leaders continue to duel ahead of the Aug. 2 deadline for raising the U.S. debt ceiling without signs of a deal, a large contingent of respondents to a recent MSN Money poll make clear what they think of the matter: They're sick of hearing about the whole thing.
From July 19-22, just more than 9,100 readers voted in the informal online poll, which asked, "Are you concerned about the debt ceiling?"
Forty-three percent answered that they were sick of hearing about it, while 39% reported feeling a little concern. Only 15% said they were concerned enough that the issue keeps them up at night, and a small minority, 3%, said they didn't know anything about the issue.
Consequences loom large
If no deal is reached to raise the debt ceiling by the Aug. 2 deadline, the federal government could default on its obligations, shutting off payments to investors, suppliers, federal employees and entitlement programs such as Social Security and Medicare -- all of which could roil financial markets and potentially lead to a U.S. government shutdown.
Even Americans who don't receive government payments would almost certainly feel the pinch in the form of higher mortgage rates and credit card interest rates, not to mention the possibility of another economic slowdown.
U.S. Treasury Secretary Timothy Geithner has warned of potential financial mayhem at a time when employment recovery and GDP growth are touch-and-go. "Even a short-term default could cause irrevocable damage to the American economy," he wrote in a widely publicized letter to U.S. Sen. Michael Bennet, D-Colo., in mid-May. "This abrupt contraction would likely push us into a double-dip recession."
Americans: It's just political showmanship
With such dire consequences on the line, why such complacency?
Americans may see the entire debt ceiling issue as just another move in the political chess match between Democrats and Republicans. "Most people really don't care about the debt ceiling right now because they know the Congress will work out some sort of compromise," says Brett Danko, a certified financial planner with Main Street Financial Solutions in Pennington, N.J. Article continues after video.
"I think the overwhelming assumption is that people believe the government will ultimately do something to avoid a shutdown," agrees Lee Hull, a financial advisor and president of Hull Capital Management in Tyler, Tex. "Both sides are angling for position."
U.S. debt not a worry … for now
However, Americans' collective eye-rolling about the debt ceiling dealmaking in Washington shouldn't be construed as lack of concern about the U.S. government's debt.
"People don't need to be alarmed about the short-term issue," predicts Danko. "But if they keep kicking the can down the road, which is what I think they're going to do, in three to five years we'll have some real issues and it then will become a real crisis."
Indeed, as Congressional Budget Office forecasters predict that national debt could exceed GDP in 10 years, there may well be reason for concern about the long-term fiscal position of the U.S.
"People realize that even such a [debt ceiling] compromise is not going to mean anything unless we deal with our long-term structural issues," notes Danko.
More on MoneyRates.com and MSN Money: