The 5 best gas rewards credit cards
The right rewards card can reduce the burden of rising prices at the pump.
This post comes from Odysseas Papadimitriou at CardHub.com.

Gas prices have been rising once again, but that doesn't mean you're necessarily resigned to seeing a corresponding fall in your bank account balance. The right credit card can save you as much as 8% every time you hit the pump.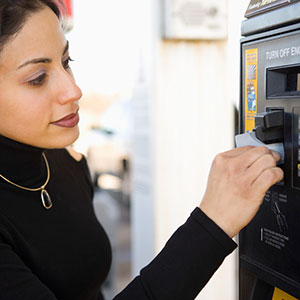 With the national average price for a gallon of regular at $3.771 and prices surpassing $4.20 a gallon in California and Hawaii, you therefore stand to save about $5 to $10 each time you fill up.
Those savings might at first seem pedestrian, but people buy gas rather frequently and high gas prices aren't likely to be short-lived. The U.S. Energy Information Administration projects that the price of regular gas will average $3.57 a gallon for the rest of the year -- slightly higher than the $3.55-a-gallon average during 2012, the most expensive year for gas ever.
Considering that 2011 previously held that cost crown, having the right gas rewards card figures to be increasingly important moving forward.
There are two types of gas rewards credit cards:
Those tied to specific station chains.
Those that allow you to earn points or cash back wherever you fill up.
The former historically offered the most value, but given their inherently limited usage capability, the latter segment has in recent years turned the tables. Consider the rewards offered by the following cards, which Card Hub selected from more than 1,000 overall offers as providing the most significant savings on gas.
Pentagon Federal Credit Union Platinum Rewards Card
Gas rewards: 5% cash back at any station.
Other highlights: 3% cash back at supermarkets and 1% everywhere else.
Fees: No annual fee, but you may have to pay a one-time $15 fee to join the Pentagon Federal Credit Union.
Blue Cash Preferred Card from American Express
Gas rewards: 3% cash back at any station.
Other highlights: 6% cash back at supermarkets and 1% everywhere else; $150 initial bonus if you spend $1,000 in the first three months.
Fees: $75 annual fee.
TrueEarnings Card from Costco and American Express 
Gas rewards: 3% cash back on all gas purchases up to $4,000 (1% thereafter).
Other highlights: 2% cash back at restaurants, 2% on travel, and 1% on everything else.
Fees: Free for Costco members.
Marathon Credit Card
Gas rewards: 25-cent rebate for each gallon of Marathon gas purchased during months you charge at least $1,000, 15-cent rebate for spending $500 to $999.99, and 5-cent rebate for spending less than $500.
Other highlights: not applicable.
Fees: None.
Chevron & Texaco Credit Card
Gas rewards: 30 cents a gallon off Chevron and Texaco gas for the first 60 days, 20 cents off when you spend more than $1,000 in a given month, and 10 cents off when you spend $300 to $1,000.  You can earn and redeem a maximum of $300 in discounts each calendar year.
Other highlights: not applicable.
Fees: None.
When it comes to picking one of these cards, the most important considerations are your current spending habits and your credit standing. You don't want to apply for a credit card affiliated with a particular station chain if you don't exclusively get gas there or could easily begin to do so.
Furthermore, you can avoid costing yourself time and effort on a rejected credit card application by simply making sure you have the requisite good or excellent credit beforehand.
It's also important to note the value of strategic grocery shopping and smartphone application use. It's becoming common for major supermarket and gas station chains to team up on loyalty programs. For example, Safeway shoppers earn discounts on ExxonMobil gas, and Giant and Kroger have a similar relationship with Shell. Shopping at one of those stores can supercharge your savings.
The same can be said for using an app like GasBuddy to find the cheapest gas prices in your area before using your gas rewards card to further lower your costs.
Ultimately, regardless of exactly how your gas rewards plan shapes up, it's clear that giving a bit of thought to how you pay at the pump will ensure that amount is as low as possible.
More on Card Hub and MSN Money:
Are you sure you want to delete this comment?
DATA PROVIDERS
Copyright © 2014 Microsoft. All rights reserved.
Fundamental company data and historical chart data provided by Morningstar Inc. Real-time index quotes and delayed quotes supplied by Morningstar Inc. Quotes delayed by up to 15 minutes, except where indicated otherwise. Fund summary, fund performance and dividend data provided by Morningstar Inc. Analyst recommendations provided by Zacks Investment Research. StockScouter data provided by Verus Analytics. IPO data provided by Hoover's Inc. Index membership data provided by Morningstar Inc.