1 in 3 have more credit card debt than savings
A recent survey finds that fewer people have enough money in rainy-day savings to pay off their credit card debt.
This post comes from Krystal Steinmetz at partner site Money Talks News. 


Many Americans are putting themselves in a precarious financial situation, racking up credit card debt instead of saving money.
A recent survey by Bankrate.com found that nearly 30 percent of Americans have more credit card debt than they have in savings.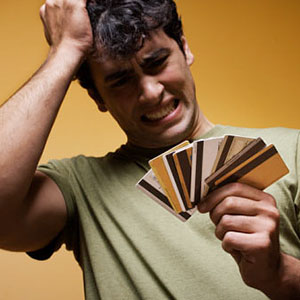 Just 51 percent of people said they have enough emergency savings to pay off their credit card debt, which is the lowest level since 2011, when Bankrate began the survey, said the Los Angeles Times. And 17 percent of those polled said they have neither credit card debt nor a rainy-day account.
The survey also found that the people who are most likely to need a rainy-day fund to cover an unexpected financial setback, like a job loss or broken-down car, are unfortunately the least likely to have emergency savings that outweigh their debt.
The LA Times said: "'This is a reflection of the stagnant incomes, long-term unemployment and high household expenses that are hampering the financial progress of many Americans,' according to Greg McBride, Bankrate.com's chief financial analyst."
According to Time, consumer debt is the highest it's been since 2011.
And more unsettling, debt is rising at rapid levels. Americans' debt -- that includes mortgages, auto loans, student loans and credit card debt -- increased by 2.1 percent, or $241 billion in the last three months of 2013, the greatest margin of increase since the third quarter of 2007, shortly before the U.S. spiraled into recession.
The increase in consumer debt seems to coincide with an increase in confidence in the economy. "And debt helps drive economic growth as consumers spend more money on the assurance they'll make it back later," Time said.
But that confidence in a raise or job bonus could be risky, Carl Richards, a financial planner at BAM Advisor Services, told Time:
"We've already forgotten 2008 and 2009, and now we're projecting into the indefinite future and we're spending based on as if it had already happened," says Richards. "Our default setting is optimistic, and maybe overly optimistic."
Are you comfortable with your credit card debt and emergency savings?
More on Money Talks News:

"Are you comfortable with your credit card debt and emergency savings?"
Yes and No.  I paid off my credit card debt two years ago and my emergency savings equals 1/20th of my annual salary.  However, my emergency savings will only get me through one month's worth of necessary expenses, so I definitely have room for improvement.

It's because most Americans are too lazy to find deals on necessities.  Things like coffee and groceries really add up, and less obvious things such as Insurance costs for instance are a huge portion of many people's budgets, yet they let a salesmen tell them what the best policies are. 
My husband and I recently re-evaluated everything we were spending money on and we cut our monthly expenditures by about 25%, without really giving up any aspect of our lifestyle.  
If you want a tip for cheap life insurance, look at prices online so you don't get bamboozled by a salesman.  My husband and I got a policy from Life Ant for less than $30 bucks a month, and now we can sleep well knowing our kids are protected.
And for those looking at health insurance, Obama care is not necessarily the least expensive option.  Even places like freelancers union insurance can be much cheaper..

Every time you get emergency savings the Govt. does something to get it, like propane costs this winter in MN. or this complete rip off for years with gas prices. It is all a scam they take whatever you make away in taxes and give it away and leave you with nothing, it is all setup perfect so you struggle to the end with no vacation no enjoyment and work until you die and when you are ready for your social security because you have been working from 15 until 70 guess what? oh we gave your money away. 
Are you sure you want to delete this comment?
DATA PROVIDERS
Copyright © 2014 Microsoft. All rights reserved.
Fundamental company data and historical chart data provided by Morningstar Inc. Real-time index quotes and delayed quotes supplied by Morningstar Inc. Quotes delayed by up to 15 minutes, except where indicated otherwise. Fund summary, fund performance and dividend data provided by Morningstar Inc. Analyst recommendations provided by Zacks Investment Research. StockScouter data provided by Verus Analytics. IPO data provided by Hoover's Inc. Index membership data provided by Morningstar Inc.