The best cash-back rewards credit cards
In the market for a cash-back card? Read on to determine which one is right for you.
This post comes from Jason Steele at partner site Credit.com.

As airlines and hotels continue to decrease the value of the points and miles they offer through their co-branded credit cards, cash back remains the reward of choice for many cardholders. And credit card issuers understand their customers' need for a simple program that offers the one reward that no one will likely ever have trouble redeeming.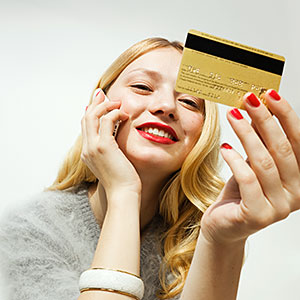 When looking for the best cash-back credit cards for this month's Best Credit Cards in America, we weighed several factors. First, we looked at the rate of return as a percentage of spending. The problem is that some cards offer a fixed rate of return on all purchases, while others offer bonus rewards for purchases from certain categories of merchants.
Individual cardholders can find the best cards by estimating how much of their purchases will qualify for the bonus, or they can maximize their returns by using one card at some merchants, and another card at others.
Next, we looked at fees. The biggest one that cardholders may face is the annual fee, as some of the most rewarding cash-back credit cards will have this charge. Nevertheless, there are still plenty of competitive products without this fee. Also, we considered all of the other perks that a credit card may offer. This can include travel insurance and purchase protection policies, along with some new, innovative benefits.
Finally, we did not factor in the interest rates when looking for the best cards. That is because anyone using a cash-back credit card should be paying their balance in full and on time, every month. To do otherwise would mean incurring interest charges that would likely exceed any cash-back rewards. Instead, those who tend to carry a balance will need to look for a card with the lowest possible interest rate, which will not be a rewards card.
As you shop for a cash-back credit card, it can help to know your credit scores so that you apply for a credit card for which you're more likely to be approved. You can check your credit scores for free through Credit.com, along with an analysis of your credit and a plan to build or maintain your credit.
The Winner: Fidelity Investment Rewards American Express Card
Why it won: These cards continue to lead the market by offering 2 percent cash back on all purchases, which is deposited into a qualifying investment account with Fidelity.
What this card offers: For every $2,500 in purchases made, cardholders earn 5,000 points, which can be automatically redeemed for a $50 deposit to their designated Fidelity Investments account each time they meet this minimum. Cardholders can choose to have their rewards deposited into a qualifying brokerage account, investment account, 529 college savings account or retirement account. Cardholders earn 2 percent cash back on all purchases, and there is no limit to the amount of cash back they can receive. According to Sam McLimans, Fidelity's Senior Vice President of Cash Management, this card continues to experience tremendous growth due to the fact that it is a simple, easy to understand offer of 2 percent cash back on everything, all the time. Or as he puts it: "Customers just get it."
Other features: Instead of cash back, cardholders can choose to redeem their rewards in the WorldPoints program, which offers gift cards or travel rewards.
The cost: There is no annual fee for this card, and the foreign transaction fee is just 1 percent. That is significantly less than the 2.7 percent foreign transaction fee charged by most American Express cards.
1st Runner-Up: Capital One Quicksilver Cash Rewards Credit Card
Why it won: This new Capital One card offers 1.5 percent cash back on all purchases, with no annual fee.
What this card offers: Cardholders earn 1.5 percent cash back on every transaction, and receive their rewards every month. There is no limit to the amount of rewards that can be earned, and the rewards never expire.
Other features: New applicants receive a $100 sign-up bonus after they use their card to make $500 in purchases within three months. As a Visa Signature card, customers receive extended warranty coverage, access to travel upgrades and savings, and the use of a complimentary concierge service.
The cost: There is no annual fee for this card, and no foreign transaction fees on charges processed outside of the U.S.
2nd Runner-Up: American Express Blue Cash Preferred
Why it won: Although cardholders only receive 1% cash back on most purchases, this card offers up to 6 percent cash back at select merchants.
What this card offers: Cardholders can earn 6 percent cash back on up to $6,000 spent each year at U.S. grocery stores. They can also get 3 percent cash back at stand-alone gas stations in the U.S. and at select department stores such as Sears, Macy's and J.C. Penney, while 1 percent cash back is earned on all other purchases.
Other features: New applicants earn a $100 statement credit after spending $1,000 within the first three months of becoming a card member. Purchase protection and travel accident policies are also included, but the latest new feature to be added is a year's subscription to Amazon Prime. This service normally sells for $99 and features free two-day shipping as well as online streaming of television and movies.
The Cost: There is a $75 annual fee for this card and a 2.7 percent foreign transaction fee imposed on all charges processed outside of the U.S.
Note: It's important to remember that prices for various products can change. As a result, the prices for products cited in these articles may have changed since the date of publication. Please be sure to verify current prices directly with the offering party.
More from Credit.com:

I wonder how much American Express paid for this article?
I stopped using their card when they refused to refund a payment to me after successfully disputing a charge.  The vendor credited the amount to AMEX, but since I had closed my account with them due to their lack of response in dealing with the issue, they kept the money.  When I closed the account there was nothing owed to AMEX.  I guess my $400 was needed to keep them afloat.   They loose more than the $400 in swipe fees now that I use another card.
I suspect this has cost them even more as I refuse to accept AMEX for any purpose. 
Are you sure you want to delete this comment?
DATA PROVIDERS
Copyright © 2014 Microsoft. All rights reserved.
Fundamental company data and historical chart data provided by Morningstar Inc. Real-time index quotes and delayed quotes supplied by Morningstar Inc. Quotes delayed by up to 15 minutes, except where indicated otherwise. Fund summary, fund performance and dividend data provided by Morningstar Inc. Analyst recommendations provided by Zacks Investment Research. StockScouter data provided by Verus Analytics. IPO data provided by Hoover's Inc. Index membership data provided by Morningstar Inc.