10 signs you're a credit card addict
Having a hard time putting away the credit cards? Here are 10 signs that you may be addicted to the magic plastic.
This post comes from Allison Martin at partner site Money Talks News.

For some, a credit card is just another wallet-burning mechanism, similar to cash, that must be used to satisfy some personal need or desire.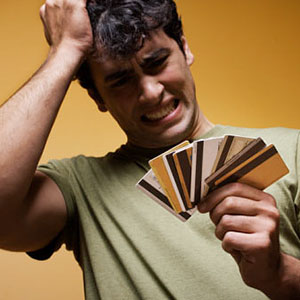 But what happens when the magic plastic is no longer available? Can you move on with everyday life without any interruptions? Or does your world suddenly come crashing down right before your eyes?
Here are a 10 distinct ways to determine if you are a credit card junkie:
1. You're in denial
This may be one of the most prominent indicators that you are addicted to the magic plastic. If you have no idea how much the outstanding balances are and simply remit payments each month, there is a large chance that you're in denial.
2. You can't live without the magic plastic
If your credit card is lost and stolen, you find yourself in panic mode because your only source of disposable income is now out of reach. This clearly indicates that you may have a slight, if not obsessive, addiction to credit cards.
3. You constantly apply
Every time your balances get up there or you run across an irresistible credit card offer, do you apply? Perhaps this is a sign that your finances are going downhill and the almighty credit card will save the day. Wishful thinking, until reality sets in.
4. You pay bills any way that you can
Do you rob Peter to pay Paul or borrow money that you have no way to repay in order to cover your credit card bills? Or maybe you take out cash advances on your credit card with an exorbitant APR just to make ends meet?
Desperate times call for desperate measures, and perhaps it's time for you to desperately seek help with your credit card addiction.
5. APR hikes and fees don't concern you
It doesn't matter what the fine print says; you've got to have the credit card. Even if it means paying fees up to your elbows, you're not the least bit concerned.
6. Your debt is a secret
When the credit card debt conversation arises, you quickly change the conversation. And your partner may even be unaware of the balances you are carrying because you keep any correspondence from credit card issuers under wraps.
7. You engage in 'good deal' shopping
If there's a good deal, you absolutely have to take advantage, even if the magic plastic is the only form of paying. To make matters worse, you have a ton of idle items purchased during "good deal" shopping sprees lying around the house.
8. Your cash reserves are limited
Savings are a thing of the past because you deem them useless. After all, you have the magic plastic at your disposal, and that's all you need.
9. Your balances are multiplying at an astronomical rate
You don't think twice about swiping away for everyday purchases, even if you are caught in the minimum payment trap and insomniac interest has set in.
10. You're completely tapped out
Have you maxed out all of your credit cards? Unless it is the result of some sort of financial emergency, (Houston) we have a problem. This clearly indicates that your everyday spending is out of control, as it clearly exceeds your income. And it's time to crack the whip and get a handle on your financial habits.
I'm guilty … help!
Assuming you've spent the last few minutes examining the symptoms of credit card addiction and decided that you desperately need assistance, there are a few things that you can do to get everything under control.
1. Assess the situation
The first step is to take a step back to really assess the situation. Determine how much you owe to each of the creditors and disclose this on a spreadsheet along with the contact information, APR and minimum payment. And during this step, go ahead and give the creditors a ring to see if they'll cut you some slack on the interest.
2. Toss the credit cards once and for all
Drum roll, please, for the most painful part of the process: cutting up your credit cards.
I'm almost certain that you'll never get out of debt if you don't take this step, so do yourself a favor. And no need to worry about not having an emergency fund intact; we'll discuss that below.
3. Take control of your debt
After you've learned to live without your credit cards, it's time to devise a debt management strategy that coincides with your spending plan. And if necessary, bring an accountability partner on board.
4. Establish an emergency fund
Doing so will alleviate the stress associated with not having a Plan B when you are confronted with an unexpected financial emergency. Check out this article to learn how to save $100 or more each month.
Digging yourself out of debt and being set free from a credit card addiction aren't easy, but it's definitely worth it.
Are you a recovering credit card addict?

More on Money Talks News:

I pay for everything I can with my credit card...gasoline, groceries, entertainment, clothing, dental, healthcare, etc.  What's wrong with that?  There's no trick!  You just buy want you can afford and don't buy what you can't.  If you can't pay the balance at the end of the month, then you simply can't afford what you are buying.  If you can't figure out whether or not you going to be able to pay the balance and the end of the month, then it's not the credit card that is the problem.   Come on people, this isn't rocket science.  Quit blaming credit cards for your mathematically challenged and generally incompetent education.  I can't live without credit cards.  Don't ruin it for me because you a dummy!
 


Yes, I'm a credit card addict ! I'm addicted to Capital One Platinum which I have held for almost 40 years and I pay my bill the day it hits my mailbox ! I don't use it as CREDIT, I use it as a GREAT CONVENIENCE !
There was ONLY ONE TIME, that they could not help me recover from a health scam and wouldn't you know it, Governor Rubio's state, Florida was where the scam was being run !!

Credit card addicts are like children - they see something and they have to buy it.  Have some self control!  Cut up your credit cards and act responsible, like an adult. 
Cutting up your credit cards is step #1. The second step should just be cutting all your expenses down to nothing. I would first look at your insurance costs. They are a huge killer in this country... especially auto. I would look to bring auto insurance payments down to around $25/month (take a look at
4AutoInsuranceQuote)​..
I would also look to bring your gas/fuel costs down by using an app like GasBuddy (it can help you fill up for less than $20). Once you finally got your spending under control, you'll realize that you can start paying off your debt FAST.
You gotta just bite the bullet and cut up your credit cards... And then work on paying off your debt... Pay off your debts as fast as you possibly can. If this means living in a crappy studio apartment and eating ramen everyday for a couple of years, do it. If you want to buy a car, get a reliable beater. Get insurance for $25/month from Insurance Panda. Forget about buying a house until your debts are paid off.
End the addiction!

I agree with Axis Mann to a large degree, though I don't use my credit card to pay for everything. Granted, the card IS a great convenience for on line purchases or an  occasional purchase....but it shouldn't be abused. One must remember that there is a difference between want and need and that  one has to ultimately pay the Piper. There are no free lunches on  Wall Street. I seldom use my card and if so  make sure the balance...the lion's share if not the full amount..is paid well ahead of the due date. I've virtually no debt...any check written is fully funded ahead of time.It's called being responsible.

Are you sure you want to delete this comment?
DATA PROVIDERS
Copyright © 2014 Microsoft. All rights reserved.
Fundamental company data and historical chart data provided by Morningstar Inc. Real-time index quotes and delayed quotes supplied by Morningstar Inc. Quotes delayed by up to 15 minutes, except where indicated otherwise. Fund summary, fund performance and dividend data provided by Morningstar Inc. Analyst recommendations provided by Zacks Investment Research. StockScouter data provided by Verus Analytics. IPO data provided by Hoover's Inc. Index membership data provided by Morningstar Inc.