4 holiday credit card strategies
Consumers who know in advance that they will rack up credit card debt during the holidays might want to consider a looking for promotional financing now. A better plan: Spend what you can pay in full each month.
This post comes from Jason Steele at partner site Credit.com.

Just as we can predict the arrival of winter each year, many Americans can foresee their increased spending needs throughout the holiday season. And of course, increased holiday spending on credit cards will mean higher payments, more interest charges, or both.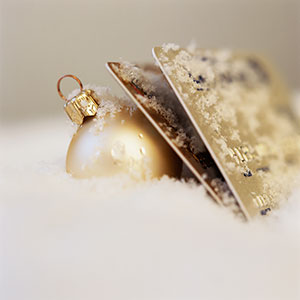 Yet consumers who know in advance that they will soon be charging more on their credit cards can manage their expenses in several different ways. Here are four of the most popular options:
1. Pay your statement balances in full each month.
Cardholders will always be better off when they can limit their holiday spending to an amount that they can pay off each month in full and on time. Doing so has several benefits: First, there is no need to worry about high interest rates being charged, because no interest is accrued at all, so cardholders will never pay it. In addition, cardholders enjoy an interest-free grace period on all their charges that is 20 to 50 days long, depending on when in  their statement cycle they made the charge.
2. Use the same cards you normally would.

Cardholders who fail to anticipate the need to carry a balance may just keep the credit cards they normally use, and incur interest charges at the standard rate. Unfortunately, credit card debt is unsecured, and the standard interest rates can be high.
3. Find a 0% APR promotional balance transfer offer after the holidays.
If credit card users find themselves over their heads in debt, many will apply for an interest-free balance transfer offer early in the new year. While these offers will allow them to suspend interest payments for six to 18 months, nearly all of these cards charge a 3% balance transfer fee levied on the amount transferred.
4. Apply for a promotional financing offer before the holidays.
Credit card users who anticipate future debt can apply for a credit card that offers interest-free financing on new purchases for a limited time. In this way, cardholders can carry a balance, while avoiding both interest charges and balance transfer fees. And since these offers can last as long as 18 months, cardholders could potentially finance their purchases in this holiday season and the next.
Which option makes the most sense?
The best way to manage credit card use is to pay off each statement balance in full each month. This means that your credit card is merely being used as a method of payment, not a means of finance.
Yet many credit card users carry a balance on one or more of their credit cards each month, and they are even more likely to do so during the holidays. For these cardholders, it will make sense to look for a promotional financing offer before the holidays for new purchases, rather than incur a 3% balance transfer fee necessary to receive interest-free financing on previous purchases. Furthermore, most offers that include interest-free financing on new purchases also have a 0% APR balance transfer offer. So cardholders can use one of these cards to finance their holiday purchases and to consolidate their existing debts.
The best way to use a promotional financing offer
Credit cards with promotional financing offers can be used to stretch out payments on existing debt, while justifying new purchases based on interest-free financing. Unfortunately, those who use these offers as an incentive to spend more and postpone paying off their balances can find themselves trapped in a cycle of debt for years to come.
On the other hand, cardholders can use these limited-time offers as a means to focus their efforts on consolidating and paying off their debts before the promotional financing period expires. Credit card users can strive to pay a portion of their debt each month so that their entire balance is paid before the promotional rate expires and the standard rates apply. By applying for a promotional financing offer before the holiday season, cardholders save money on interest payments and work toward ending the cycle of debt.
By anticipating their holiday spending needs in advance, credit card users can choose the best strategy for their individual needs.
More from Credit.com:

I have a better strategy. Don't participate in the commercialized holiday that has nothing to do with the birth of Christ. Teach your children the truth, and explain your position to other family members and friends. What is the point of participating in something that you know exist only to get you to spend money that you really don't have to spend? 

1) Don't spend what you don't have.
2) Take advantage of Lay a way.
3) Don't keep applying for new credit/credit cards drops your score.
4) Usually two credits cards enough a primary and a alternate.
5) Prioritize  your spending basic needs first
6) Do not live outside your means!
7) Shop at good will stores.
Are you sure you want to delete this comment?
DATA PROVIDERS
Copyright © 2014 Microsoft. All rights reserved.
Fundamental company data and historical chart data provided by Morningstar Inc. Real-time index quotes and delayed quotes supplied by Morningstar Inc. Quotes delayed by up to 15 minutes, except where indicated otherwise. Fund summary, fund performance and dividend data provided by Morningstar Inc. Analyst recommendations provided by Zacks Investment Research. StockScouter data provided by Verus Analytics. IPO data provided by Hoover's Inc. Index membership data provided by Morningstar Inc.