Cards with the best fraud protection
Here's what you need to know about your personal liability when someone fraudulently uses your plastic.
This article comes from Odysseas Papadimitriou of CardHub.com. 

Credit cards protect consumers best from losses due to fraud, according to a recent Card Hub study examining card network policy and federal law.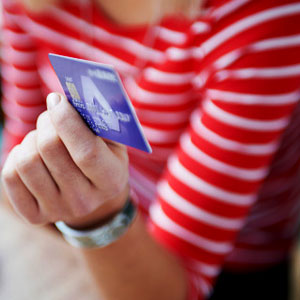 The biggest reason: Visa, MasterCard, American Express and Discover all offer blanket $0 fraud liability guarantees, which means that if unauthorized transactions are made with your card, you won't have to pay a single dollar.  The card network has it covered.
In contrast, coverage for unauthorized debit-card and prepaid-card transactions depends on whether a signature or a personal identification number was used to "verify" the transaction. If a signature was used, card network policy again shields you from loss. But things are less certain if a PIN was used. Discover is the only major card network that extends its $0 liability guarantee to PIN debit card transactions.
Visa does too, when it actually processes the transaction in question, but that may or may not be the case, and consumers have no way of finding out how a given transaction will be processed.
MasterCard doesn't offer added protection above federal law, which means liability will be limited to $50 if it can't be proved you furnished your PIN to the fraudster and you report the unauthorized transaction(s) within two business days. If you report within 60 days, liability is limited to $500. If you report after 60 days, the only thing that will limit how much you stand to lose is how much money you have in your account. 
AmEx doesn't offer PIN-based debit transactions.
Aside from disparities in liability protection, there is another, perhaps more basic reason why credit cards are better than other forms of plastic when it comes to safeguarding consumers against fraud. A credit card purchase doesn't require you to actually make a financial outlay right away. Rather, you'll have up to 21 days from the time your statement becomes available to pay the balance -- plenty of time to spot suspicious charges, notify your issuer and get things straightened out.
In contrast, the very nature of debit cards means that money is removed from your account when the transaction is made. That doesn't jsut mean that it's up to you to get back what's yours. It also means that if you write any checks in the meantime, they could bounce, exacerbating your problems.
You can't forget about the psychological trauma of unexpectedly seeing a drained bank account either.
ATM transactions are even less secure from a consumer standpoint. American Express and Discover extend their $0 fraud liability guarantees to ATM transactions, but they also account for only a tiny share of the ATM market. Visa and MasterCard don't offer added protections, which means you have to rely on federal law or hope that your card's issuer offers its own supplemental coverage.
Cash: Fewer protections, less value
What about cash?
Well, fraud isn't as big a concern with cash as it is with plastic. But then again, if you're pickpocketed or money falls out of your wallet, there's no getting it back. With plastic, you can always cancel your card and there is obviously a range of liability guarantees.
Studies have also shown that cash users effectively subsidize purchases made with plastic. Merchants don't tend to charge more for card purchases, so cash users effectively help cover the cost of payment processing and rewards programs without benefiting at all. This is unlikely to change much given the new surcharge rules, because relatively few merchants are expected to take advantage of them.
The 'dangers' of fraud
We hear a lot about fraud, but it seems that the kind of sensationalist, worst-case-scenario-​type stories you so often see on the local news have overhyped things a bit. Statistics show that fraud impacts only roughly 0.5% of all purchases made with plastic. And even when it does take place, consumers typically aren't the ones left holding the bag. Card networks and merchants usually cover most, if not all, of the costs.
My first piece of advice for you when it comes to fraud is therefore not to worry so much.
Tips for minimizing fraudulent losses
With the findings of our 2013 Consumer Fraud Liability Study in mind, I'll leave you with a few basic tips for further minimizing your already minimal vulnerability to fraud:
Use a credit card for most transactions.
When possible, sign for debit card transactions as opposed to using your PIN.

Don't leave room for doubt when it comes to how much you intend to pay (e.g., always fill in the tip field on a bill, even if that means writing "$0.00").

Review your accounts for suspicious activity.

Take measures to otherwise safeguard your financial information (don't share your PIN with others, shred statements before throwing them away and put a lock on your mailbox).
With fraud now less of a concern, all that's left to say is keep it real.
More from Card Hub and MSN Money:
DATA PROVIDERS
Copyright © 2014 Microsoft. All rights reserved.
Fundamental company data and historical chart data provided by Morningstar Inc. Real-time index quotes and delayed quotes supplied by Morningstar Inc. Quotes delayed by up to 15 minutes, except where indicated otherwise. Fund summary, fund performance and dividend data provided by Morningstar Inc. Analyst recommendations provided by Zacks Investment Research. StockScouter data provided by Verus Analytics. IPO data provided by Hoover's Inc. Index membership data provided by Morningstar Inc.