Should I make my boyfriend an authorized user on my credit card?
There are alternatives if you want to extend some of your purchasing power to your significant other.
This post comes from Jason Steele at partner site Credit.com.

There are many reasons why couples may want to share a credit card, even if they aren't married. They may wish to extend the convenience and security of their credit card to their partner and give them the ability to ask them to "charge it to my card." Or, couples may just wish to manage all of their finances jointly.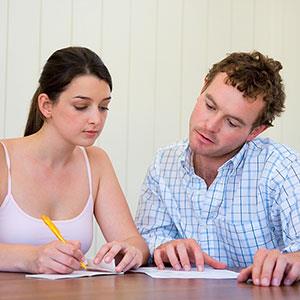 You can, but should you?
Yes, you can easily add your boyfriend, girlfriend or anyone else as an authorized user to your credit card account, but the real question is: Should you?
Once you add an authorized user, he or she will have the ability to use the card to make any charges at any time. And no matter what, only the primary account holder will be responsible for paying the bill. This might not seem like a very big deal to couples when their relationship is strong, but it can become disastrous if the relationship falters. 
How this works
Couples may have an informal agreement about what charges are appropriate for the authorized cardholder, but the primary cardholder will always be responsible for paying the bill. Should the primary cardholder decide, he or she can cancel the card of the authorized cardholder, but that will have no effect on previous charges and will only prevent future charges.
Furthermore, there are other disadvantages to making someone else an authorized user on your credit card card account. Authorized users have the power to make charges, but they cannot make any changes to the account. They are unable to report a card lost or stolen, claim rewards or to dispute questionable charges.
Additionally, many credit cards grant benefits only to the primary cardholder, not any authorized cardholders. For example, cards that offer access to an airport business lounge such as the United Airlines Club card or the Delta SkyMiles Reserve card only honor that benefit for the primary cardholder.
Your alternatives
Credit card holders who are interested in extending some of their purchasing power to their significant other can take some steps short of making him or her an authorized cardholder.
There are many prepaid debit cards that may be a good alternative. In fact, some of these cards, such as the Bluebird card from Wal-Mart and American Express, allow the primary cardholder to create subaccounts for authorized cardholders. The primary cardholder is then able to monitor the spending of the authorized cardholder and add funds as necessary.
On the other end of the spectrum are couples who manage their finances jointly, but find that adding an authorized cardholder grants an insufficient level of authority. These couples should look into become joint account holders. This type of account gives each person the authority, and responsibility, of a primary account holder.
Both joint account holders can dispute charges, report cards lost or stolen, or add authorized cardholders. Likewise, charges made by either account holder are the joint responsibility of both account holders, so each is responsible for the others debts. Where card issuers permit joint accounts, some permit existing accounts to be converted, while others require an entirely new account to be created.
What it means for your credit
It's important to understand the credit score implications of having an authorized user on your credit card. Adding an authorized user can benefit the new cardholder's credit history as long as the primary cardholder is making on-time payments and keeping the card's credit utilization low -- but it's important to take care of your own credit when you add an authorized user. The same advice for building good credit with a credit card applies with authorized users. 
More from Credit.com
DATA PROVIDERS
Copyright © 2014 Microsoft. All rights reserved.
Fundamental company data and historical chart data provided by Morningstar Inc. Real-time index quotes and delayed quotes supplied by Morningstar Inc. Quotes delayed by up to 15 minutes, except where indicated otherwise. Fund summary, fund performance and dividend data provided by Morningstar Inc. Analyst recommendations provided by Zacks Investment Research. StockScouter data provided by Verus Analytics. IPO data provided by Hoover's Inc. Index membership data provided by Morningstar Inc.