That $9.84 charge on your bill may be fraud
Thieves know it's a lot easier to sneak a charge of less than $10 on to your credit card than it is a larger one -- and should you spot a small one on your bill, you need a new card.
This post comes from Bob Sullivan at partner site Credit.com.


With all the stories of major retailers losing millions of credit card account numbers, you are probably scouring your monthly bills looking for fraudulent charges like a $700 plane ticket or $600 television you didn't buy. That might be a big mistake. One common way credit card hackers steal commit fraud, and get away with it, is to avoid getting greedy. Through the years, they've found it's much easier to steal a little money from a lot people, rather than a lot of money from a few people. For example: It's much easier to sneak a $10 charge on 10,000 cards than a $10,000 charge onto 10 cards, but the haul is the same.
Big-ticket charges for electronics or airfare stick out like a sore thumb on a credit card bill. Busy consumers are much less likely to spot a small charge, or they might even decide a tiny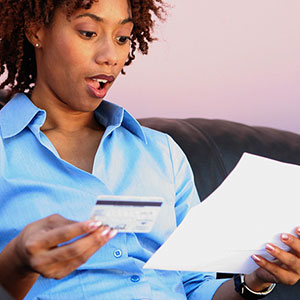 fraud isn't worth the phone call to get it item removed, and to face the hassle of getting a new card. Hackers, as always, prey on human nature. There seems to be something magical about the $10 threshold.
The Better Business Bureau issued a warning about this type of fraud on Monday after reports surfaced of a series of $9.84 charges finding their way onto consumers' credit cards. Consumers who visit the the website listed next to the charge see a curious page that offers customer support, the BBB says.
"The text promises to 'refund 100 percent of your last payment,' and provides a phone number and email address," said the BBB in a statement. "Victims report calling the 'customer support' site and receiving verbal confirmation that the charge would be canceled. However, don't take the scammers at their word. Contact your bank to report the charges and request a new credit card. Your card card information has been compromised, and it's likely scammers will be back for more."
Independent security journalist Brian Krebs first described the $9.84 charge problem earlier this month. His website lists two dozen domains associated with the charges.
"If I had to hazard a charitable guess about what is going on here, I would say some ambitious 'affiliates' associated with these moneymaking schemes were abusing the system and pushing through charges on stolen credit cards," Krebs wrote.
While it's possible the source of some of stolen credit card numbers being used to make these $9.84 charges are the caches of account numbers taken recently from Target, Neiman Marcus, and possibly Michaels, that's unclear at the moment. Some of the domains involved were registered more than a year ago, suggesting they predate the latest round of credit card hacks.
Either way, the key point remains: The most likely way individual consumers will be harmed by the Target hack is if they don't notice small, sub-$10 fraudulent charges on their credit cards, and pay the bill.
So look carefully for suspicious items on your bills, both large and small. If you don't notice it, you'll pay for it.
(Editor's Note: A good way to keep your identity safe in the wake of the major data breaches is to monitor your credit in addition to monitoring your monthly financial statements. You can check your credit scores every month for free using the Credit Report Card. Any sudden and unexpected change in your credit score could signal identity theft, and you should pull your credit reports (which you can do for free) to ensure you haven't been compromised.)
More from Credit.com:
DATA PROVIDERS
Copyright © 2014 Microsoft. All rights reserved.
Fundamental company data and historical chart data provided by Morningstar Inc. Real-time index quotes and delayed quotes supplied by Morningstar Inc. Quotes delayed by up to 15 minutes, except where indicated otherwise. Fund summary, fund performance and dividend data provided by Morningstar Inc. Analyst recommendations provided by Zacks Investment Research. StockScouter data provided by Verus Analytics. IPO data provided by Hoover's Inc. Index membership data provided by Morningstar Inc.