The perils of ignoring credit reports
Pulling copies of your credit reports will let you know if a crook has opened fraudulent accounts in your name and is destroying your credit rating.
This post comes from Jill Krasny at partner site Credit.com.
For so many of us, checking our credit reports is probably not at the top of the to-do list (unless there's a pressing need). However, failing to take the time to regularly do so can be a costly mistake.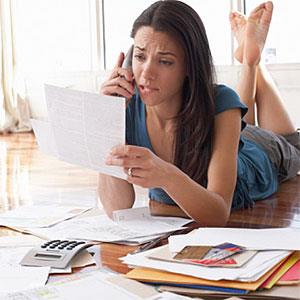 "I've had the experience of routinely getting my credit report, only to find a couple credit cards opened under my name (without my knowledge)," says Phoebe Stein, a librarian based in Yonkers, N.Y. "My credit score was fine, but that all could have had a worse outcome."
Fortunately, Stein was able to cancel the cards taken out by the scammer before her credit took a hit. While she faced an uphill battle when she called the issuers to close them -- she said the companies kept trying to get her to stay -- had the cards stayed open, that could have led to several problems.
For one, as Credit.com expert Barry Paperno explains, having a "high credit utilization (balance/credit limit) can drop a high FICO score (780-plus) by as much as 45 points."
Worse still, if Stein had remained oblivious to the problem, late payments on the accounts could have piled up, trashing her scores. That isn't uncommon, says Credit.com's director of consumer education, Gerri Detweiler, who notes that thieves tend to open accounts, "pay the bills for a little while and then bail." Most consumers don't learn what has happened until it's too late, and they pay dearly for it because a 30-day late payment can cause a high FICO score to drop as much as 100 points.
Shana Mosher, a public policy analyst in New York City, faced similar problems when she neglected to check her credit for several months. An Exxon gas card, long-distance phone cards, and "a card intended for purchasing Gateway computers" had all been opened under her name without her knowledge.
"People opened them, never paid and they showed up on my report," she recalls.
Beyond the risk of late payments and a high credit utilization ratio, Mosher's problems went one step further. She wrongly assumed the credit bureaus would figure out the cards weren't hers. Unfortunately, the burden is on the consumer to contact the bureaus and tell them to correct credit report mistakes.
And don't forget the inquiries. "Every time the scammer applies for credit using another consumer's personal information, that inquiry is recorded on the victim's credit report," Detweiler warns. Individually, inquiries won't do much, but over time they can add up and affect your scores.
What to do if this happens to you
The Fair Credit Reporting Act requires credit reporting agencies, banks and credit issuers to correct fraudulent information on your credit reports. Contact the credit reporting agencies and credit issuers to let them know about the fraud. You will have to provide documentation, which the Federal Trade Commission outlines here. The FTC also tells consumers to take the following steps immediately:
Place a fraud alert on your credit reports. This tells credit issuers that you're a victim of credit fraud, and to contact you to verify any applications for credit before granting it.
Close the fraudulent accounts. You'll need to reach out to the fraud department of each issuer to make sure you've closed all of the accounts.
File a complaint with the FTC.
File a report with your local police, or the police in the community where the identity theft took place.
This is why it's important to check your credit reports regularly. AnnualCreditReport.c​om gives you three free credit reports, one from each of the major credit reporting agencies, once a year. If you're a victim of identity theft, you should check them more frequently (or consider signing up for credit report monitoring), even if you have a fraud alert, to ensure that no new unauthorized accounts have appeared.
Your credit scores may also (though not always) indicate that something has gone awry. There are services, like Credit.com's Credit Report Card, that offer you your credit scores for free once a month. At the very least, by checking your scores regularly, along with your credit report, you can stay alert to any changes that could derail your credit.
More from Credit.com and MSN Money:

The 'credit reporting industry' has made us 'captive clients'.  They are the enablers of identity theft, they issue damaging and inaccurate information, all with impunity.  Even if you check your credit report, there is no assurance you can get incorrect information removed.  What started as a good or bad credit checking business has become something quite different.  Best thing place a lock on your credit reports.  That and holding the credit reporting bureaus liable for disseminating  incorrect, damaging information, would bring back the original purpose of this industry.  Does anyone know how they come up with credit scores.... LOL!
Are you sure you want to delete this comment?
DATA PROVIDERS
Copyright © 2014 Microsoft. All rights reserved.
Fundamental company data and historical chart data provided by Morningstar Inc. Real-time index quotes and delayed quotes supplied by Morningstar Inc. Quotes delayed by up to 15 minutes, except where indicated otherwise. Fund summary, fund performance and dividend data provided by Morningstar Inc. Analyst recommendations provided by Zacks Investment Research. StockScouter data provided by Verus Analytics. IPO data provided by Hoover's Inc. Index membership data provided by Morningstar Inc.